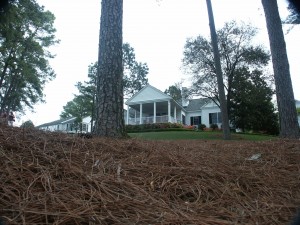 Growing up in the 60's and 70's, family tradition gathered us 'round the single TV set we all had back then to watch The Masters.  For most families, golf might not be the main attraction, but for the Parrott family, it was.  My dad, Buck, had actually played golf with some Tour players of yore and had many stories to share along with a keen interest in who would win that year.   He always rooted for the favorites of the day, Nicklaus, Trevino, Palmer, Player, and Watson.  I don't think it really mattered to him who won, just as long as they played great 'gof', as his Tennessee accent termed it.   When color TV entered our home in the 70's, my dad could not get over how beautiful the course was.   One of his fondest wishes was to actually visit Augusta National to see and feel the history.
As time went on, of course his favorite players changed, though the thrill of seeing Jack win his last green jacket in 1986 was the epitome of Dad's accounting of Masters history.  As the Tiger Woods era began, Dad's favoritism soon drifted that way and with allegiances now altered, a new star was on his 'must-watch' list.  In the next few years, Dad's eyesight began to fail and despite a visual handicap, he still 'watched' the Masters, marveling at the exploits of 'ol Tiger'.  Around 2005, at age 89, the old Buckaroo's mind began playing tricks and soon, he was having 'conversations' with Earl Woods about how Tiger was playing, or what he should do, or who should be coaching him – often bringing me into the mix, "Sister, can you get Tiger and Earl on the phone so I can tell them a few things I see going on in Tiger's game?"
Of course I can, Dad.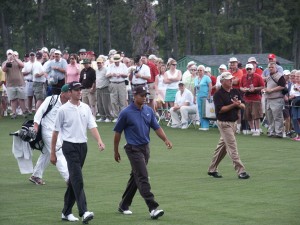 I'd then explain that he could tell me what he was thinking and I'd relay it to Tiger's Camp – which seemed to satisfy him just fine.  Now, I ponder that with my Dad's guidance after Earl Woods' death, Tiger might have been the better for it.
My work in golf did not take me to Augusta National until 2006 and just before entering the hallowed grounds where my cell phone would not be welcome, I gave Dad a call telling him what I saw.  He was so excited and told me to make sure I got to eat one of 'them there pimento cheese sandwiches'.  Being a southern boy, he could certainly relate to the delicacies and often ate pimento loaf, a Detroit concoction of lunch meat with red pimentos sprinkled about.  None of us cared for it, though we ate it when the Kowalski bologna ran out.
As I walked the rolling landscape, admiring  Bobby Jones' floral and architectural masterpiece, how I wished Dad could have enjoyed the Practice Day experience with me.  Knowing him, I'm sure he would have bargained with some marshal, chatted up a player, reasoned with a green-jacketed official – who was also from the south, certainly –  or found some way to get inside the ropes and chat with his favorites, including Tiger.  Dad always worked magic like that to get us kids on golf courses we couldn't afford.   But by then, he was too old and infirm to do much of anything.
But I did the next best thing:  First, I visited the beautifully appointed merchandise store and scouted out the most ideal Masters-green cotton lisle logo shirt I could find, along with a logo towel.  Then I searched for an Augusta-green Masters golf hat to match.  Locating the perfect trio took a little time away from seeing the course, though it was well worth it.   Finally, after a day of witnessing tradition and awe, my last stop was at a back nine Masters concession stand to purchase a couple extra pimento-cheese sandwiches wrapped in their signature green paper.  I packed them on ice, in a cooler, for transport back to Michigan a few days later……in my car.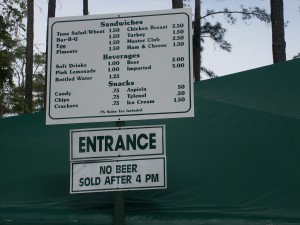 By then, Dad could barely see, but when I returned home prior to the conclusion of the 2006 Masters, he had enough vision left to know he was the proud owner of authentic Masters wear.   During the final rounds, he proudly wore his shirt and cap.   Yes, he did munch on his pimento cheese sandwiches while he watched – or rather listened  to – the drama unfold as Phil won his second Masters with Tiger, Freddy, and a few others tied for third;  and no, he did not contract  food poisoning or some other malady due to the sandwiches' long journey.   After the tournament, his clothes were washed and put away until the next spring.
In 2007, 2008, and 2009 Dad donned his shirt and hat again, wearing  them every day of the telecasts, much to the chagrin of his live-in caretakers who tried to get the Buckaroo to relinquish the duds for a quick wash.  The bright green had faded a bit, but Dad's smile never did.   And, he still had plenty of advice to dispense to Tiger, despite close finishes in all three years.
Dad passed away in July of 2009, at age 93.   Joining Earl Woods, perhaps the two of them can have a meeting of the minds up above Augusta National somewhere and somehow get 'ol Tiger back on track.    I don't quite think it will be this year, but probably the next.
In the meantime, I salute those two gentlemen for bringing up their children to love and appreciate such a grand game.
As for Dad's shirt and hat?  I have those.  They'll always hold a special place in my closet…..and in my heart.