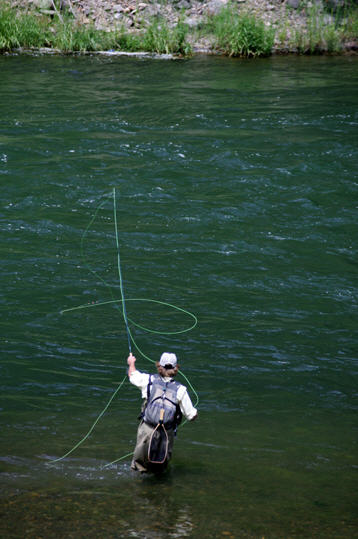 The wind brushes through the leaves of the tall cottonwood trees growing along the riverbank. Pines and aspens dominate the not-too-distant mountainsides. What seem to be rocket-propelled sparrows are dropping within inches of the river's surface, feeding on insects you haven't yet identified. The river rolls by, as your hands can't quite tie the same knots you perfected years before. And all of this before you've even seen the first trout rise from the deep belly of the water.
When it does happen, it happens fast. An upward ripple as the great fish sucks down what you now realize is a surfacing caddis fly, followed by its abrupt retreat back into the dark. But all you really register is a quick flash of silver. And then, a hint of a tail. Finally, a size 16 elk hair caddis with an olive torso is on the end of your line. You wanted to tie on a nymph, maybe a flashback pheasant tail, to drop behind the caddis, but right now the fish are rising.
In Colorado alone there are more than 9,000 miles of trout water. From the Animas in the southwest, up the state-slicing Arkansas in the middle, to the Cache La Poudre in the north, there is plenty of the cold water that trout are dependent on and that fishermen and women seek out.
And in all of Colorado, there is one fly shop that is permitted to guide on more water than any other. Located in Silverthorne, on the north side of I-70—and most important, set on a bank of the Blue River—is Cutthroat Anglers. Its owner, Trapper Rudd, has been guiding in Colorado, and around the world, for decades but from the moment you step into the shop it's easy to mistake his smile and enthusiasm with that of a man just hitting his stride. "My work is better than most people's vacations," Rudd says. "Why wouldn't I be happy?"
For those who are beginners, it is Rudd's attitude toward the sport that might be most beneficial. "A lot of people are intimidated by fly-fishing," he says, "but there is nothing mysterious about it. Some people just suck all of the fun out of it, it's our job to dispel all of the intimidating crap and show people they can enjoy this as a sport, or a hobby or as meditation. The choice is theirs."
People have learned to fly-fish in parks, in gymnasiums, even convention centers, but Rudd believes the best place to learn is where there are fish. "We used to have fly-fishing classes outside the shop, but we learned that people get more out of it and remember more when they're on the water. Even if you're not a beginner, anytime you're out with a guide your brain should be swimming in all of the information you get."
And though hopefully you'll remain standing or floating as opposed to actually swimming, lakes can present a good learning environment for the beginner if there is a substantial hatch of insects propelling the fish to rise. While subsurface fly-fishing often helps negate the need for ideal hatch conditions, the beginner would miss out on learning to set the hook during the most knee-buckling moment—the strike. Rudd also recommends the Blue River and the Colorado River near Parshall for beginners thanks to the easy access onto the water and the high success-to-effort ratio he says both rivers present.
For the experienced angler, those 9,000 miles of trout water mean most anything is possible. Fly-fishing is certainly not a team sport, so you can choose to challenge yourself as little or as much as you prefer. Rudd believes tailwaters (water released from the bottom of a damn) can be some of the most difficult for the graduated angler looking for big fish.
Since the water originates out of the bottom of a lake, it's going to be very cold and clear—perfect for growing big fish. However, they're also likely to be smart. "They've graduated," Rudd says of tailwater trout. "They see so much pressure from fishermen that they might as well have a PhD in what not to eat. Plus, there are fewer types of bugs in the tailwaters, so the fish get more particular about size and color."
Another option for the experienced fly-fisherman or woman is to seek out the uninitiated fish. "Most anglers are a simple lot," Rudd adds. "If a river is near a road, they're going to fish it." The inverse can be found in the high mountain lakes and streams that see very little pressure. It's in high elevation water, like the abundant options found inside Rocky Mountain National Park, where the shortened feeding season makes hooking up with a trout easier. However the wary fish are quick to run if the approach isn't planned carefully.
Whether it's chasing big fish, setting a hook on virgin water, or the simple, reflective motion of casting a rod that appeals most, fly-fishing offers to give you whatever you want to take from it. And in Colorado, the time to wet a line is approaching. With winter waning into spring, it won't be long before those cottonwood leaves begin to appear. And the possibility of a flash of silver breaking the surface of a cold mountain stream won't be far behind.
TRAPPER'S TRAPPINGS
No river is ever the same twice, but with years of Colorado fishing experience, Cutthroat Anglers' Trapper Rudd does have a few trusty flies he always brings to his favorite rivers. And here they are. If you see him on the river, just wave thanks.
Favorite Tailwater: "I've spent decades on the Blue because it's one of my favorite rivers. But it's when the Blue is flowing at 400 cubic feet per second that I really pay attention. That's my magic number. If I'm here in town, working at the shop, and it's running at 400 CFS, I know I'll be on the water from 4:30 in the morning until I open the shop at 7 a.m. That's my chance to get on the water while the public is still eating their oatmeal."
Tie On: Mysis Shrimp
Favorite River to Drift: "The Roaring Fork in June. Spending my birthday floating down the Roaring Fork is probably one of my favorite days each year. We cover so much water on float trips, but the best part is just being in the medium itself. Well, that and the Green Drake hatch."
Tie On: Green Drake
Favorite Lake: "Stillwater floating on Delaney Buttes. It's a relaxed way to fish. It's great for kids or maybe a grandfather who isn't that mobile anymore. You can use a belly boat, but a drift boat gives you more room to move around."
Tie On: "Most of the time it's a sub-surface nymph or streamer, but when you hit it right and the callibaetis are hatching it's all dries—often Blue-Winged Olives."
FOR MORE INFORMATION
Cutthroat Anglers – Silverthorne, Colo.
888-876-8818, www.fishcolorado.com
This article originally appeared in the July/August, 2008 issue of Denver Life Magazine.