In early December for the past eight years, several of my pals and I head down to Arizona, for the Scottsdale Media Golf Classic.  Hosted by Xona Resort Suites and co-sponsored by local convention and visitors bureaus, the five day event annually brings together about 75 golf and travel writers from around the country – – and one fellow from Iceland.  In what's become the highlight of the golf year for quite a few of us, we get the chance to play some of the most sublime public and private courses in this part of the state.
While headquartered in Scottsdale, the Classic has routinely held rounds in the Fountain Hills & Fort McDowell area, on the eastern side of the McDowell mountain range, which separates this community from metropolitan Phoenix.  Over time, we've played most of the seven courses that the Fountain Hills & Fort McDowell Visitors Bureau recently branded as The Sonoran Desert Golf Trail. The trail includes the Desert Canyon Golf Club; Eagle Mountain; SunRidge Canyon; Tonto Verde; Vista Verde; and, the two We-Ko-Pa Golf Club courses on the Yavapai Indian Fort McDowell reservation, called Saguro and the Cholla.
One could argue that as a marketing tool, the concept of a golf trail at times gets stretched pretty thin, with more than 50 trying to carve out a niche in the United States alone. Some are associated with architects, such as the venerable Robert Trent Jones Golf Trail in Alabama.  Others are associated with location, such as the nine courses in the Kona Hawaii Trail.  Still others include courses scattered across a state, and yet have little or nothing else in common.  There's even a new multinational golf trail, linking Cambodia, Thailand and Vietnam.
One can also argue that creating a trail in a discreet geographic area simplifies planning for travelers.  And when courses and hotels operate as a collective, they can also offer bargains to consumers.  Last summer, the members of the Sonoran Golf Trail advertised three-day stay and play packages for as low as $250 per person, which was a bargain indeed.
Moreover, there is some commonality among the Sonoran venues.  First and foremost, they're all true desert courses, surrounded by the scenic vistas of the McDowell range and the Tonto National Forest. While several of these courses have holes flanked by housing – – which is not at all distracting because of the attractive and occasionally spectacular architecture put into Sonoran style homes – – the rough is sand, cactus and desert-dwelling critters.  In even greater contrast, both We-Ko-Pa layouts sprawl across an otherwise vacant desert landscape of the Fort McDowell Reservation.  Second, all are located within a compact radius, a less than 20-minute drive from any hotel in the Fountain Hills and Fort McDowell area, with Scottsdale 30-to-40 minutes away.
(To book a getaway on the Sonoran Desert Golf Trail, contact Arizona Trails Golf Vacations at 1-888-799-4284 or 480-837-8665; aztrails@arizonatrails.com or online at www.arizonatrails.com/golf.asp.)
Below are reviews of four courses on the Sonoran Trail, which originally appeared on the website of my fellow journalist, Wayne Freedman, who works at ABC's KGO-7 television in San Francisco.  Our friend John Sheehan, a student of golf course architecture, contributed two of the reviews.  Our late friend Ed Rentner, who is very much missed, wrote the final piece.
We Ko Pa Golf Club – Saguaro Course
18200 East Toh Vee Circle
Fort McDowell, Arizona  85264
480-836-9000
Par 71:  Tees / Yards: Tournament:  6966; Back: 6603; Middle: 6252;  Composite:  5786;  Forward: 5061
There is a lot to love about the We Ko Pa golf facilities outside Phoenix: two great courses, no adjoining housing development, natural beauty, and now, a course that you can walk. We've all experienced courses that seem more suitable for all terrain vehicles.  Not this one. For your golfing dollar (seasonal green fees range from $60 to $210), this might be the best value in the Phoenix area.
From first hole to the last, Saguaro both challenges and delights. Architects Bill Coore and Ben Crenshaw craft strategic golf courses, and did so here, with drivable par fours, reachable par fives, and delightful par threes.
C&C are minimalists who move as little dirt as possible. They are also artists. On most desert courses, architects hack or cut teeing grounds unnaturally into hillsides. Coore and Crenshaw drape their tee boxes gracefully over the landscape. Perhaps this is a small thing in the grand scheme, but it's an elegant and natural element of their work.
The architects integrate design with admirable restraint and bold effect. They defend their greens with devious sloping and ingenious contours; and for the drives, they add adrenaline-inducing cross-bunkering. Their work combines subtlety and drama, which do not easily co-exist.  The 631-yard, par five, 4th, turns boldly downhill like a felt covered ski slope. The par three, 178/159/146/89 yard 5th, has a green complex that is as deceptive as it is stunning.
The uphill 433/513/527/538 yard, par five, 14th hole offers a split-fairway challenge. It will test your brain and your brawn. The left fairway provides a wide and generous landing area, but counters with a difficult second shot between fairway bunkers to the left, a creek on the right, and deflecting contours near the green. However, a successful drive to the riskier right-hand fairway rewards players with a shorter route and unobstructed entrance to the green. From this fairway, those same contours that once deterred now invite the approach.  The green offers a breath-taking view from one of the highest points of the course.
The only criticism our group had was the "cart-path" only rule at We Ko Pa. This is, by the way, the norm in the Phoenix area.  A barely defensible regulation, it is silly and detracts from the enjoyment of an otherwise phenomenal golf course.  But given the rare option of a walkable golf course, one can't really complain too heartily.  John Sheehan
The Golf Club at Eagle Mountain
14915 East Eagle Mountain Parkway
Fountain Hills, Arizona 85268
Phone: 480.816.1234
Fax: 480.816.9567 or Toll Free: 866.863.1234
We have visited The Golf Club at Eagle Mountain several times, now. Familiarity breeds affection. Golf Digest Magazine lists it among Arizona's four-star, best places to play. Lengths from 5836 to 6755 yards. Course ratings range from 67.2-71.7, and slopes from 126-139.
This Scott Miller design offers desert golf, but not quite target golf. It has wide, contoured fairways and large, undulating greens. Dramatic elevation changes provide nice views and shorten some of the longer holes. The 420 yard, par-4, 18th, drops 100 feet from tee to green.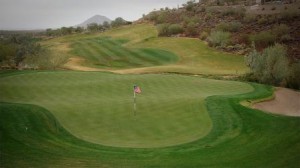 This year, we played Eagle Mountain on an uncharacteristically wet, rainy day. More than one inch of water fell, but the greens and fairways remained receptive.
Of all the holes, we like the 180/2134/243/272 yard, par-4, 14th. This is a fun and involving dogleg right—at least, for those players who don't try to drive the green. Best to carry your drive across desert into a fairway running at a 45 degree angle, then hit a short wedge across a ravine for your second shot into a 35 yard deep, three-tiered green. The hole is as nice to look at it is to play. Control your wedge distance, and this can be a birdie. Try to stay below the cup.  Wayne Freedman
Vista Verde Golf Club
174th St. & Rio Verde Drive
Rio Verde, Arizona  85263
480-471-2710
Par 72:  Tees / Yards: Black:  7219;  Gold: 6782;  Silver: 6363;  Copper:  5974;  Teal: 5384
If you're looking for an exciting new Arizona desert golf course, put this one at the top of your list.  Playing it was pure joy.
Vista Verde winds through the Verde Valley replete with stunning views of the Tonto National Forest, Four Peaks, the Superstition Mountains and Weaver's Needle. Vista Verde is an unadorned jewel… pure golf stripped of all distractions.  Architect Ken Kavanaugh has created a course that would be enjoyable to play no matter what your skill level.
The course opens with a beautiful par 4 sweeping gently from right to left, a cross bunker guarding the left side.  A drive over the bunker rewards the player with a shortened hole and direct access to the green.  The more conservative player will find a generous alternate route to the right of the cross bunker.  This is a theme that Kavanaugh employs throughout the course.  The landing areas are enormous, creating multiple routes from tee to green. Many of Vista Verde's fairways are as wide as a football field.
Where forcing carries, the architect is sensitive to the players of lesser skill or power.  The fourth hole, which ranges in length from 100 to 133 yards, is a beautiful short par three.  The green is heavily bunkered front and back.  Tees are arranged so that from the tips the highly skilled player must execute a precision shot to find the green.  Any shot tentatively short or aggressively long will find sand.  Kavanaugh chose to leave the left side of the green unguarded.  By setting the tees in a semi-circle arcing gracefully from right to left, the nearest tee offers unimpeded access to the green.  A wonderful, well thought out short hole.
The entire course is a study in carefully crafted holes that blend seamlessly with the native desert, yet resist the usual "target golf" style so often found in desert environments.
Kavanaugh's design balances pure enjoyment and thrilling challenge.  The low handicap player will be tempted to aggression, and this will mean playing the course along the edges, the periphery.  This approach will demand precision, power and mental toughness to challenge the cross bunkers, waste areas and subtle contours that defend the holes.
By playing away from trouble, the high handicapper can navigate his way around the course like a sail boat tacking its way to port.  By choosing the appropriate tees, Vista Verde offers everyone a chance for a memorable round of golf.
Kavanaugh's use of contours is magnificent  as a predominant design element. The long par four 5th hole is an understated puzzle, and  testimony to his confidence and comfort as a architect.  There is not a bunker to be found on this treasure.   By orienting the green slightly from the right to left, Kavanaugh asks the skilled player to confront the desert right of the fairway on his drive, to optimize the angle of attack to the green.  An approach shot from any other angle is fraught with trouble, for the use of contours in the green and the surrounding complex will conspire to funnel the ball away from the green.  Similarly, a shot stranded left of the green or long will result in a difficult up-and-down.
The architect offers fascinating finishing holes on both nines.  The ninth hole, a par four of 440 yards from the Gold tees, tantalizes with risk-reward.  Cross bunker guarding the corner of this dog leg right rewards the gambler with a significantly shortened hole.  The two tiered green also repays this aggressive line off the tee.
The final hole is a study in camouflage. From the tee, bunkers in echelon seem to dot the horizon.  In fact, there is ample room between them, but their clever arrangement deceives and confuses.  Lash a strong drive over the cross bunker furthest right, and the rewards are a shortened hole and a reasonable chance to attack the green.  The green complex is perched on the shore of a small lake to the right, and bunkers left and rear.
This green, like many others on Vista Verde is contoured and sloped to reward the astute repeat golfer.     Although a hole-placement may be perilously close to a hazard, the wise player will learn that he can play away from the hole, and use the slopes to funnel the ball towards the ultimate target.
The green keeping crew maintains the course to play hard and fast, making the ground game is a viable option at Vista Verde.  Whereas most American courses tend to over-water the entrances to the green, here the staff's meticulous care encourages the bump and run shot.
Kavanaugh's routing is superb.  He seamlessly blends together a dizzying array of short and long holes.  This is not a mindless slog through insanely difficult holes.  As Kavanaugh says, "Anyone can create a difficult course.  That's easy to do.  The game itself is inherently difficult."  Rather he has chosen to focus on the enjoyment and excitement of the game and provides a course of pure enjoyment and fascinating puzzles to solve.   John Sheehan
SunRidge Canyon Golf Course
13100 N. SunRidge Dr.
Fountain Hills, AZ 85268
Phone: 1.480.837.5100
If you love desert golf, SunRidge Canyon will smite you all over again. It's curvaceous and suspenseful, luscious and ever-changing—an emerald-green walk through desert habit that guarantees bliss assuming, of course, you can hit a straight shot.
The outward nine descends through canyon passageways and  presents players with a giddying array of shot selections. The 373-yard 7th is a special delight. I like holes with options, and it has them. If you hit a crisp 180-yard iron short of trouble (including the beckoning left-side bunker), you'll leave yourself a long iron over a barranca to an elevated shallow green with several disagreeable pin placements. Your option—pull out the big dog and challenge the 250-yard fairway, leaving a short iron in. Again, be wary of the barranca.
There is one puzzling hole on the front side: the 235-yard (243-yard from the backmost tee) par 3 8th. It's gorgeous to look at, but too long for a fairway wood and too short for a driver.
The 305-yard par 4 10th will baffle you with its riotous bunker configuration. Choose a specific distance and landing area for the tee shot in order to set up the best wedge shot into the pin placement. I like thinking holes, and this is one of them.
By the back nine at SunRidge, you'll notice that the rules of physics apply, although in reverse. What goes down must also return up. In this case, it's the golfer and his ball. What began as a joyous down-canyon excursion becomes an up-canyon ascent—a no let-up examination of you abilities (or lack of them) with the long clubs. Strike the ball with authority and add an extra club or two for every approach shot.
On the wonderful 578-yard, par 5 13th, carry the mid-fairway barranca with the second shot and avoid the cascading ponds to the right.  Then dig deeper to come up with the two strong shots needed on the 457-yard par 4 15th. Uphill.  Ugh.
Next you'll face 533-yard par 5 16th. This hole suffers from an unfortunate and omnivorous   (or sand wash at exactly the yardage necessary to provide safe haven for most second shots. It's a no-man's-land that takes the fairway wood out of the player's hand, replacing it with a senseless short iron. Somebody needs to fix this hole.
The par 3 17th is literally two holes in one—a double green with two sets of tee boxes (152 yards or 209 yards from the back locations).   Finally, the glorious uphill par 4 18th at over 400 yards offers a final test of your love. It's challenging and enchanting. Get all of the ball in your second shot.  SunRidge Canyon has course ratings ranging from 70.1 to 73.4, and slopes from 125 to 140.  Ed Rentner