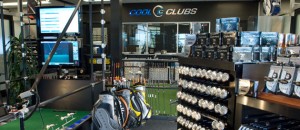 The commercial building on East Adobe Drive in Scottsdale is "remarkably nondescript," an appropriately misused juxtaposition of words, at least given the context. Behind the glass doors of Suite 115 is the world headquarters and operational center of Cool Clubs, one of the hottest new high-end fitting companies in the golf industry.  With six locations in the U.S., one in Japan and another in the works for Australia, Cool Clubs is pushing the technological edge of fitting like no other comparable competitor, on a larger scale and yet with the precision and detail previously found only with individual practitioners such as David Butler, the master Miura club-fitter in Half Moon Bay, California.
With glimmering clubs in back-lit glass cases, putting runways flanked by runway-like lights, TrackMan monitors, video systems and computerized screens that supply instant feed back on putts and swings, the entire office complex screams high technology golf.
Cool Clubs was founded in 2007 by CEO Mark Timms, who had previously founded the groundbreaking Hot Stix Technologies, before selling his interest in the latter company.  The 28,000 square foot Cool Clubs facility in Scottsdale is not only its largest fitting center, but is also where it  assembles clubs for its field locations.  Working with most of the major club and shaft manufacturers, Cool Clubs fits and fine-tunes all clubs, from putters to drivers, to determine what works best for individual players and their swings.
On Day Three of the Golf Road Warriors' 2012 exploratory buddy trip through Scottsdale, we spent a couple of hours at Cool Clubs, getting a complete back-room tour from Marketing Director Vito Berlingeri, and individual fittings for putters and drivers from veteran staffers.  I've been fitted and outfitted with irons by Butler, and am acutely conversant with the difference between personal attention and mass manufacturing.  Berlingeri's tour suggested that Cool Clubs' many quality control and inventory management steps – – and its use of what could be a million dollars or more worth of equipment to match shaft frequencies and other aspects of club performance – – brings ultra quality custom fitting to a larger audience.
With upgrades in shafts over standard models, combined with top quality club-heads, Cool Clubs is not cheaper than an individual fitter.  And it will no doubt cost more than buying clubs at the Golf Mart.  But as my Daddy always said,  you get what you pay for.  At Cool Clubs, that might be 20 extra or more yards from a new driver, or tips that make you a more consistent putter without changing clubs, which to a lot of us desperate players is an irresistible lure.
Mixed Nuts
I went through the putter and driver fitting process with Brian Eekhoff, an outgoing native of Montana who has been with Cool Clubs almost from its beginnings.  He asked my what kind of putter I've been using, and to offer a self-evaluation of my ability on the greens.  The answer is that I may be one of the best bad putters, or worst good putters imaginable.  I can lag it to kick-in close from 30 feet more often and consistently than my friends think is fair.  The problem is, I lag it to kick-in close consistently and often from five feet, lip-outs that cause my golf buddies choke in laughter several times each round.
Eekhoff had me stroke the ball with a belly putter similar to the Odyssey Sabertooth that I now use.  On the video analysis, the length of the putter, my spine angle and visual position directly over the ball, showed that I had a good set-up.  The test putter had about four degrees of loft, which caused the ball to jump off my stroke.  My Sabertooth has zero degrees, which is what Eekhoff recommends for my particular stroke.   What the fitting then turned into – – and it's common with fittings for a putter – – is a small lesson.
"It's clear that you would be considered a really good putter," said Eekhoff, who had no need to flatter me, since I'm a man who definitely knows his limitations.  "It's also obvious why you have so many lip-outs on shorter putts."  He then had me put the ball a bit more forward in my stance, and made me aware that I was tipping my head forward on each putt.  If I held it steady and behind the ball, he said, I'd have better results.  And I sunk four of the next five ten footers.
The next day as we were playing the original Raven course,  I didn't sink a single ten footer, and lipped out a few that were shorter.  Fellow Warrior Jeff Wallach, who'd also received putting advice from another Cool Clubs fitter, grew increasingly defiant as his new stroke didn't work. He went back to his old ways and the putts started dropping.  We were clearly a mixed bag of nuts.
Fine Tuning the Canon
I personally had even more fun with the driver.  The test model similar to my driver produced distances on the TrackMan monitor that were identical to what I average on the course, drives that don't go far but usually stay on the fairway.   My swing speed is never going to get much faster.  But what limited my distance – – and what could be corrected – – was a club that put too much backspin on the ball (more than 4,500 rpms, when 2,500 is optimum), and a head that didn't get the maximum "smash factor" of 1.5, which is a measure of club-head speed and launch velocity that expresses how effective the club is performing.  My drives were in the 1.3 range, which means I wasn't getting the most from the club-head and shaft.
Eekhoff put me through five different combinations of shafts and club-heads, looking for higher launch velocity, less spin and that 1.5 smash factor.  With each club we got better performance, ten to 15 yards of increased average distance, then 20 to 25 yards, after which two club combinations showed less distance.  The club that apparently suited me best was the new Titleist 913 D3, outfitted with a Mitsubishi Griffin 53 shaft.  Over six to eight test drives, it averaged nearly 30 yards longer than my current driver, and all stayed on the fairway. The cannon had been fine-tuned – – at least in the test center and on the TrackMan.
Whether that could carry onto the golf course remains to be seen.  "I bet you'd go back to hitting it the same distance," said Wallach, who isn't big on encouragement, but who may have had lingering resentment about anyone fussing with his putting stroke, however unorthodox.
While I'd like to give it a try and don't feel at all ashamed at buying a better game, the 913 D3 and  Mitsubishi shaft are an expensive combination.  But if I can pull it off and try the new driver, I'll post a follow-up field test report on whether Eekhoff and Cool Clubs got it right.
Cool Club Headquarters are at 7267 East Adobe Drive, Suite 115, Scottsdale, AZ 85255 (888)284-9292  Links to all U.S. locations follow: