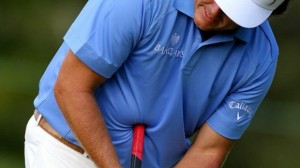 Since long-shafted putters have been around for decades, help older golfers with bad backs and yippy hands, and are even gaining currency among young guns on the PGA Tour, outlawing the so-called "anchored" putting style makes about as much sense as Prohibition.  And as the Ken Burns series on PBS illustrated a few months back, that smooth move did not exactly lead to a more sober, fair and orderly society.
Seriously, the USGA and R&A must be facing issues more pressing, and even existential, than anchoring a long putter against one's chest or belly.  The health and future of the sport remains dicey.  Major initiatives are under discussion to make the game friendlier and less-hostage to rules as inscrutable as the Internal Revenue Code.  So why ban a club that may make the game slightly easier for some players, and most particularly now?
It's not as if the Blue Coats didn't have their chance back in the day, before belly putters became as prominent as Malbie's Gut.
Former USGA Technical Director Frank Thomas, who made rulings on equipment for more than a quarter century, once said that he did indeed want to ban them.  In an interview with TravelGolf.com, Thomas lamented that: "Of all the decisions I made, that was the one that was overruled, unfortunately."   But earlier in December, the former Commissioner of Conformation apparently changed his mind.
"I don't believe that there is a problem with anchoring a club while making a stroke," Thomas said on his Franklygolf.com web site in December. "The statistics used to determine the best putters do not indicate that there is any advantage gained when using a belly or long putter."
But the argument against long putters endures, however tainted by hypocrisy that could almost shame a Congressman.  The gist is that holding the butt end of the shaft against one's sternum or stomach enables you to make a more stable and consistent pendulum stroke, which is ostensibly an unfair advantage against someone crouched over a regular-length stick, gripping the club only with the hands.  As putting guru Dave Stockton recently observed: "I never understood how they could make it legal to anchor it on your body . . . when they outlawed Sam Snead's croquet style with nothing anchored."
Rhode Island-baserd PGA Teaching Professional and Putting Guru Norm Albergio, who has studied and custom-fit putters for more than 15 years, insists that the length of the putting shaft, and any anchoring, makes little difference.  "If anyone has an advantage from long putters, it's because the heads are heavy.  It's the weight that helps with the stability of a stroke."  Cleverly, and to avoid lawsuits, the rule makers have not proposed to make long clubs illegal, just the anchored stroke.
Blue Coats Losing Control of the Game
One hopes the USGA and R&A get reasonable during the period of comment on the proposed ruling, and the years before it's officially implemented. But I think their hypocrisy is driven by the sense that the ruling bodies are losing control of the game.  Helpless to bring golf back to an earlier Golden Age, they're trying to force some kind of change, any kind of change, simply out of desperation.
A recent Google Consumer Surveys study found that 72 percent of golfers claimed they never read the USGA's Rules of Golf, and didn't care.  More than 60 percent took mulligans and claimed long kick-in putts as good. If playing in a competitive sanctioned event, or against friends for serious money, most golfers will follow the rules closely. In casual play we'll even hit from behind trees or out of buried bunker lies if it's fun and can be done safely; if not, we use a foot wedge and no one gives a rusty you know what, except for the self-appointment moralists, who may be offended by the aesthetics of long putters.
Indeed, with his left arm sticking out like some giant chicken wing that escaped Col. Sanders, Adam Scott used a 49-inch putter during a runaway four-stroke win at the 2011 Bridgestone Invitational.  Precocious Keegan Bradley and Webb Simpson are winning with long putters.  Granted, the stiffness of the anchored stroke makes some golfers look like a mechanical stork.  But even conventional putting has often brought out the Inner Furyk; think only of Jack Nicklaus and that slightly open stance, tucked-in back elbow and distinctive crouch that suggested severe stomach cramps.
But does the anchored putter really convey an illegal advantage? Els once contended it takes nerves out of the game.  Phil Mickelson says it helps with short putts.  Others swear it calms the yips.
The true advantage of a belly putter is that enables old guys to practice without a debilitating backache, the great hazard of the practice green.  And it's practice that makes for better performance, not the putter.  If the Grand Poobahs of golf ban the anchored stroke and inadvertently also outlaw practice, then only golfers who practice will be outlaws.  For me to change, the USGA and R&A will need to send a team of their thugs to pry the belly-anchored putter from my hands.  Resistance for a good cause is never futile.