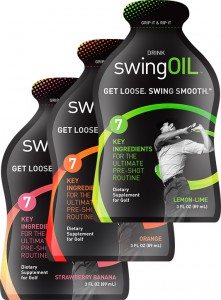 For reasons not easily comprehended, golf attracts a large number of quixotic inventors, turning out gear, clothing and curious accessories that ostensibly boost performance. Some clearly have facility, such as the Medicus. Others are utterly ridiculous and rightfully fail.
But one product that's emerged in the past couple of years, Swing Oil, has a good chance to take a permanent place in the bag, right between the customary banana and that just-in-time energy bar.
Packing 45 calories in three-ounce foil packets, Swing Oil currently comes in three flavors – – orange, strawberry-banana and classic lemon-lime. Its liquid texture, if you will, is a bit denser than Gatorade, despite similar caloric weight. While not billed as an energy drink, per se, its ingredients can provide a physical spike.  More important, Swing Oil's primary components include the stuff that many folks take for stiff joints and inflammation.
Of course, the original swing oil is still available in a wide variety of flavors and proofs, including single digit beer, an 80-proof vodka, and the manly Wild Turkey 101. Either can lubricate a sticky or creaky swing that's controlled, albeit only for a relatively short time. From Sam Snead "oily" to butt-head hammered takes precious few holes.  At the very least, upper case Swing Oil doesn't involve hangovers.
Developed by the Newport, RI-based Back Nine Beverages, Swing Oil's marketing is careful not to make unwarranted and unrealistic claims, other than its motto of "Get Loose, Swing Smooth." Its major public endorser is Jason Day, who swears by the product. And for those who take various semi-medications, Swing Oil's seven main ingredients are most familiar, the right stuff of supplements.
Freeze Them in Advance
Each packet of Swing Oil includes 100 milligrams of Glucosamine and 50 of Chondroitin, both of which are taken for joint stiffness. Forty mgs of Tumeric makes for a classic anti-inflammatory. One hundred mgs of Taurine is a sugar-free energy booster, while 100 more of Citrulline Malate is said to help with post-round physical recovery. Add in another 100 mgs of Ginseng Extract and 50 of Rhodiola Rosea Extract and you've got yourself a bonafied potion.
Swing Oil comes in a variety of packaging options, from 12-to-60-pack boxes. The price per beverage is around $2.50 each, a tad expensive for three fluid ounces, but worth it if repeated doses on the range, on the course and after a round lead to joints that stop marking.  One big tip: Freeze the Swing Oil packets in the refrigerator and toss them into the bag just before heading out on a round, so that the beverage will be cool when it's time to wash down that Cliff Bar.
For more information on Swing Oil, go to https://www.swingoil.com/.