Titleist forges irons that are among the most respected in golf. Callaway makes drivers that inspire confidence. Sun Mountain's lightweight bags go easy on aching backs, which is much appreciated. But despite all of the great equipment now on the market, only one manufacturer is truly beloved – – Daphne's Headcovers.
And why not, since most of the company's products are soft, furry, and come in the shape of pandas, Caddy Shack gophers, rakish pirates, tigers, birds, fish, dolphins and as many breeds of dogs as Westminster. They're on the bags of more than 200 PGA and LPGA Tour professionals, and hackers in the more than 75 nations. And while headcovers don't exactly shave strokes off anyone's game, it's a piece of equipment that protects that $500 driver, and fairway metals and hybrids that cost nearly as much.
With high quality furs and sturdy threads, all Daphne's headcovers can be hand washed, dry cleaned and come with a lifetime guarantee. From the whimsical to the downright huggable, the company's products also projects volumes about a golfer's cares and personality. And in an industry rife with copycats and continuous start-up competition, the original novelty headcover company remains the worldwide leader in its niche, delighting golfers for nearly 40 years.
Daphne's is also a nifty and even inspirational back-story about a girl and her mother.
How Will You Earn The Money?
Little Jane Spicer, a ten-year-old girl in Greater Phoenix, Arizona, got the notion that she wanted a sailboat. In an era before helicopter parents indulged every child's wish, Jane's mother, Daphne Spicer, wisely asked, "How will you earn the money?"
"Toys," said a determined Jane. "I'll make toys."
The two began to make toys and sold them at weekend arts and craft shows. Eventually, those toys morphed into a line of puppets, which sold well enough that Jane bought herself a small sailboat. But as the mother-daughter business flourished, there was little time for sailing. "We used to store our designs in the boat," recalls Jane, "which was towed behind my mom's Volkswagen bus."
As Jane turned 16, a customer made an unusual suggestion to Daphne, the concept of turning the puppets into golf club covers, which had never been done. Jane bought a patent leather hat box from a nearby Goodwill store and filled it with sample headcovers, and made her first personal sales call at the Arizona Biltmore's golf shop. Clearly charmed despite a disorganized pitch, the shop manager gave Jane an impromptu course on how to make a better sales presentation. He also ordered a set of golf club covers and gave her two sales leads. "These are tough but important leads and if you can sell them," he said, "you can sell anyone."
Jane arrived at her first lead without an appointment, business card or a printed purchase order, and with an idea for a design she had not yet created. The tough cookie placed a huge order. Spicer and her products clearly tugged at the hardest of hearts, and in 1978 she and her mother officially started Daphne's Headcovers.
Daphne Spicer continued to run the company while Jane attended college, landed a "real job," and soon grew disenchanted by a lack of joy and sense of mission in the corporate workplace. Jane quit, revived the line of puppets and spent the next six years making the critters during the week and selling them on weekends at arts and crafts festivals throughout the Western US. When Daphne retired in 1994, Jane purchased the headcover business.
A year later, Tiger Woods won the Masters with the iconic eponymous headcover, "Frank," atop his bag. Daphne's business grew about 400 percent in the next quarter. Jane soon found herself supervising two shifts of 75 employees, and for a time, because labor costs and a shortage of seamstresses in Arizona, had to move manufacturing to Indonesia and China. Today, all of Daphne's headcovers are made in Phoenix.
Doing Good While Doing Well
"My mom's mantra, and she told me this over and over, is that we must do good while doing well," explains the ebullient Spicer "We're very fortunate in that we can use our work, the products we make, to give to charities we care about."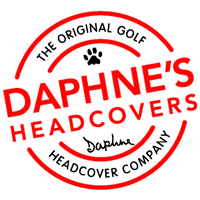 Daphne's products help support causes as varied as the Sojourner Center in Phoenix, which provides services to women and children seeking refuge from domestic violence.   They make and give "Hope Purple Dolphin" headcovers to the Susan L. Bader Foundation of Hope, to raise funds for pancreatic cancer research. Daphne's animal headcovers help support Gabriel's Angels, which brings therapy pets to abused, neglected and at-risk children. And their products are solid fund-raisers for the Australian Koala Foundation, the Animal Rescue Foundation and American Society for the Prevention of Cruelty to Animals.
What's more, at a time when the political world is going goofy-brained over limiting immigrants, Daphne's continues to embrace them. "My mother was an immigrant from England and my father immigrated from Austria," explains Spicer. "When she started the company, she insisted on hiring immigrants to sew our headcovers, so that they could earn a good living without ever having to rely on the government."
With nearly 200 different headcovers available, Daphne's adds new creatures annually. There are the familiar, such as Ernie Els' lion, Craig Stadler's walrus and Australian Aaron Baddeley's koala. More recent is Bubba Watson's personally designed Bubba. The company also makes special orders for corporations and country clubs, and welcomes suggestions for custom designs and embroidery.
Oh, and the Arizona Biltmore is still a client.  And Jane still sails.
For more information on Daphne's Headcovers, go to www.daphnesheadcovers.com.