With a light and easy going style, Jeff Wallach's debut novel, Mr. Wizard, combines the family dynamics of two brothers, the passing of their long widowed mother, and an extremely suspicious DNA test that suggests the boys had different fathers – – and neither the man whose photo had always hung on wall in their home.  With the death of Jenny Elliot, who murmured cryptic last words about a golf pro in Ballydraiocht, Ireland, sons Phillip and Spencer were propelled into an adventurous investigation into their origins and the existence of a family of which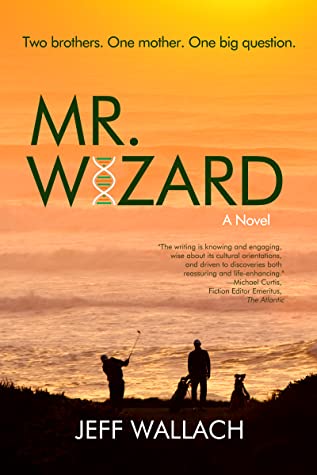 they'd never heard.  Set largely in the Five Towns area on Long Island, where Wallach was raised, the quick read is both funny, intelligent, colorful, informative and, despite the cover art, is not all that much about the game of golf, with a few nifty exceptions.
Jeff Wallach, of course, is one the co-founders of The A Position.  Now living in Oregon, the Vassar graduate – – who later earned a master's in fiction writing from Brown – – has spent most of life writing non-fiction, including four books and roughly 1,000 magazine features, newspaper stories covering a wide variety of topics.  In the interest of full disclosure, he is a colleague and a friend.
However, while I took personal delight in knowing where certain descriptions came from – – including a somewhat throwaway passage about a letter from New York Met infielder Bud Harrelson, politely declining an invitation to Phillip's bar mitzvah – – the book is a fascinating tale about familial mysteries and misdirection as a way of life.  Without too much in the way of spoilers:
Now in their early middle age, Phillip and Spencer Elliot had always believed that their father was Jack Elliot, a special forces warrior who went missing in action during the early years of the Vietnam war.  They were raised by Jenny Elliot, a Jewish woman who filled their Five Towns home with games and puzzles, and who continually challenged her sons to approach life with multi-dimensional thinking.  She entertained them with a classic card trick, and used the telephone to call the mysterious "Mr. Wizard," a strong male voice announcing the suit and number of the card the boys had pulled.  A somewhat mysterious person in her own right, she occasionally made oblique references about Ireland and Spain to her boys, which they didn't really understand.  After the strange mention of a golf pro at Ballydraiocht just before her death, Phillip took a DNA ancestry test, which launches the arc of the novel.
Phillip found he was 46 percent Ashkenazi Jew, as was Spencer.  But Phillip was 46 percent British/Irish.  Spencer was 46 percent of someone from Spain.  Clearly, they had different fathers.  After interrogating relatives, the boys received confirmation that Jack Elliot was not the father of either child.  Jenny's last words set the boys on their way to Ireland, in search of an old golf pro at Ballydraiocht – – if he existed.
Before departing, Phillip poured through his mothers travel receipts and phone records.  Fictional Jenny was a travel agent who went on numerous trips sponsored by resorts and visitor bureaus.  In real life, as a golf and travel writer, so did Jeff Wallach.  It's an old cliche, but people in both professions are underpaid and yet over-privileged.  Jenny was a treasured guests at many of Europe's finest establishments.  Because he's been to many in person, Wallach expertly captures the nuances of fine inns, restaurants, clubhouses, tumblers made of Waterford crystal, and the complex whiskies that fill them, all as he takes readers into a journey with surprising plot twists.
Wallach warms the heart of anyone who grew up in south Long Island in the 1970s, with details of experiences and places, some long gone, others still around.  He nails modern day Ireland and its evolved view of family and religion, as well as the centuries old institution of the Irish pub.  There's even a  treat for aficionados of golf course architecture; look for "1897" and "speed slot."  Finally, as the Elliot boys sort out and accept facts of an unusually complex family, most readers and going to wish for more.
Published by Open Books, in paperback, Mr. Wizard is most easily found on Amazon.com.  It retails for $17.95.