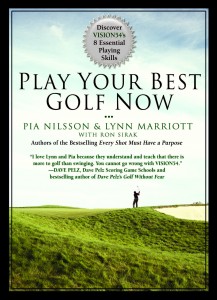 In the new Gotham Books release by golf performance coaches Pia Nilsson and Lynn Marriott, the authors build upon their philosophy for better golf, a better life and happiness, which they've previously described as VISION54.  Almost nothing is said about swing mechanics in Play Your Best Golf Now, other than advice and drills to reduce tension and find a good tempo.  Instead, the majority of the book describes a psychological approach to golf, and includes quotes from the eclectic likes of the Persian Poet Rumi, Rocker Bono and the ever young Peter Pan, all in support of authors' abiding ideal:
"It is our belief that what you achieve is greatly affected by what you believe you can achieve."
Yep, if I want to shoot a 72 from the blues I need only the conviction to pull it off, and if I don't it's the result of faulty thinking, not inherent biomechanical limits.   Well then.
What we have here is in many ways a re-distillation of The Secret, the wildly popular documentary and book that insists thought can manifest a reality that includes riches and fame, and a prescription for the Zen found in Golf in the Kingdom.  It's also a very thorough examination of the Bobby Jones clichéd and yet fabled "five-inch golf course," that space between one's ears where the game is won or lost, creates obsessive-compulsive torture, or is simply enjoyed with equanimity.
In fact, while Nilsson and Marriott didn't exactly put it this way, what's going on inside the messed up mind of most golfers is a metaphoric debate between Gary Busey, Glenn Beck and Bobcat Goldthwait, moderated by Jerry Springer.  Now, positive thinking isn't going to win the U.S. Open for a 10-handicapper.  But there is nonetheless a great deal of truth in the author's take on the common problem of mental squawking while standing over a golf ball, and it applies to life in general as well as golf.
Written with Journalist Ron Sirak, Play Your Best Golf Now – – which went on sale in late April and retails for $28 – – contains advice and drills on how to make those voices go away.  There's a chapter entitled "Leave Your Mind Behind," and another called "Drown Self-Talk With Useful Ideas," both of which fail to mention shanks, but detail myriad ways to forget these ever happen.
From a casual read of the book the authors sound a bit like the sport's New Age Exorcists, and yet they have a much bigger following than your average New Age Exorcist, except perhaps Deepak Chopra. Indeed, the Phoenix-based pair have coached five different major championship winners, and supported players through more than 100 victories on the PGA Tour and LPGA Tour, a roster of student/clients that includes Annika Sorenstam, Grace Park, Suzann Pettersen, Brittany Lincicome and Kevin Streelman.  And last year the coaches landed the first two spots on Golf Digest's "50 best Women Teachers in America" list.
The new book is a follow-up to Nilsson and Marriott's best selling Every Shot Must Have a Purpose.  And Play Your Best includes valuable golf-specific information, especially on finding tempo – – the greatest failing of average, mediocre and poor golfers.   I also enjoyed the chapter on storing positive memories and managing others, which includes the line "Live the great shots as first-person experiences, buy analyze the shots that don't work from a third-person perspective."  Back in the day while playing basketball, when shooting well and scoring was my only skill, I never remember missing a shot, confidence that clearly served me well,  hapless defense notwithstanding.  In any event, the two have a large following, evident in a sample of endorsements for Nilsson and Marriott, and Play Your Best Golf Now:
"We share the same vision – that it's possible to birdie every hole and shoot 54, and that there are no limits to what you can achieve. In many ways, I am the embodiment of the VISION54 coaching philosophies." — Annika Sorenstam
"I thought I knew it all. I was wrong. I began with the smallest changes, and they made the biggest difference in my golf game and in my life; Thanks to Lynn and Pia, I fell in love with golf again." — Grace Park
"I love Lynn and Pia because they understand and teach the game in all of its breadth. They are great coaches who work with the things that are important to all golfers as we try to score. There is more to golf than swinging, and Play Your Best Golf Now deals with it. You cannot go wrong in following VISION54." — Dave Pelz
"I have known Pia Nilsson and Lynn Marriott for many years. Their passion for the game is second to none. The VISION54 approach is far more than just pure golf technique, it allows an individual to unlock their true potential by opening their mind and believing anything is possible to achieve. Golf games and more importantly, the game of life, benefit through their teachings." — David Leadbetter
"In working with Lynn and Pia I was delighted to experience their mastery at coaching human potential and achieving extraordinary performance in golf and life. Their belief and work with integrating the physical, mental and emotional through intention and practice is a model for the future." — Michael Murphy
"What Pia and Lynn do so well is tap into the golfer who resides in all of us – the player who is in the moment, peaceful, trusting and accepting. In many ways, they teach us how to be our own best friend on the golf course. Even better, the skills can be applied to any aspect of life." — Damon Hack