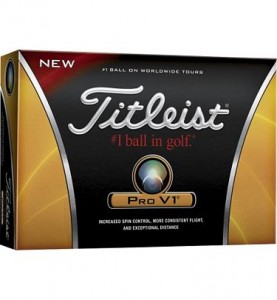 The Titleist golf ball truck rolled into the Marin Country Club last weekend, with a full dance card of 15-minute appointments set up by Head Pro Shawn McEntee.  The Titleist Mobil Fitting Team put up their tent, hooked up a TrackMan launch monitor and instead of the limited flight balls we usually hit on the range, tossed out some Pro Vs to smack.  The idea was to find out which of the company's five balls is best suited to a player's game, and of course get them hooked on Titleist.
Other ball-makers are doing the same thing,most notably Bridgestone.  But with its mobile program, Titleist is taking the ball fitting in the personal realm that's now customary with most clubs.  Ball Fitter Bert Roy explained that the company fits players "from the green back to the fairway and finally the tee," since the most important scoring shots are usually hit with a wedge.  Since I figure I have to settle for lagging it close on any putt longer than three feet, using a ball that more often gets me to kick-in distance would be a definite plus.
So, Roy starts you out with a wedge and asks you to hit a typical half-shot to a flag about 50 yards out.  Since I tend to bring them in high, it's clear I don't need a ball that imparts more spin, as opposed to a player who prefers to make them hop and stop.  We then looked at the spin rate on a six-iron and my driver.  Roy points out that all of the Titleist balls are relatively equal in distance, with about four to five yards separating the shortest from the longest, so getting more juice isn't part of this exercise. But since my drives were fairly straight and had a good launch angle, we wanted a ball with relatively less spin here too.  And that was the Pro V1X.
Of course I wouldn't need the less expensive NXT.
In any event, Roy made the point that one should use the same ball all of the time, so that you get the idea of how it performs in real life, so that you can execute the same scoring shot over and over.  I made the point that I probably wouldn't be using a new Pro V1X on a forced carry over a pond.
"I do," said Roy.
Yeah, but he probably gets his balls for free.
Anyway, as a reward for getting fitted, the Titleist boys gave me a couple of Pro V1s and Pro V1Xs, and an on-course evaluation scorecard that I could use to make a comparison.  If I can just keep them out of Marin's ponds, I'll see if Roy's recommendation holds up.