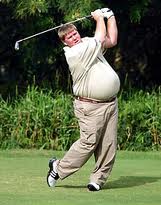 Promising golfers smaller clothing sizes, no hunger, plenty to eat, and the sublime feel of lightly striding up the 18th fairway with legs as fresh as on the first, veteran Food and Weight Loss Coach Larry Jacobs will present his latest Weight Loss for Golfers Tele-Seminar Series this coming September 28 – and with a special end-of-summer half-price offer. Guaranteed to make participants "Thin for Life," the four-part program comes at a time of year when many golfers are noticing a suspiciously expanding end of summer waistline.
"In the dog days of summer golfers tend to drink more sodas and beer, and eat more hot dogs, chips, potato salad and other comfort foods," explains Jacobs, who since 1983 has helped clients adopt healthful diets and lose pounds. "Just as players in many parts of the country are putting away their clubs for winter, extra weight often starts to sneak on.  Then comes Thanksgiving and feasts that don't stop until January. Without a change in eating habits and some focus, a lot of people are destined to pack on more flab."
Having previously conducted thousands of consults and more than 20 Weight Loss Tele-Seminars, Jacobs has enabled people from all walks of life in 22 countries to modify and improve those habits. More recently he's focused on golfers, with a list of satisfied golf notables that includes NBC Sports on-course Golf Announcer Roger Maltbie, Fred Funk, Allen Doyle, Don Trahan, Dottie Pepper and Fred Funk.  In fact, Jacobs gave Funk "game day" food advice just after he qualified for the U.S. Open at Bethpage in 2009.
Forget the Scale and Look to Pant Sizes
"I lost over 30 pounds in the first two months of working with Larry," says Maltbie, who has long sported a formidable waistline, and whose weight loss led to a full-page article in Golf Digest magazine.  Adds Pepper, a golf broadcaster and former LPGA star: "After working with Larry for barely six weeks I'm definitely smaller, up to two sizes in some of my jeans.  I have a lot more energy. And I feel like this hasn't been that big of deal, even to maintain on the road."
That's because Jacobs' program doesn't hinge on fasting, pills, banning carbohydrates or the severe caloric restriction common to conventional diets. "It's almost impossible to restrict calories and eat less forever, which is why
diets don't work and people usually regain all or more of what they lost," says Jacobs. "My clients eat as much as they want whenever hungry, and it's real food that you get in grocery stores and restaurants. The key is to learn to eat clean. It's not how much you eat. It's what you eat that matters most."
When you combine some simple physical activity with Jacobs' method of eating, the body's metabolism gets trained to burn fat instead of storing it. "I don't want my clients obsessing over a number on a scale, which can be demoralizing," adds Jacobs. "The best way to measure progress isn't weight, it's about getting smaller and fitting into smaller clothes plus how much more energetic you look and feel."
Coaching Bad Bellies and Big Bellies
The Thin for Life program had its genesis in California during the 1970s, when Jacobs began suffering severe gastrointestinal pain. After several futile treatments, he turned to a physician pioneering nutrition-oriented medicine, who discovered he was allergic to one specific food. Inspired, Jacobs returned to his native Maryland, studied nutrition, its impact on health, and hung up a shingle to coach others on what he'd learned. "While the original idea was more about wellness than weight," he adds, "I eventually ended up working with more big bellies than with bad bellies."
Although a novel practice in those olden times, the science of nutrition, wellness and physical performance is now mainstream, most famously evident by the improved conditioning of Wimbledon Champion Novak Djokovic, after removing glutens from his diet. But an obvious question for Jacobs is why the focus on golfers?
"First, I'm a mad dog golfer myself, and know the lengths players will go to improve their games," explains Jacobs, a volunteer Special Olympics Golf Coach who carries a four handicap. "The golfers instantly know that I'm one of them. Second, there's also a large group of Baby Boomers and seniors heading down the "back nine" of life, when excess weight and the poor health that comes with it detracts from play and makes the game less enjoyable.  And while golfers have been encouraged to try yoga and get stronger, nutrition has been largely overlooked.
Goodbye Mr. Chips and Farmed Salmon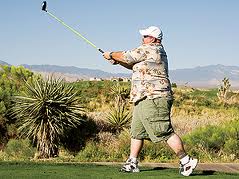 The Weight Loss for Golfers Tele-Seminar is a substantial piece of work, as well as a life changing process for participants.  While it regularly sells for $997, this September's Tele-Seminar Series is being offered for $497 with a money back guarantee. Structured to run over four sessions, it consists of written materials and four separate call-in or listen on the web sessions, each of which lasts from 60 to 90 minutes.  During the call-in sessions – which are recorded and kept on a password-protected system – Jacobs goes through the steps of the program and answers questions by email and phone.  "We break things into two week chunks," he explains, "and the first session is about temporarily eliminating certain foods that aren't good for you."
Some things, like potato chips and processed meats are obvious.  Others are less, such as farm-raised salmon and apples that are grown conventionally, with pesticides and herbicides.   The diet still has room for several dozen types of food in the first two-week period. The second session involves systematically re-introducing some of the foods and gauging the body's reaction, while the next sessions are devoted to creating an individualized long-term plan to build healthy eating into a lifestyle.  For more information on Larry Jacobs and to register for his Weight Loss for Golfers Tele–Seminar program, go to http://ThinGolfer.com.