On the email list of virtually every peddler in the industry, golf and travel writers receive thousands of invitations each year to review resorts, courses, services, events and fabricated non-events, and to dissect and describe the worthiness of an equipment and gadget cornucopia. Some are delightful fun, useful or can actually improve one's golf game. Others are a stretch that puts Mrs. Incredible to shame. But as spring makes its way toward summer, following is an eclectic roundup of stuff, a couple seasonal and a few perennial, all personally tried, played or experienced in some way, shape or form.
Get Shorty
In Arizona it's getting hot, hot and hotter at this time of year. But the Waste Management Open and Spring Training crowds are gone, and resorts and golf courses are discounting high season prices. And next to Scottsdale's dining and shopping, in the town of Paradise Valley, is a famous old resort and golf course that's been totally reinvented and rebuilt, and which could be one of the best retreats in the Valley of the Sun.
When it opened in 1959, the fabled Mountain Shadows resort – – so named because it's literally in the shadows of Camelback Mountain – –  attracted the likes of Robert "The Untouchables" Stack and other Hollywood hipsters. It also had a cool and relatively short 18-hole golf layout, designed by Arthur Jack Snyder. But the resort fell on hard times and was closed for several years, only to be completely rebuilt and re-opened in 2017, with a renovated golf layout that's a true par-3 track.
Called The Short Course,  it's the work of major redesign by one of Snyder's students, the irrepressible Forrest Richardson. Richardson believes that too many architects "take the fun out of golf." His designs bring that fun back, especially around greens, which at the par 54 Short Course includes wickedly contoured slopes and multi-level surfaces. With 18 chances for a hole-in-one, Shorty's holes range from 86 to 195 yards, at a total length of 2,310 yards, and it's one of Richardson's proudest accomplishments, of which there are many.
The course is easily walked and can be finished before the arrival of mid-day heat, has modest greens fees and can challenge experts and delight beginners alike. https://www.mountainshadows.com/   https://www.mountainshadows.com/golf
Sweat Equity
If you're going to play golf in Arizona during the summer your hat is gonna get soaked. Enter NoSweat, a company that recently released a new lineup of hat liners that absorb and retain perspiration. Seriously.
The company sent me a sample, a plastic bag, and a vile of water about twice the size of those used for lab blood draws. As directed, I took the sticky side protector off one side of the liner, put it in a plastic bag and poured in the water. The liquid was gone, and retained, within seconds. And it will do the same for your face, absorbing forehead sweat and keeping the drips out of your eyes, which also prevents fogging of glasses. It also keeps the hat less stinky, even when saturated, after which when full it can be simply replaced.
NoSweat is marketing their liners not only to golfers – – it's endorsed by Stewart Cink – but hockey players, police officers and construction workers – – anyone who wears a hat or helmet. The liners come in styles for hats, helmets, hard hats and visors. A three-pack retails for $6.99, a 12-pack for $17.99 and 25 come for $34.99, making these liners the least expensive product you'll buy this summer.
Going in Jet Set Style
Perhaps the most expensive summer spend is a splurge on a private jet to a luxury golf location. Dream on, right. Private jets are for upper echelon Tour pros, CEO's and celebrities.
However, a pilot named Justin Crabbe started a company called Jettly, which is a web and app charter booking platform that matches folks who want private air travel with pilots of more than 9,500 aircraft, which are already going to a location, and are happy share some of the costs to get there, somewhat similar to an "UBER for air travel," as CEO Crabbe describes it.
All of the pilots are licensed to carry passengers, are heavily insured, and have airworthy craft that have been checked out. Jettly's network allows members to book seats on flights that reach some 5,000 public airports, while airlines serve only about 500. And the ease of private aircraft travel can be an unmatched. (Flying on the company Gulfstream erased many of the less rewarding aspects of corporate life.)
Jettly's charters are also cheaper than a Net Jets contract. Costs range from $3,500 an hour for a light jet – – think of splitting it six to eight ways on a buddy trip – – to about $1300 per hour for a propeller-driven aircraft with four seats. For details go to: https://jettly.com/
The American Century Tournament
While you could probably book a private flight into the airport at South Lake Tahoe, you'd better act fast to book a room for the 30th Annual American Century golf championship, held at the Edgewood Tahoe golf course on the shores of the spectacular alpine lake. Held from July 9 though the 14th, this tournament is the south shore's largest annual event, attracting more than 50,000 spectators for "a week of celebrity, golf and spectacular scenery."  Very true indeed.
From the sporting world, this year's list of committed participants include Marcus Allen, Jerry Rice, John Smoltz, Steve Young, Trevor Hoffman and, among others, Andre Iguodala. From Hollywood there will be Ray Romano, Kevin Nealon, Rob Riggle and others.
It's an intimate setting, and repartee between the players and the gallery is a standard feature. And the lakeside, par 3 17th hole is a favorite for players and
spectators, some in boats and on rafts, others by the tee and still more crowded around the green.
Daily ticket prices are $20 per day from Tuesday through Thursday, and $30 per day for the competitive rounds on Friday through Sunday. A season pass good for all six days costs $70. For additional details, go to: http://americancenturychampionship.com/
La, La, La, La, Bombas
Bombas "Hex Tec Performance Golf Socks" aren't going to improve your putting percentage. But they can help make your feet feel a lot better. With moisture-wicking properties that keep feet dry, the fabric also helps air circulation, letting feet "breathe." The socks are also constructed with front and black blister tabs, to prevent blisters.
What's more, buying these socks is a socially responsible purchase. For every pair sold, Bombas donates a pair to someone in need, and has given away more than 16 million already. For more on the socks and the company, go to:  bombas.com
The Incredible Hulk of Golf Umbrellas
While we've been talking about summer, winter is coming, and that means either White Walkers or rain. And wind, the gusts that so often turn umbrellas inside out. Not so the Weatherman golf umbrella. Perhaps the most sturdy portable shelter ever created. The beast is stout enough to withstand 55 MPH winds without turning inside out. With a diameter of up to 68 inches, it could keep an entire foursome dry in a Mississippi downpour. It also has a 50 plus UPF barrier for protection against a beating sun.
Developed by Rick Reichmuth, a meteorologist and Weatherman founder, the brolly's canopy is Teflon-coated fabric, and the entire stick is heavy enough to inflict serious harm on an assailant. The umbrella package also includes a Pebblebee Bluetooth tracker, which links to a Weatherman forecast alert app, which predicts when the rains are coming or going. The 68-inch golf umbrella retails for $95 and may just be the last one you'll ever need to purchase. https://weathermanumbrella.com/pages/weatherman-golf
GolfLogix: A Venerable App Gets Even Better
It may feel as if GolfLogix has been making golf GPS devices since navigational satellites were first launched, since two decades of technology passes like dog years. From 1999 through 2005, the Arizona-based company developed a Garmin-branded device featuring thousands of courses worldwide. In 2009, advances in smartphones led it to develop a golf app that provided precise distances to greens, bunkers and ponds, and enabled players to keep score, track statistics, book tee times, and even compete online with other golfers.
This spring brought the addition of Putt Line, the only on-course app that shows the exact, 3-D animated line of a putt to the hole, on greens mapped on more than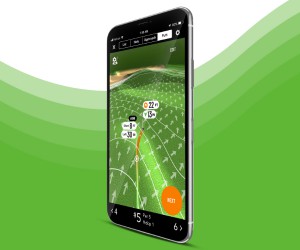 12,000 courses, down to centimeter accuracy. It's like having a local caddy at Cypress Point or San Francisco Golf Club.
The animation reveals breaks you can't see, subtle changes in elevation and the optimal aim point of a putt, with arrows showing the line.  The user can also load in the green speed. "It couldn't get any easier to read a putt on the green," says GolfLogix President Pete Charleston. "There's no more guessing how uphill or downhill the putt is, or how far right or left to aim. With one swipe across a smartphone screen, the Putt Line feature will give the perfect read."
While the GolfLogix app with the Putt Line feature can be downloaded on a trial basis for free, continued use requires joining the company's Plus Membership, at $9.99 per month of $49.99 for a year. Check it out at https://www.golflogix.com/