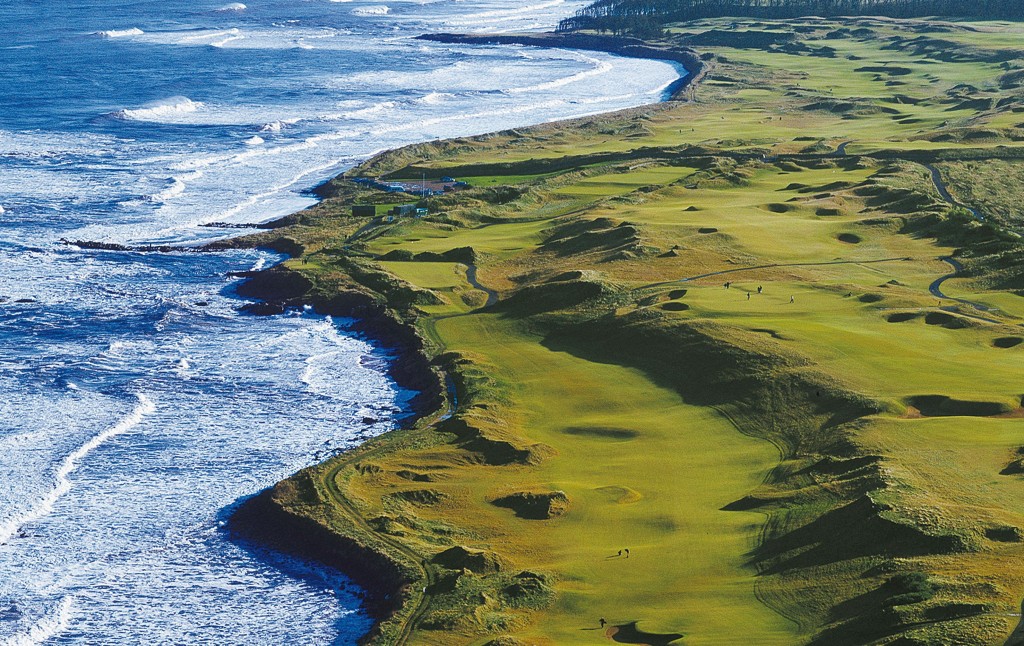 In October 2001, the inaugural Alfred Dunhill Links Championship was played on three of the greatest links golf courses on the planet: the Old Course at St. Andrews, the Carnoustie Links, and Kingsbarns Golf Links.
Kings who, you might well have asked?  How could a course that was younger than some of the golf balls in the bottom of your bag suddenly be hanging with two of the oldest and most revered links tracks on earth?
Designed by Kyle Phillips with the help of co-owner Mark Parsinen, and opened in 2000, 7126-yard Kingsbarns is clearly a child prodigy.  Although most folks had never heard of the place before the first Dunhill Links Championship, the precocious youngster—which lies five miles up the road from St. Andrews— has been kicking turf-covered butt since and has already been ranked among the best courses ever built.  The place simply has it all.
For starters, you've got your quirky ancient history.  Apparently Bronze Age man found the site as captivating as modern man does– perhaps bronze was easily forged into cavity-backed tools of some sort.  Workers moving a massive 300,000 cubic meters of earth during construction exhumed graves and dwellings dating back 2500 years– including the remains of an ancient woman who was (coincidentally?) found very close to the women's tee box on the sixteenth hole.  A former castle near the fourth green once protected grain stored in the "King's barns," and a stone bridge was unearthed after being covered over by sand and grass and sheep poo since the Napoleonic wars.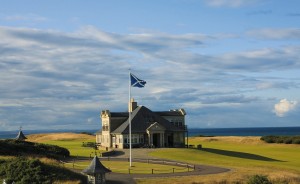 You've also got your ancient golf history: the first reference to the game at Kingsbarns dates back to 1793, and four of the golf holes actually sit upon the site of the original nine-hole layout.  The entire course luxuriates across the Cambo Estate, owned by the Erskine family, three members of which have served as captains of the R&A since 1797.  The original Kingsbarns Golf club apparently disbanded in 1844, was resurrected in 1922, and then was put out to pasture again when the land was requisitioned by the military in 1939.
In addition to poignant historical anecdotes, you've also got your stellar ocean views and some of the best seaside golf shots you'll ever contemplate through salt air; nine of Kingsbarns holes reveal the ocean in the frame of play (even more if you play like I do), and all eighteen are hospitable enough to provide sea vistas stretching as far away as Carnoustie.  The holes route along 1.5 miles of shoreline and up and over an old sea cliff.  You've got all fescue/bent turfgrass carpeting some of the most make-you-weep beautiful humps and hummocks anywhere, flowing between revetted bunkers and perky little burns, and surging between dune ridges and hollows in a way that will move you to want to hug every hole.  The turf is tight and rich and practically whinnies for deft bump and run shots, but you'll face some thick rough if you miss these fairways.  I still don't quite believe that most of this topography was built– much like I don't fully accept that a man painted the Sistine Chapel.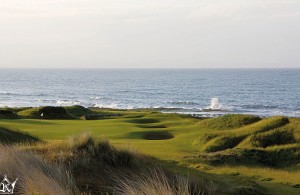 And you've got your sort of mystical golf philosophy here, too.  Parsinen, who was much of the well-struck drive behind Kingsbarns, considers golf an emotional game.  The property's lovely press kit claims that he "sees the most cherished golf courses as places where errant shots are not final but just the beginning of an adventure about consequences as players confront interesting decisions in the process of recovery."  While this might sound like hype from a twelve-step program, the golf course is a pure metaphorical expression of its developer's philosophical ideas.
Parsinen himself has written, "The course should elicit anticipation and hopefulness in players of all skill levels; let it test one's perceptual ability, judgment, decision-making, shotmaking, and emotional poise; let it not be difficult for the sake of being difficult; rather let it be interesting and engaging."  He and Phillips have accomplished this and far more through stunning visuals and contours that both intuitively compliment the natural landforms (and so are easy to read if you pay attention) and are also intrinsic to strategy.  Although choices seem clear and simple, the course also harbors mystery.  And it elicits joy.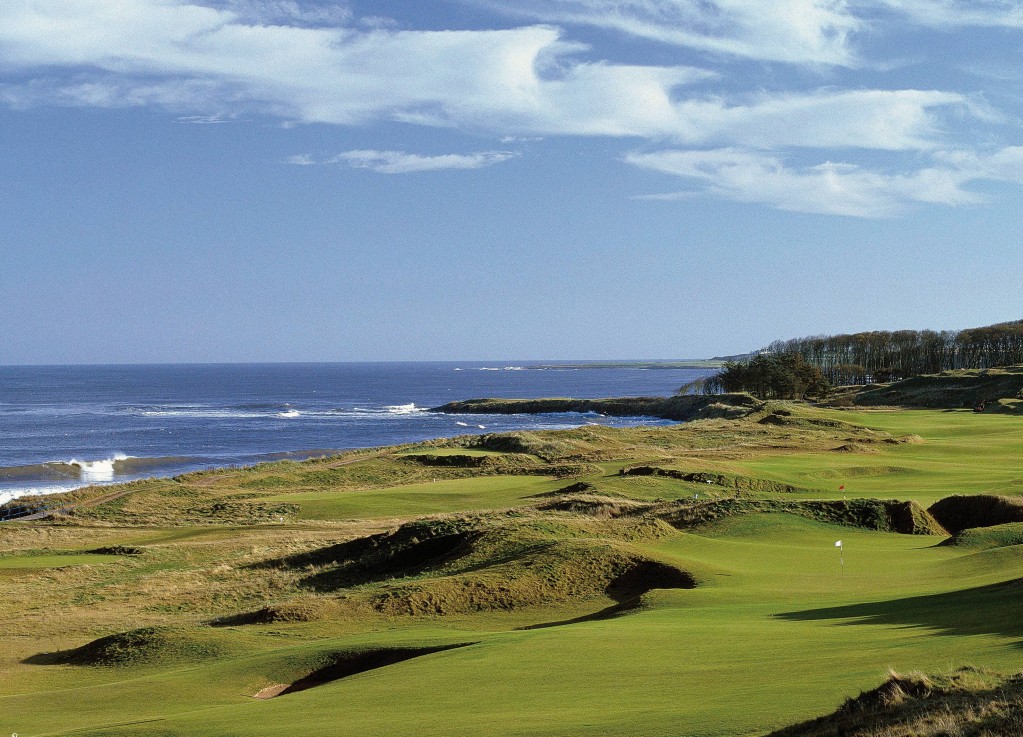 At Kingsbarns you've also got your terrific shot values to back up what sounds like the scribbled musings of Shivas Irons.  Greatness here is expressed through big, billowing features, subtle nuances, and dramatic routing.  Contours and lines of play are both crucial.  Aggressive driving lines are rewarded with auspicious kicks and favorable approach angles into green contours that will channel balls toward the hole.  Safe driving lines result in daunting approach angles which turn supportive contours into confounding obstacles that deflect shots away from the target.  And this links course that appears to have mellowed and deepened over centuries divulges a few more surprises on the greens, which are large and modern in design, although fair and true.  In fact, each green– they are long rather than wide– is broken into separate, smaller greens by contouring.
In addition to all this, you've also got some of the most outstanding golf holes ever built, individually, and set in a lively rhythm that percusses from one to the next.  Consider that the first four holes may be among the best quartet of starters anywhere.  Number one requests a blind tee shot between grassy, rolling mounds; once out on the fairway, this 414-yard adventure reveals an expansive blue horizon of ocean framing the green.  Deep bunkering adds even further dimension.  The second hole, a par three of 200 yards, also plays right at the ocean, but this time it's not the wide, blue, calm ocean, but the white furor of breakers crashing across off-shore shoals.  The short, tight, par-five third plays alongside the water all the way to the dangerously bunkered green.  Number four's encroaching fairway bunker introduces the risk/reward theme, which repeats throughout the day.
The middle holes include surprises (the gorgeous green complex on what at first seems like the pedestrian fifth); enigmas (the sixth's minefield fairway); muscle holes (the 470-yard par four seventh); and a respite or two.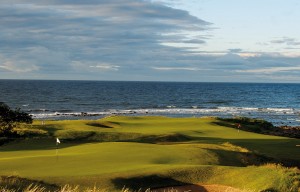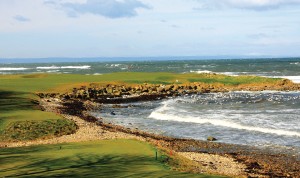 But the best stretch of holes comes after the turn.  Following eleven– a nearly unprecedented links hole that plays into trees– the next four cavort across a peninsula created by a fast-running burn flowing into the sea.  Number twelve presents an epic 606-yard par five that curls around the ocean to a green 72 yards deep and set tightly beside the water.  Thirteen plays in a natural stone-walled canyon– come on, a stone-walled  canyon on a links course!  Fourteen offers a short respite on a high ridge above the water, and fifteen, a par three over the ocean, captivates with a combination of beauty and danger.
Kingsbarns closes with what sounds like Morse code for an ecstatic climax: long, long, long.  Sixteen's 565 yards include revetted bunkering and a sneaky burn behind the green.  Seventeen unfurls to 474 yards that will be difficult to gobble in two bites with less than a perfect tee shot.  Eighteen concludes with an aerial golf ball crossing of another hidden burn and a terrestrial walk over the exhumed stone bridge from Napoleon's day to a green that seems to float among tall grasses.
You've also got your small, cozy clubhouse that feels like an intimate holiday party, especially on a fall day decoratively enhanced by a dram of single malt.  Folks in the bar are giddy with contagious pleasure, and may well buy one another drinks to celebrate just how fine life can be.  The magic of Kingsbarns is indefatigable.