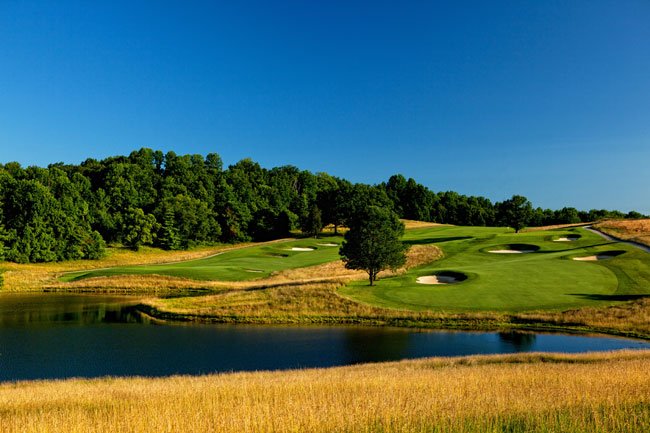 There is a purity belonging to classic golf courses of the early 20th century that more modern layouts can't seem to equal, and nowhere is this more evident than at French Lick Resort's storied, beautifully-crafted Donald Ross Golf Course.  The Donald designed the layout– originally named "The Hill Course"– back in 1917, when earth moving was done without the benefit of heavy machinery.  Which lends even more credit to his artistry of having built this golf course not just on, but INTO the land.  The course sits on its site as if it was as old and natural as the trees, water courses, and waving grasses.
Walter Hagen, for one, must have loved Ross's design, as he won the 1924 PGA Championship here by beating Englishman James Barnes on the 36th and final hole of match.  He collected the grand total of $6,830 for his efforts.  Ross's work was touched up with a $5 million renovation in 2005 which has worked perfectly to preserve the look, feel, and playability of a course as well-wrought and beautiful as one of the fine craftsman style homes that also defined this golden age of American design not just in golf course architecture but in buildings, furniture, artwork, and more.  The renovation restored 80 trademark Ross bunkers boasting flat bottoms and deep faces, and greens– many of which are square or rectangular– that undulate far more than modern putting surfaces, thus explaining the slower speeds maintained on them.  If they were faster, players might spend half their day trying to get close to the hole.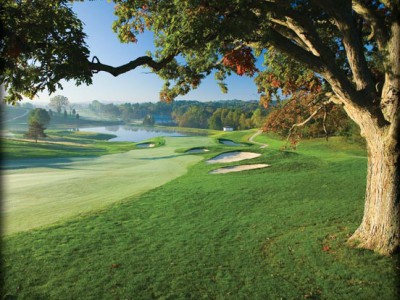 While the course has also been stretched to just over 7,000 yards, that's clearly a modern concession.  Ross surely meant for the pros to play it from the Ross tees at just over 6,500 yards, and as one of our foursome remarked during our round there, "This may be the longest 6,500 yards I've ever played."  Elevated greens and soft conditions tend to repel approach shots and balls meant to get close to the pin must be hit fully at them, not with an expectation that they will bounce and release.  Good players might even enjoy inventing their own combination of the Regulation and Ross tees to create a course of around 6,300 yards, which would give shorter hitters more opportunity to hit irons into the greens.
If you do choose to play from the Ross tees or farther back, don't expect any respite from the brilliant but simultaneously long and difficult par threes.  I'm embarrassed to admit that I hit driver off the tee on three of them, which the scorecard identified as 194, 210, and 228 yards respectively, but which still played longer– even the downhill ones.  Number 16, at a mere 151 yards, provides a holiday-like interlude on the back side.  Several of the par fours will also require maximum clubbage– such as number five, at 461 yards.  All of which makes the par fives seem among the easier holes.
The first hole, a stout opener of 401 yards, presents bold visuals that will define the day.  A bunker pinches the fairway down from the left creating a pshcyhological challenge even though it only requires about 150 yards to clear the sand and reach a speed slot that will roll the ball downhill.  Number two boasts some old-school architectural trickery– a slanting line of bunkers creates the illusion that there's nowhere to land your drive, until you realize that the third bunker in the set is actually unreachable, and so the tee shot isn't really so demanding.  Upon first glance the 194-yard fourth looks daunting until you realize that it was meant to be attacked boldly, hitting past the pin and letting a backslope feed your shot back toward the hole.  By the back nine you'll realize that many of the tee shots are hit over valleys and second shots often require an extra club or two if you care to reach the perched and sometimes crowned and always well-defended greens.
As putts must also be struck boldly throughout the round, and this will certainly create some mayhem if you follow a round at the Ross with a round at the Pete Dye Course, where such putting might send balls caroming off the greens entirely.  Just one more tribute to the French Lick Resort as a whole, which features such utterly different but equally excellent golf courses.  Add in Sultan's Run and the nine-hole Valley Course and you've got one of the best collections of golf possibilities anywhere.