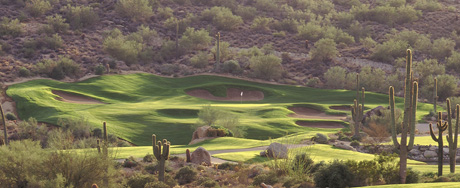 A couple of years ago I was forced to endure an unwanted golf lesson as part of a story I was writing for a magazine.  I was playing some very good golf at that time so I told the instructor: please don't give me a lot of technical information about changing my swing.  An hour later I found myself reviewing three pages of notes and a video the instructor had shot of me in the hitting bay.  I was pondering a grip shift, an alteration to my stance, something I didn't even understand that I was supposed to be doing with my elbow, and about five other renovations the instructor seemed incapable of not suggesting.  It screwed up my game for about three months.
Which is why my recent visit to the Jim McLean Golf School at SunRidge Canyon Golf Club in Scottsdale was so satisfying.  For starters, instructors Justin Klemballa (who is also the Director of Operations) and Pomp Braswell knew they had the Golf Road Warriors for about 45 minutes.  Klemballa gave a thoroughly entertaining intro to their program– already distinctive from the many boring hours I've passed listening to instructors natter on about their philosophies, teaching methods, and opinions on whether there were two shooters on the grassy knoll, for Godsakes.  And I'd attend the McLean School just to see Braswell execute the trick shot he showed us at the end of the presentation.
Following the quick introductory remarks, we headed for the practice range, where rather than have us pound balls, our instructors started us with a contest: hit a target just a short pitch away to win a copy of Jim McLean's new book.  They already understood that learning requires motivation, and that four Golf Road Warriors would be motivated by competition.  Especially if there was a prize– even if it was the donkey behind door number three.  As our group settled in to this challenge, Klemballa walked the line, offering a few tips on how we could improve this shot.  But the tips were simple– open the face, lighten the grip on the left hand– rather than technical– and we were able to see immediate results.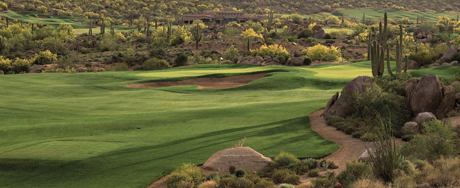 The lesson also involved some one-on-one with Braswell in a hitting bay outfitted with Trackman.  Braswell asked about one thing I wanted to improve and we decided to focus on height of pitch shots.  While I happen to have a decent short game, most of my shots around the green are low runners– not much help when I have to hit a tight shot over a bunker and land it soft.  I'm not going to give away any secrets here in case my $5 Nassau opponents happen to be reading this, but let's just say that 18 holes at Sunridge Canyon following the lesson proved either that Braswell is a great instructor or I'm a model student– possibly both.  In fact, I suspect that Braswell is so good that your short game might improve just by walking past him on the street.
The round at SunRidge Canyon proved to be one of my favorites of the week.  While the course delivered a bit of a beating it was visually gorgeous enough to make up for it.  Architect Keith Foster laid these holes into a dramatic and energetic site, using canyons to delineate some holes, carving fairways up into landing pads by siting them close to ravines and arroyos, and employing elevation changes throughout.  In fact, the opening holes  play breezily downhill so it's best to make some good scores here, because as we know, what goes down must eventually go back up.
Which happens largely in the form of "The Wicked Six"– the final third of the course, which plays mostly uphill and into the wind over and around numerous hazards, difficult doglegs, misanthropic bunkers, and more.  A dramatic finish to a terrific golf course!