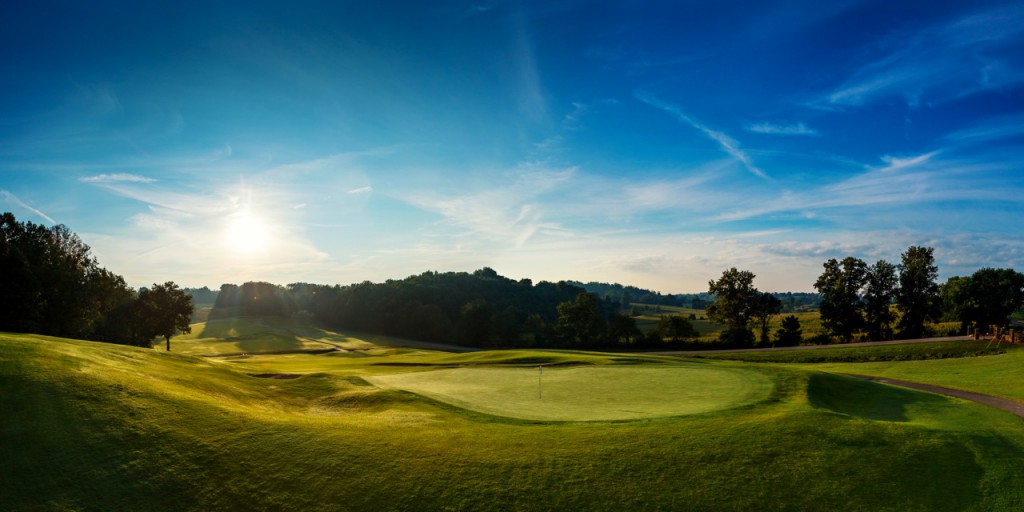 There are few purer, sweeter treats in golf than heading out to play what you expect to be an ordinary public golf course in the middle of Indiana and discovering a masterpiece by a disciple of Pete Dye that makes you think: if Tim Liddy had been lead designer sooner, all those other Dye courses might have been, well, more playable to less-talented players such as myself!
In what was obviously a partnership of good architect, penal architect, Liddy was the softness, the cameraderie, the warm squishiness, the loving, tender giver.  I could go on.  We know this, because today the Golf Road Warriors played his Sultan's Run Golf Course in Jasper, forty-five minutes from the French Lick Resort.  We also are now huge Liddy fans for his ability at least at this golf course to take some of the strategerie and beautiful shaping of Dye's best layouts but to inject them with an amazingly strong dose of playability.  And playfulness.  The collection of holes covered all the requisite charmers– short par fours that might tempt big hitters to swing for the green; downhill par threes to putting surfaces surrounded by water; risk reward par fives that require cutting corners or flying hazards or delivering heroic pokes to reach the somewhat puzzling greens in two.  Greens that look simple but confound. Bunkers in the shapes of question marks.  And a finale puncuated by a dazzling waterfall pouring over red rock in front of a brightly colored flower garden.  And at between $33 and $59 including a cart you could have more fun for the money than a Volkswagon full of clowns in a free parking zone.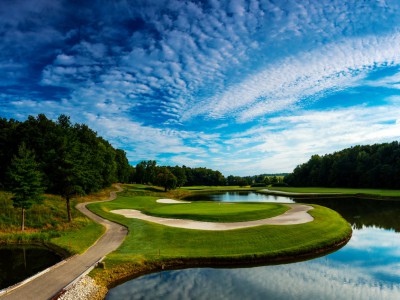 Named for a successful race horse by the name of Supreme Sultan, the golf course features horseshoe tee markers and holes named for other famous thoroughbreds descended from the Sultan himself when he went on to a career even more fun than racing.  You may find yourself running freely across the 224 acres of woods, water, and well-designed golf holes that are also quite walkable (but bring your own push cart as none are available).
The course presents a demanding attitude from the 430-yard opener but players will appreciate and no doubt occasionally make use of the side moundings and bail out areas that work to keep you in play even after a mis-struck shot.  On number two, it's interesting to note that the white tee box is the most dramatic on this downhiller over water, emphasizing the enjoyment of the average player, not the guy hitting from the back tees.
As you progress through Liddy's well-crafted routing you'll feel as if you're being presented a 'greatest hits' album of the best that golf can deliver, including classic positioning holes, a confounding dogleg or two, great views (of distant cornfields, for example), a par-three named "Talent Contest," and one of the prettiest finishing holes you're likely to see.