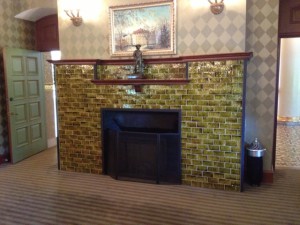 Let's suppose for a moment that you are Lee W. Sinclair, the creative mind behind the West Baden Hotel, in southern Indiana.  It's 1902, a warm September day when the leaves have just begun to redden and the corn hasn't come in from the fields quite yet.  You have some business accounts to attend to what with the opening of your posh European-style hotel with a central atrium that if it brings any other architectural marvel to mind it would have to be the Pantheon in Rome, created under the direction of the Emperor Hadrian.  Not wanting to leave the property full of walking paths and mineral springs and mature trees just starting to color, you head for a room off the lobby near reception, and sit at the big Rococo desk with the wall of antique books behind you and a glimpse through curtains outside to the hotel's veranda, where some of your upscale guests from Chicago sit rocking in wooden chairs.
Fast forward just over a century and now you're you, not Lee W. Sinclair, and you're lucky enough to be staying at the West Baden to play it's phenomenal golf courses and eat steaks in restaurants once populated by Al Capone, hollywood stars, and FDR (who used the resort as a campaign headquarters).
Forget the bright tubular lights and cubicle furniture of most hotel business centers.  "The Library" as the one at West Baden is aptly called, is a room that you'd try to find work to do as an excuse to spend an hour or two within.  Maybe stretch out and read a book, or have a coffee service brought to you in the afternoon as you play cribbage with your spouse once the work is complete and you just don't want to leave the ornate comfort of this secret space.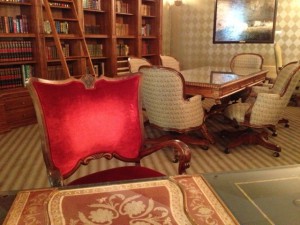 Just outside The Library lies a concierge and reception desk where the folks working were so accommodating in having me email files to them that they could print for me so I could sign them so that they could fax them for me, I had to assume the costs were racking up and that would be my price for working in The Library.  But there was actually no cost at all, and I experienced the most personable of interactions from a staff who obviously understand exactly what it's like to be staying at such a beautiful resort but still needing to do some work.
In fact, I think I'll head to The Library right now to put the final edits on this story.  I just need to get there before the live jazz begins.