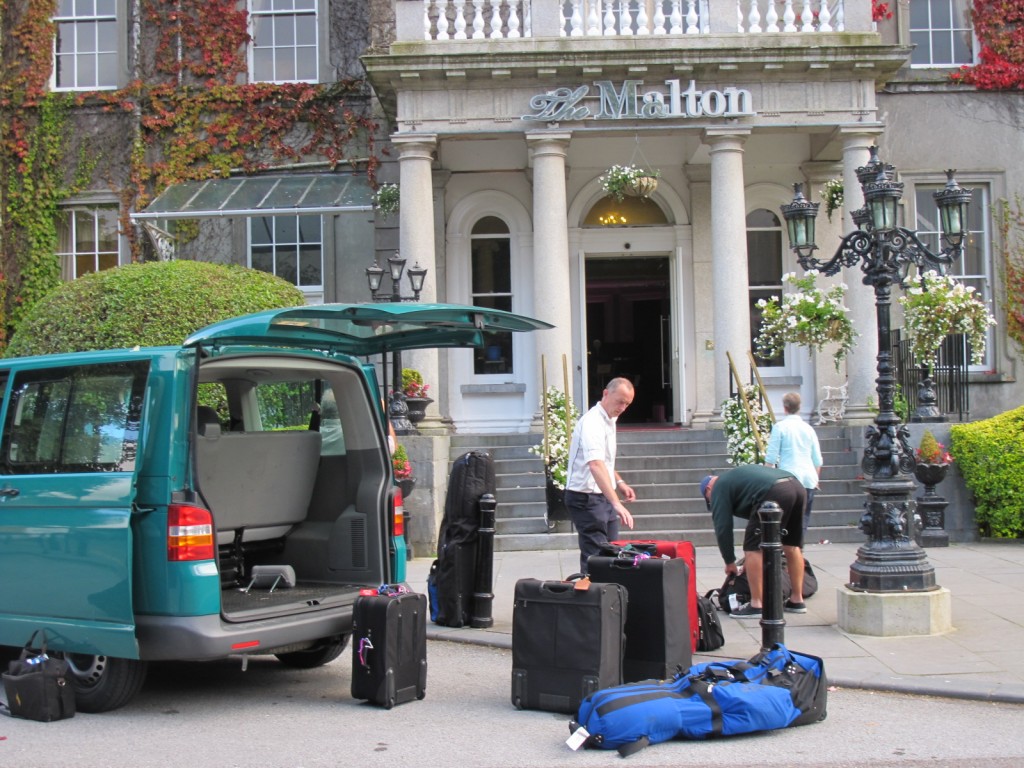 Killarney's The Malton.  And Good-bye to the van!
Even in Ireland, in July, it eventually gets dark outside.  And even the golf road warriors must eat and sleep at some point.  I can think of few cities that provide a better place to golf, eat, and sleep than Killarney.  And after five days of changing hotels each night– which required packing when we finished work at 2 a.m. and grabbing a quick continental breakfast as we headed out the door the next morning before the dining room even opened– arriving at Killarney's The Malton was like glimpsing the promised land.  We've been here a couple of days now luxuriating in the huge, soft double-beds with rich, patterned leather headboards, and the grand public rooms of this classic former railway hotel.
Even better, it's located walking distance from Killarney's High Street, a veritable show-off of a narrow, atmospheric lane full of pubs and bookshops and bakeries, as well as great hotels and restaurants.  Walking along you can hear live Irish music and be drawn in for a pint of Guinness before you even realize it's happened.
On our second night our new mate and host Rory M. (no not the one who won the US Open), shuttled us to Rozzers Restaurant at the Killeen House Hotel where we fell into the devoted hands of Geraldine and Michael Rosney, whose hospitality was somehow exceeded by the food,which is really saying something.  I can also say that the Chateaubriand, medium rare, was among the best steaks I've ever had, served with three kinds of sauces, though it didn't need any.  Michael explained that they source their meats so locally that he could point me to the very field that particular cow was raised in.  While I carefully protected my meal from my dining companions I simultaneously coveted the rack of lamb being protectively consumed across the table from me.
We decided to further discuss dinner and various golf-related subjects in the hotel bar, where we tested to make sure the Bushmill's was in good shape, which it was.  Unfortunately we didn't have our golf bags with us, as the bar accepts logo golf balls as currency, and the walls have been decorated with thousands of balls, bag tags from clubs worldwide, and various other golf/travel curiosities.  While the dining room was lively and cheerful, the bar was more contemplative and cheerful, and we sipped and talked until it seemed too easy to just ask for a room upstairs, even though we already had one at The Malton.
Our good friend and Golf Road Warriors sponsor Gordon Dalgleish, president of the fine PerryGolf travel company, is a fan of Bricin Restaurant.  Gordon says, "Bricin is located upstairs over a craft shop and has combined a warm atmosphere with down-to-earth food since 1990.  The large restaurant is broken up into smaller, more intimate spaces.  It has an old-fashioned character and an informative wine list."
Its always worth listening to someone as well-traveled and accustomed to quality as Gordon, and so eight of us tried Bricin last night.  The room is decorated with old prints and photos on the rich red walls and has several fireplaces, some located in the smaller, cozier spaces, and one in the lovely main dining room.  Our orders ranged from starters such as a goat cheese tartlet and the seafood chowder to main courses including steaks, fish, and a perky curry that went perfectly with Murphy's on tap.  Let me just say that we didn't skimp on desert, either.
Tonight we're at The Malton for a media reception and dinner (note: we ate in The Malton's restaurant on our first night, upon arrival, and I am hoping some lamb may find itself in my general vicinity), the kind of event at which nearly anything is capable of happening, and usually does.  I'll report back on this– right now I have to go downstairs and be polite by drinking several Guinnesses, and then perhaps smoking a cigar on one of the gravel paths in the garden.