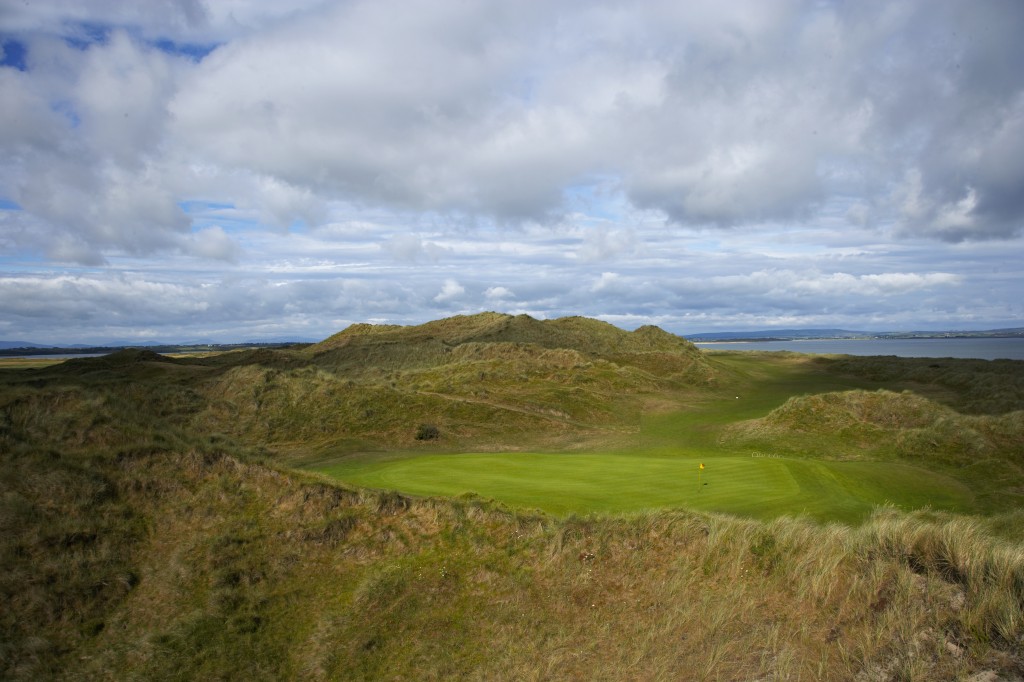 Four guys on a golf trip means at least four giant suitcases (though you can count on someone bringing even more stuff), four golf travel bags, and four carry-ons with laptops, cameras, noise-cancellation headphones (crucial for car rides when you've tired of your friends' witty banter and opinions on driving directions), snacks, and more.  And if you're traveling with broadcaster Peter Kessler there'll also be at least one box of Cohibas to account for and protect at all costs.
And when the trip is to Ireland rather than, say, Phoenix or Hawaii, you've got to plan for every kind of weather, all of it possibly occurring on the same day.  Which means everything from shorts and quick-dry golf shirts to the heavy artillery of thermal under-layers, wind-shirts, and the full Gore-tex armoring.  My frequent trips to and tournaments played at Bandon Dunes have taught me that in many cases, the guy with the best rain suit often wins.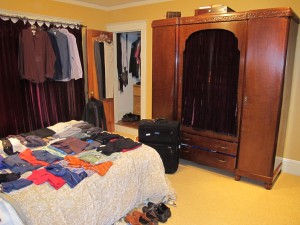 When considering your one suitcase and a room full of gear that needs to fit into it– some of which, like the best golf shirts, you may have emotional ties to– also consider the itinerary when deciding what to choose.  Our upcoming Golf Road Warriors  adventure will see us hard on the road for the first five days followed by another five days comfortably ensconsed in the fine Malton Hotel in Killarney.
So, for starters, strategy suggests at least six pairs of underwear to get us through the hard-traveling period until we'll be in a hotel long enough to send our laundry out or do it ourselves and have time for it to dry.  The same with golf socks– six pairs, to fill two pairs of Goretex golf shoes– one white– one black– to give the alternate pair time to dry in the rare event that it rains in northwest Ireland.
Four pairs of shorts– two patterned (to go with single-color shirts) two plain (to go with patterned shirts).  Six to eight golf shirts (out of more than 100 in the archive) with logos I'm proud to wear, that are comfortable, and that might double down under a sport coat in the evening.  Some will need to be quick dry so I can wash them in the room and wear them again.  Two thermal quick-dry under layers for golf (always two of anything that might get wet so it has time to dry before you need it again); one warm fleece over-layer; one wind shirt; two caps plus one wool hat; two brand-new Hirzl golf gloves; and the Nike Storm-fit rain suit (with a second pair of more fitted Gore-tex pants optional), as well as a Gore-tex bucket hat, mine with the Chambers Bay logo.
For non-golf adventures, four pairs of trousers (two that can work as golf slacks, at least one black for dressing up); one pair jeans (for traveling and pubs); one sport coat (worn on the plane to increase chances of an upgrade); two pairs of shoes (one brown, one black) with four pairs dress socks that can each be worn more than once since only for a few hours;  one pair of sports sandals; four long-sleeve shirts and 1-2 sweaters for evening; two belts (one brown, one black).  That should about do it for the clothing.
I generally lay out a number of extra choices for each category and then trim back to a more reasonable number, weighing choices against each other for appearance, appropriateness, and karma.
I'll do toiletries separately because they all need to fit into the leather kit that needs to fit in the suitcase.  I'll include12-day supplies (in case I'm way-laid en route) of allergy medication, high-cholestorol medication, a hard-core antibiotic, and serious pain meds for emergencies (and for supplying Peter Kessler for his ridiculously bad back).  Advil and Advil PM (as a sleeping aid); ear plugs, and all usual stuff except for what I know I'll get at the hotels.
Once I decide which 14 golf clubs to take for how I'm playing lately and the firm and fast conditions I'll encounter, I'll fill out the golf bag with a dozen balls (journalists often receive balls as gifts along the way); tees, ball markers, divot repair tool, rain gloves, a cigar cutter and lighter, band-aids, extra allergy pills, rain cover, colored pen for identifying my ball in the Irish Open pro-am– that should about cover it, all packed into my superb Club Glove rolling travel bag with a pair of shoes in each of the side pockets.
I'll arrange my office at the last minute, taking laptop, pens and notebooks, address book, extra business cards, and all the plugs and cords I need to work on the road.  When heading overseas  make certain to check out the requirements for plugging in electronics in another country, and pack enough plug adapters, extra batteries, lists of usernames and passwords for all websites you'll need to access.
Now for the culling of the golf shirts . . .  more soon!