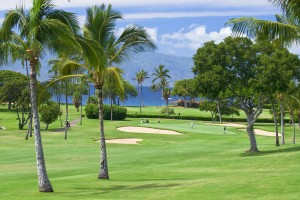 Since 1963, when Shell's Wonderful World of Golf was filmed at the Royal Course here, Kaanapali Resort's elegant golf holes have been beamed into golf-loving living rooms worldwide many times.  In 1964, during the Canada Cup, Arnold Palmer and Jack Nicklaus consecutively shot a course-record 65 that held for 23 years (I did not break this one either).  The former playground of Hawaiian Royalty (this before golf made it to the island), Kaanapali's golf layouts anchor a bustling resort community that was the first planned resort in the state of Hawaii and is now home to 11 hotels, 40 restaurants, three spas, and an open-air shopping center.
In addition to hosting Wonderful World of Golf, the resort has also been the site of the LPGA Kemper Open, the Kaanapali Classic (14 years) the Kaanapali Champions TOUR Skins Game, and– most recently– the Golf Channel's Big Break Kaanapali.. With 50 years of playing history, Kaanapali has tested the skills of golf's greatest legends.  Today it played host to the Golf Road Warriors, who were joined by yet another brave golf professional– the charming Sutee Nitakorn, who managed us around the Royal with grace and good humor– the latter a requirement for any round played in our company.
Each hole at Kaanapali is named after a Hawaiian word or phrase, with a story describing the significance of the name posted on a plaque by each tee box.  The second hole on the Royal Course talks about Maui, the demi-god who lassoed the sun (so it would stay out longer), and who lived in Kaanapali with his mother and grandmother. Another hole on the Royal describes Pu'u Keka'a, which is the name for Black Rock, a famous landscape located right off the beautiful Kaanapali Beach.  From this rock, the last chief of Maui, Kahekili, would leap into the Pacific Ocean to excite his warriors before battle– much as, this morning, the Golf Road Warriors stuffed ourselves with tasty breakfast burritos to excite us for the golf round ahead.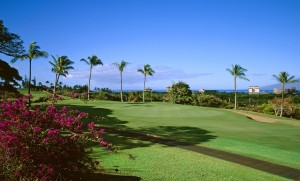 Designed by Robert Trent Jones and topping out at 6,700 yards, par-71 Royal Kaanapali was architected to be played in the wind.  While it may look wide open, steady gusts transform these holes built in former sugar cane fields into a sweet target venue.  Players may also receive more than romantic benefits from watching sunset here, as the greens feature strong grain that grows toward that particular large orange ball.  Pines, coconut palms, and rolling fairways offset by views of the dusky West Maui Mountains and the gleaming Pacific make this layout as cool and refreshing as a mai tai.  Great holes include the signature par-four fifth, 474 yards that flow like green lava almost to where surf meets sand.
Kaanapali's par-70 Kai Course, designed by Arthur Jack Snyder, proffers a friendlier resort experience of 6,388 yards.  Kai compensates for small greens by offering even larger views, as the course is set higher in elevation.  The  track overlooks neighboring islands, and passes natural canals, gulches, and cool lava flows.  Both Kaanapali courses were renovated by Robin Nelson in 2005-2006.