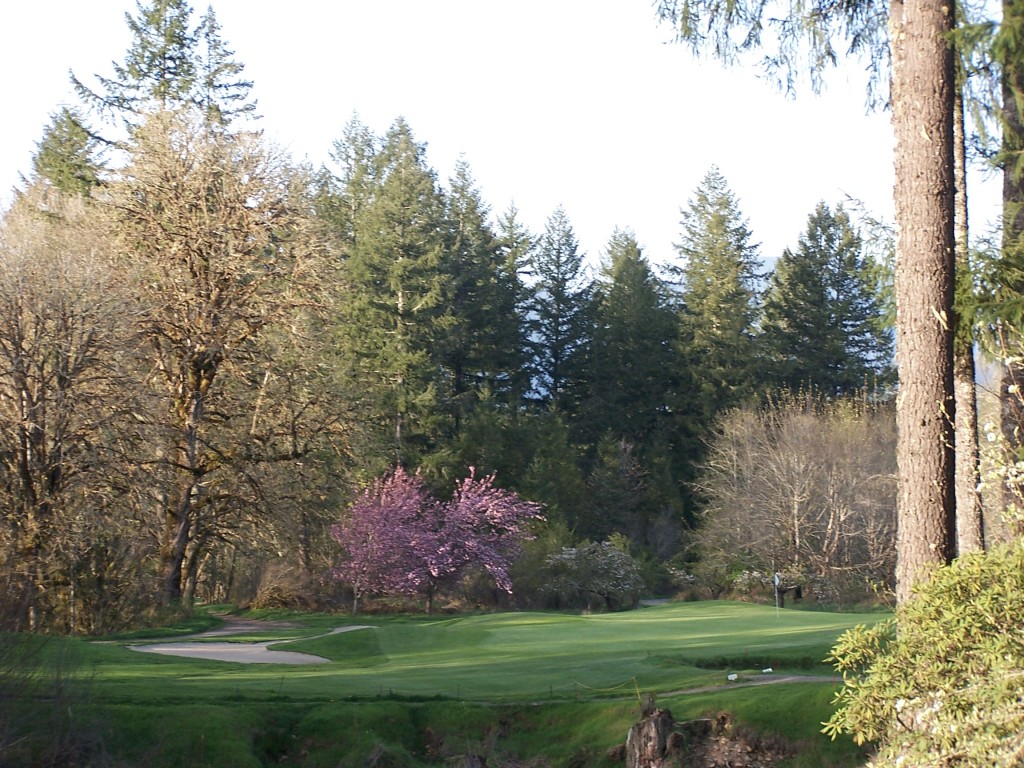 Oregon isn't as famous for mountain golf as some western states but that's no reason to miss Elkhorn Valley Golf Course, a quiet symphony of fine holes nestled in the foothills of the Cascades.  The original nine was designed and built over eleven years (it opened in 1976) as a labor of love by Don Cutler, whose children ran the place for many years and who is buried just behind one of the greens.  The back nine was developed as time and money permitted and opened in 2000.  The course plays 6,242 yards.
Once described as the among the best 9-hole courses in the country by Sports Illustrated, the current front side of Elkhorn Valley rates with some of the top designs architected by the biggest names in golf.  The holes wind through canyons, streams, wetlands, lakes, and tall pacific forests.  Conditions are exceptional and holes are challenging to those who want to take on the terrain but also generous with bailout areas for others.  There's not a mediocre hole in sight.
Number one presents a dogleg right with a bunker at the corner and a wide landing area left.  A ragged stream runs directly in front of the green and trees overhang to create angles or requirements for moving the ball.  Number four, at 543 yards, has a second landing area islanded between two streams and a lake, and a well protected green.  Two of the three par threes on the front side play over deep ravines.  The back side may seem slightly weaker, with two par threes coming in the first three holes.  Fourteen is one of the best on the return, a 377-yard par four with wetlands suggesting a possible lay-up, in which case the second shot is long to a narrow green.  For more info call 503-897-3368.
Close-by to Elkhorn Valley the activities of choice are outdoors.  Nearby Silver Falls State Park (503-873-8681) boasts the highest concentration of waterfalls in the U.S.  Half of the fourteen falls are over 100 feet high.  An eight-mile loop hike winds through huge forests.  Also close by is the beloved Opal Creek.  Hike three miles along the Little North Fork Santiam River to the mining town of Jawbone Flats and another four miles through 700-year old cedars to the turquoise waters of the creek.  Or visit the hippie Breitenbush Hot Springs Resort (503-854-3314), a place of contemplation and tofu.