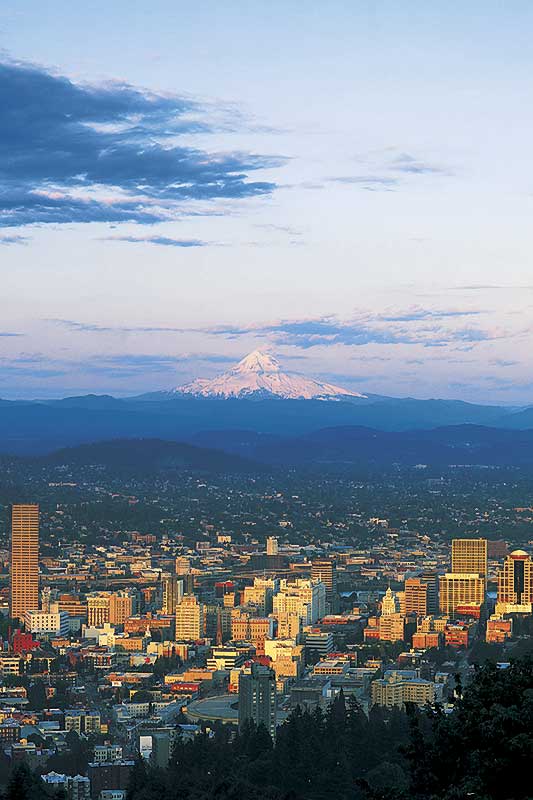 If I were smart I wouldn't tell you anything about my hometown of Portland, Oregon.  I would not mention that this green, eclectic, and eminently livable hamlet of half a million lucky people located equally near to an ocean and a glacier has been ranked by such magazines as Money and Travel & Leisure as among the most livable cities in America.  I wouldn't even whisper that parks and fountains are as ubiquitous as the coffee shops and hand-crafted beers we're known for: in fact, Portland is home to both the smallest park (24-inch Mill's End) and the largest city wilderness (5000-acre Forest Park) in America.  It also contains a neighborhood park built on a dormant volcano (Mt. Tabor).
As for the handcrafted beers, the local McMenamin brothers are famous for their string of micro-breweries in combination with vintage movie theaters (Mission Theater, Bagdad Theater), concert venues (Crystal Ballroom), and unique hotels (e.g. the Kennedy School– actually in a converted grade school.  Check out the "Detention Room" cigar bar).  BridgePort Brewing offers two Portland pubs on tap– the Northwest neighborhood's old brick brewery, and the Hawthorne Street edition.  The Lucky Labrador Brewpub welcomes dogs to the outside seating area and pours a great stout.
I certainly shouldn't describe Portland's varied neighborhoods such as the artsy Pearl, trendy Nob Hill, the antique row in Sellwood, or the Hawthorne district, which the London Times described as "a beguiling mixture of gentrification and radicalism."  The city's distinctive sectors repose on both sides of the Willamette River, which is crossed by nearly a dozen bridges.  Mass transit rules here, with light rail, street cars, an aerial tram, and other forms of modern people movers.  People are moved, too, by the natural beauty of the surrounding snow-capped peaks, verdant valleys, abundant waterfalls, and accessible high desert.  They're moved to shop by the fact that we have no sales tax.  And speaking of art, Portland boasts several world-class museums, performing arts centers, and gaggles of galleries and public sculpture, murals, and other forms of creative expression.  For what it's worth, the city also lays claim to the song 'Louie Louie,' which was supposedly written here, though nobody claims to understand a word of it.  Portland's Rose Garden Arena is home to the basketball-playing Trail Blazers, who have been breaking the hearts of local fans since Bill Walton left town.
By now you're probably hungry, so allow me to not describe the fresh, creative regional cuisine at such eateries as Higgins here in the hometown of James Beard.  And permit me to avoid mentioning our wealth of great hotels, ranging from the old-world elegance of the Heathman to the boutiquey old-movie-themed Hotel de Luxe.
I should also most certainly neglect to tell you that this hip, high-tech, sandal-wearing city also offers enough top-drawer urban golf venues to keep you busy until the cows come home (where do cows go, anyway?)  In the early part of the 20th century Portland boasted more golf holes per capita than any other city in the U.S. (currently it seems to boast the most double lattes and body piercings).  Golf around Portland is still accessible, inexpensive, and excellent, especially since a construction boom during the 1990s brought a handful of great modern courses on line.  Golf orgiasts can mix a cocktail of old classic designs with spanky new venues, easily play 36 holes a day in the late light of summer, and then relax in– or outside of– a lovely, quirky city bustling with everything that makes a place strike just the right chord in your heart.
Portland's golf courses are always lush and green from the ample rainfall, but summer weather is reliably sunny and warm.  Autumn delivers crisp days, changing leaves, and often plenty of sunshine through October.  In winter and early spring, locals slog around the fairways in knee-high clamming boots fit with golf spikes.  Bring plenty of Gore-Tex outerwear if you visit between November and May.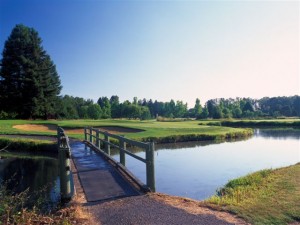 You needn't venture far from downtown to enjoy some of the Northwest's finest golf.  For that matter, you barely need to leave the airport.  Convenient to the city core and close enough to PDX's runways to hear an airline safety talk, the two Robert Trent Jones Jr. layouts at Heron Lakes dance lightly through wetlands just north of town.  The courses comprise the best 36 holes of the "Portland 90," a series of munis owned by the city.  Heron Lakes' Greenback Course (named after a duck) tops out at 6,608 yards and purveys a traditional design punctuated by elevated greens, occasional forced carries over water, and bold, strategic calls. One local pro describes the 207-yard par three sixteenth as "one of the hardest on the planet," because it requires a perfect two-iron when the wind is ripping in your face.  The Greenback course recalls Jones's father's work– a tidy classic venue in the old style.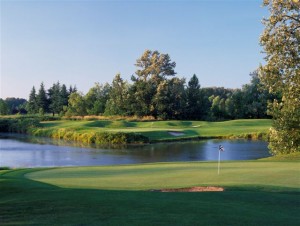 But Jones Jr.'s Great Blue (as in heron) is the bird of paradise here.  The 6,902-yard track's open fairways ramble between Scottish-style mounds and pose a collection of excellent risk/reward riddles while offering views of 11,245-ft Mt. Hood.  Many locals consider the 466-yard par-four eighth hole among the toughest to solve.  Big hitters can attempt to squeak a long drive between a line of trees and a slough that guard the left-dog-legging fairway, but registered conservatives will opt for a three-wood aimed at a directional bunker, leaving a LONG shot into the tucked green.  Great Blue's three finishing holes all present the classic backpacker's dilemma: how much water to carry.  The sixteenth fairway is actually split by a lake and by wetlands; only monsters and lunatics will try to thread a shot between these for an easier approach, although during the annual Quarterback Shootout held here, one former professional ball tosser made a hole-in-one double eagle. Great Blue doesn't contain a single uneventful hole, and a number of quirky greens tucked behind ponds provide ample opportunities for heroism or sheepishness.
Portlanders have been enjoying classic golf at Eastmoreland Golf Course since H. Chandler Egan designed the 6,529-yard layout on the eastern outskirts of town in 1918.  Eastmoreland romps through lowlands surrounded by natural springs, rhododendron gardens, and galleries of yapping ducks and excited waterfowl.  And it's a veritable arboretum of huge old trees.  Eastmoreland is one of those courses that looks easy yet still manages to beat the stuffing out of you with uneven lies, crowned or subtly sloped greens, and plenty of shrubbery to trim with mishit shots.  The course opens gently with a 310-yard par four with a devious putting surface. Walter Hagen once said that the 462-yard thirteenth, a par five with a ravine and huge green-fronting swale, was one of the best holes he'd ever played.  And the seventeenth, a 150-yard poke to a peninsula green, is the determining factor in many matches.
Forty minutes west of Portland toward the Coast Range mountains, Bob Cupp's Pumpkin Ridge Golf Club spooks some golfers with its bag full of tricks and treats.  Pumpkin was the site of the 1997 and 2003 U.S. Women's Opens, the location of Tiger's third U.S. Amateur win in 1996, and host to Nike Tour events and other tournaments.  It was also Oregon's first upscale public/private golf complex when it opened in the early 1990s.  The public-side Ghost Creek course explains why Charlie Brown's friend Linus sat out in a field with his golf clubs waiting for The Great Pumpkin, and this is as great as a pumpkin gets. GOLF Magazine has ranked Ghost Creek among the top 100 courses in the U.S.
The 6,839-yard par-71 Bentgrass track exudes a rugged, clean-cut feel as it whisks through forests of fir, maple, ash, and oak, meanders through open meadows, and curls around two lakes. Cupp endowed the layout with classical bunkers featuring overhanging edges, which create dark, shadowy places where goblins may gobble golf balls.  The frolicking creek after which the course is named disappears and reappears without warning like an elusive specter.  Watch for it on number six, for example, a 371-yard slant left where the creek begins right about where the fairway bunkers do, tightening the landing area.  And watch out for the triple-bogeyman, too.  The ninth hole, a mere 469 yards of par four, features a large lake and two streams.  Number eighteen provides a 454-yard opportunity to ghost bust by reaching the well-protected green in two without splashing.  Who ya gonna call when you run out of golf balls?
A short drive from Pumpkin Ridge, The Reserve Vineyards and Golf Club decants two thirst-quenching wine-themed courses, one each designed by John Fought and Bob Cupp.  The facility rotates the two tracks between public and private play twice per month– something that's great for the game.  The entire complex is decorated with grapevine icons and even has its own wine label.
You may produce a few whines of your own if you misplace your "A" game– although the Fought and Cupp courses are more likely to elicit Bacchanalian delight.  The Cupp Course, now called The North Course, runneth over with 6,845 yards of heathland-style golf featuring such modern elements as rolling mounds and distinctive ground shaping, short-grass green surrounds, tough putting surfaces, and what may well be the only triple green in the world.  Put on your thinking cap for holes such as number seven, 289 yards from the blue tees with a tree guarding the green; you'll want to leave your woods (and possibly your golf ball) in the bag. Sip from the Cupp Course's directional bunkers and other lovely subtleties and you'll feel warm all over.
The Fought Course, now known as the South Course pours more like a bold cabernet, though a sandy one, as more than 100 bunkers (in the tradition of Tillinghast at Winged Foot) speckle this venerable layout that winds through mature trees over natural terrain. If you're like me, you might play the entire layout without landing on grass– although I don't recommend this, as grass is much softer than sand and doesn't get in your eyes.  Reaching to 7,172 from the tips with three par threes over 200 yards, Fought's layout has the potential to stomp you like a barrel full of grapes.  A rock-walled creek appears in several places, such as on number ten, where it crosses the fairway.  Imbibe this delicious vintage Fought layout– with classic overtones, heady bouquet, and a bold, turfy nose– and still wake up without a hangover.
Whoever told me that I couldn't hit the side of a barn with a golf shot should have seen me at Langdon Farms Golf Club, twenty minutes south of Portland.  Designed by Bob Cupp in partnership with John Fought, the par-71 6,931-yard layout expresses a farm theme, with the aforementioned red barn (built in 1918) decorating the eighth hole.  The "depressed fairway" design is actually quite uplifting– lovely containment mounds impart the sense that you're golfing through soft, grassy canyons.  Mounds rise alongside the short grass, virtually hugging the landing areas, and kicking some wayward shots back homeward but also making for occasionally enigmatic lies.  Langdon's highlights include amusing rooster tee markers, fabulous service, a covered range, church pew bunkers, and a par three of 125 yards that may be the toughest hole on the course; it's like chipping onto the top of a bowling ball.  Design elements such as colorful wildflowers, stone walls, and bridges add to Langdon's charm.
Amidst a pandemic of so-called "upscale daily fee" golf designs (often meaning, simply, "over-priced")  it's refreshing to encounter an admittedly affordable new public venue without pretensions.  Designed by Peter Jacobsen and Jim Hardy thirty minutes southeast of Portland, Stone Creek Golf Club is a role model of sincere public golf.  The architects maximized the potential of an unremarkable site that once housed a turkey farm but still retains plenty of stately firs. Jacobsen says, "We built this golf course economically at a time when the price of golf courses is spiraling up and the cost to play golf is spiraling up.  We fired a shot across the decks of all those people and said 'look, you can do this economically and be able to play affordable golf.'"
Three lakes reflect the ever-changing Oregon sky at Stone Creek and distant glances offer views of glacier-capped Mt. Hood.  Four sets of tees play to as long as 6,873 yards.  A number of holes are decorated with huge, orange, naturally sculpted boulders that lend the course its name.  The welcoming, sweepy greens are immaculate.
Stone Creek's first few holes rollick through open meadowlands before darting into the forest.  Number four, a 498-yard par five, wends between trees and water en route to a green containing a Scottish "toe" where players can bail out rather than straining to carry a sea of bunkers to the heart of the putting surface.  From the toe, the meek will inherit an amusingly steep putt up over a ridge.  The 151-yard sixth hole was the site of my first (and only, so far) hole-in-one, scored during my first outing with a local men's club that has not invited me back since I won all their money.  The ninth hole also entertains—with a split fairway, one half of which tunnels between a canyon of angled bunkers.
Holes twelve through fifteen are Stone Creek's rock-solid heart, featuring tree-lined fairways, forced carries, elevation changes, and several blind shots. Number fourteen, at 141 yards, calls for a surgical strike over wetlands to a sort of putting patio held up by the ubiquitous giant boulders.
The Oregon Golf Association Members Course at Tukwila may have one of the longest names you've heard, but it's also long on great golf.  Bill Robinson stitched together this tapestry of holes in Woodburn, forty minutes south of Portland.  The fabric of Bentgrass stretches 6,650 from the longest of four sets of tees and boasts a couple of reachable (and especially good) par fives, a huge double green at nine and eighteen, and some of the finest putting surfaces in the region.  Water, wicked bunkers, and pesky woods are also on the menu of this stupendous walking course.
The holes here are pure and clever.  OGA opens with an inviting slight dog right followed by the opposite dog, but this one has more bite— in the form of a hazelnut orchard right, a pond left, and a tree and bunkers that could come into play.  Number four is a complex 516 yards: blind tee shots runs down toward a ravine.  The second shot climbs back uphill between bunkers and forest over the chasm to a plateau green.  A second par five follows.  The back side contains the best par three on the course, a volatile 172 yards that slope toward water.  Fourteen is another strategic 517-yard puzzler that can be solved in several ways, all of which require at least one ravine crossing.
Although the Willamette Valley is the grass seed capital of the world, an even more enticing product grows close to great golf: grapes– as in wine grapes, as in some of the best pinot noirs ever fermented.   The most intoxicating non-golf activity in the valley is wine tasting, with a bit of antiquing thrown in.  Try a side-trip to McMinville, close to the OGA golf course (and not far from Pumpkin Ridge and the Reserve), where you'll find more than half a dozen wineries, including the well-loved Eyrie Vineyards, which is open by appointment to taste wines with complex fruit flavors, aromatic nuances, and sea breezes.  Or try Eyrie's product along with others at the Oregon Wine Tasting Room nine miles south of McMinville.  The driving between sips is pastoral, with views of the Coast Range Mountains, small old western towns, and cute shops.  If you'd rather leave the driving to someone else, Grape Escape Winery Tours offers half-day, full-day, or evening outings, most of which stop at three wineries.
Recognizing the symbiotic relationship between golf and drinking, most golf courses offer at least a humble place for a tired hacker to sip a pint after a grueling round.  But at the McMenamin's Edgefield Pub and Brewery twenty minutes east of Portland, management took the opposite approach: they actually built a golf course for patrons to enjoy with one of the brewery's personable hand-crafted beers.
Originally built in 1911 as the Multnomah County Poor Farm, the vast Edgefield property was bought by the entrepreneurial McMenamin brothers, who created a complex of hotel rooms, music venues, restaurants, gardens, a theater, winery, and gallery.  But the McMenamins were also sharp enough to eventually realize that one essential element was missing: golf.
The 991-yard 18-hole Pub Course winds through hills of blackberry bushes overlooking the rest of the unique estate.  Holes range from 40-80 yards and most require perfect carries to immaculately maintained greens set amidst thick, thorny flora.  The informal venue (where sixsomes are not unwelcome) features holes named "Ruins," "Pump House," "Flash Flood," and "Chute."  But perhaps the greatest draw of The Pub Course is that players can stop several times during their round to retrieve a Terminator Stout or Hammerhead Ale from the Distillery Bar or the Red Shed, strategically located along the routing.
An hour east of downtown Portland, the town of Welches—home to the Resort at the Mountain—has been attracting hotel guests since 1893 and golfers since 1928. Nestled at the foot of Mt. Hood, the Resort has acquired a Scottish accent, discernible in such touches as Scottie-dog tee markers and its very own tartan.  Though visitors can hike, fish, raft, ride horses, play tennis and croquet, and even ski nearby in summer, there are also 27 distractions in the form of golf holes.  The Foxglove, Thistle, and Pine Cone nines make for a great walk and potentially great scores.  Stretching to a maximum length of just over 6.400 yards, any eighteen-hole combination will provide a handful of challenging holes, several unforgettably beautiful ones, and plenty of others that will simply make you glad to be out beneath old growth forest in the shadows of the Cascade Mountains.  A number of renovations performed in consultation with architect John Harbottle include seven new greens, additional tee boxes, and improved fish passage for threatened salmon and steelhead on property.
The first hole on the Foxglove nine plays 311 yards over a mid-fairway boulder, and those cutting the dogleg may have a shot at the green or else hear the echo of surlyn on stone.  Thistle number one proffers a view of the Hunchback, an El Capitan-like rock face.  460-yard Pine Cone #5, with its new tee box set on a rock slide back in the woods, is now a fun, birdieable par five rather than a straightforward (read: boring) par four.
If you happen to visit Portland on a golf trip—and if you by some chance stop in at any of the courses, bars, restaurants, hotels, galleries, or other attractions that I've referred to here—do me a favor and leave my name out of it.  If you asked me I'd simply tell you that it rains here all the time and the locals are ornery.