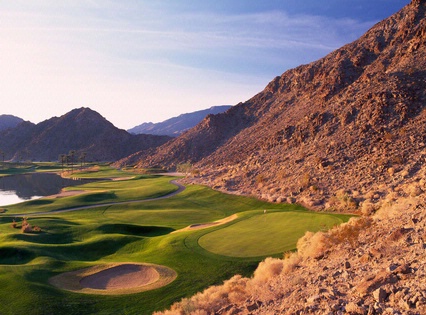 There really is no way to get closer to the Santa Rosa Mountains– unless you are on belay– than playing Pete Dye's Mountain Course at La Quinta Resort.  From the moment you leave the clubhouse and look off across vast green lawns framed by elegant palms, your eyes are drawn beyond to jagged rocky peaks sawing a red line against the distant blue sky.
The Golf Road Warriors played the course this morning from 6,300 yards– yards filled with triumph and mayhem, brilliant chip-ins and horror-show swings, and all the drama that four guys could want from one day.  Despite indifferent service throughout the morning, the golf course itself rose above the fray to deliver a rock anthem of great golf.  Dye is at his very best here, and uses the utter drama of the setting to perfect effect throughout the round.
The holes parallel and then crash through up into the mountains and canyons, head for greens teetering ominously on tiny platforms, play sharply around water hazards, and demand attention and at least some skill throughout the round.  It's a player's course, and on a good day you'll be mostly rewarded for your heroic shots, but often not too severely punished for mishits– unless they carom off into the rocks or plunge into patches of thick rough.  Those with a deft short game– especially bunker-like shots hit from thick grass– will do especially well.
Today's competition was a net game where the two top finishers would get to play in a twosome booked for us on PGA West's starkly sadistic yet beloved Stadium Course two days hence.  We tracked our progress, as always, on Grow the Game Golf's phone app.  Thanks to the help of my quick-drying purple AUR shirt I led the field from the very first hole, closed out Strawn for another $15, beat Kessler 5 & 4 to bring the lifetime match score to being down only two to one of the best 10 handicaps on the planet, and won one of the two spots on the Stadium Course.  But the Kessler/Strawn match had more drama than an episode of Glee, with the lead changing hands throughout the morning.
And then, late in the round, chaos ensued.  Consulting our phone app I reported that Strawn was ahead two strokes with four holes to play.  Kessler picked one up on fifteen to get within one.  On the sixteenth– a mid-length par three playing to a pear-shaped green surrounded by cruel rock– Kessler nuzzled one up toward the stem eight or ten feet from the hole while Strawn rocketed one into the quarry.  Peter picked up two strokes.  I reported that he was up one.  Strawn won seventeen with a double.  They were tied, with one hole to play– until I noticed that our app had not recorded the scores on two earlier holes, and once we scrambled to figure out what we each had on those holes, and I entered them into the system (which automatically awards handicap strokes where appropriate based on our entering handicaps before the round), it turned out that actually, Kessler was ahead one stroke.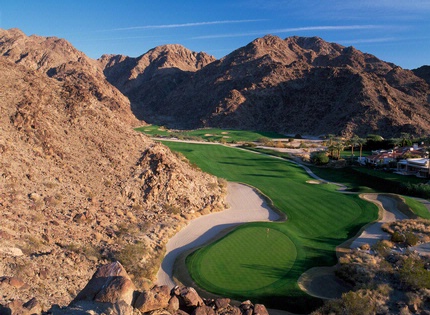 I thought the news would undo Strawn but he ripped one of his best drives down the right side.  Kessler addressed his ball and smacked one right into the shrubbery– grass so deep we had to tie a line to Peter so as not to lose him when he went in to look.  And found it, beside several other balls that had been abandoned by equally embarrassed golfers.  Yet Kessler grabbed a seven iron and hacked back out close to the fairway, but still in deep grass.  Strawn striped a second shot.  Kessler knocked one more down the fairway to about 180 out.  Strawn hit the green and rolled just off the back.  Kessler roped a line drive that should have achieved the putting surface but a small hillock squeezed the juice out of it and left it a few feet short.  Strawn knocked it to four feet, Kessler missed his approach right, leaving a five-footer.  Strawn made it for par,  Kessler wrestled an unbelievable bogey.  Match tied.  Oy!
The boys decided on an eighteen-hole playoff tomorrow in the afternoon round at Terra Lago.  This evening, I learned that Al Geiberger, a friend of Peter's, wrangled us two more tee times on the Stadium Course, rendering tomorrow's competition unnecessary.
I'm wondering if I should let them know.