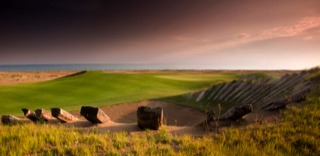 If you've ever taken pleasure in slamming a really bad movie with your friends over a post-cinema cocktail, you'll understand why I love bad golf courses.  I don't say this out of a sense of schadenfreude as much as because its by talking about what makes a golf course truly awful that we can better appreciate what makes our favorites so good– at least in our opinion!
Case in point: I'm not going to mention the name of this scenic layout pictured here  because I was graciously hosted by some very nice people.  I'll just tell you this: it's in a country that is not known for golf and which you probably haven't visited.  But if you've played a lot of courses in your life you may be able to identify the perpetrating architect.
Surely you're wondering what made this course so bad that I had to attend anger management class when I somehow managed to trudge through eighteen holes without killing someone, including myself?  Let's start with the fact that virtually every bunker on the golf course– and there was no shortage of them– was crowned by weird spokes of railroad ties extending out like sun rays behind the bunkers as if they were actually supporting earthworks, which they weren't.  Yes, I understand that the architect is related to another, much better architect who has made a career out of using railroad ties. But their employment here was so silly and gratuitous as to put me in a bad mood from the first tee.
Additionally, this was also the rare faux links that– though beautifully shaped, much like a rolling, firm real links– didn't actually let you play golf along the ground.  The second hole was a prime example– a short par five where (I am not making this up) the green was actually hidden behind clumps of bushes.
Number four did not improve my outlook.  Realizing that a ball hit high and soft and miraculously perfectly from 220 yards would still not be able to hold the green, I executed a pure long iron that landed just in front of the putting surface, only to watch it trampoline over the entire complex to an impossibly tight lie at the back.  Playing this course was like listening to a Mozart concert on your I-phone: there was so much background noise that even if a good golf course lay somewhere there in the sandy oceanside terrain you wouldn't hear its cries for help.
I was also rather surprised that when we finally reached a couple of the seaside holes– which should have been the most scenic on the course– the architect had chosen this location to lay down a dirt access road that marred the view entirely.
If I wasn't annoyed enough already (and I was), number seven elevated me to the next level– it was a Cape-style hole where you had to decide on the tee box how much of a hazard to try to carry on your drive.  But wheres, for example, at Washington State's excellent new Chambers Bay golf course, a similar Cape hole plays over a sandy waste area, at this undisclosed location it played over water.  And the only water you should ever find on a links course is the few drops you pour into your whiskey to release its peaty flavor.  As if the water wasn't aberration enough, it actually contained two fountains.  Had I suddenly descended into some hellish version of Miami?  Or a Miami-ish version of hell?  At least the hole had more clusters of bunkers capped by railroad ties!
Moving onward, while I thought that the blind tee shot hit over an aiming pole at the twelfth hole actually exuded a sort of Scottish feel, when I learned that the pole in no way indicated the best line (and I also discovered more bushes in the fairway) I'd had it.  The green itself lay behind two bunkers with a slot between them thinner than my temper.  By the par-three fifteenth I was absolutely taking pleasure in the poor quality of the design.  The 200-yard hole played to a blind green hidden behind a steep mound that insured no possible way to land on the putting surface.
On the deliciously ludicrous and confusing finishing hole I didn't even know where to aim– nor did I care.  I couldn't reach the clubhouse fast enough.
But the very best part of the day lay ahead of us: talking about the layout over a freakishly cold Efes beer and a terrific lunch.