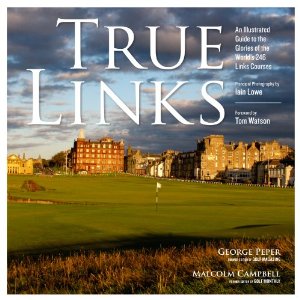 Who loves a good argument more than golfers?  You're sitting in a dark pub, post-round, and some guy says Ben Hogan had the best golf swing ever, and there'll be five other guys knocking over their Guinness to chime in that it was Sam Snead or Bobby Jones, or Tiger Woods, for chrissakes.  And if you get a bunch of golfers started debating about the best courses, well you might as well phone and tell the spouse you won't be making it home for dinner.
So imagine that revered golf journalists George Peper and Malcolm Campbell are parked at the bar, and the bar is, let's say, the Dunvegan, in St.  Andrews, and the argument is about the world's great links courses.  And they say, emphatically, that there are really only 246 of this rare and beloved species on the planet.
In my own experience, guys who are drinking generally hate to do math, but Peper and Campbell may start a brawl with their figuring.  Which is exactly what their new collaborative book, True Links, aims to do.  And I say, rolling up my sleeves: bring it on.  This is my kind of argument.
The boys make their case that any true links must have three basic, vital links ingredients: terrain, turf, and weather.  More specifically, a true links must be close to the sea with hard, fast dunesy terrain that favors the ground game, and few if any trees.  The ground must be sand-based and the grass should be something like natural fescue.  The course should be exposed to the elements, especially wind, and virtually always playable.
The authors proclaim that of the 30,000 or so golf courses on the planet, less than one percent qualify as true links.  Which isn't surprising to anyone who gets a good laugh out of a course in, say, Colorado, or New York, which declares itself a links in the same way that a friend of mine from high school used to claim that his great-grandfather was the Duke of some place we could never even find in a world Atlas.
The true links courses themselves are described– and gorgeously photographed by Iain Lowe– in chapters such as "The Icons,"  "The Classics," "The Exotics," and "The Moderns."  You'll feel both guilty and jealous looking at the photos– guilty for the sublime pleasure you'll take, jealous that you're not reading the book at the Royal Golf Hotel at Dornoch an hour before your tee time.  And you may have to wipe a sea mist off your glasses and shake the bunker sand out of your slippers, the photos are so alive.
You'll have to buy and read the book yourself to discover why layouts such as Pebble Beach Golf Links ("Links" should be in quotation marks) and Chambers Bay are not included in the listing, while Kingsbarns and Bandon Dunes made the final cut.  In fact, only five courses in North America qualify, according to Peper and Campbell (and three of them are located at Bandon, in the amazingly golf-rich state of Oregon– not coincidentally my home).
This lyrical paragraph from the prologue of True Links says it all . . . "Links golf is the game distilled to its core virtues.  To walk beside the sea with a brisk breeze on your cheek and firm, sandy turf beneath your feet is to experience golf not only as it was hundreds of years ago but arguably as it should be today– a simple, beguiling game in need of no embellishment."
For those who appreciate the beauty of these very special courses (veritable golf World Heritage Sites) and have the kind of low trajectory ball flight that I happen to produce  even when playing in the mountains or the desert, this book couldn't be more welcome– a homecoming in printed form.  I suspect that if you set True Links out on the coffee table, you'll find yourself drinking a lot of coffee.