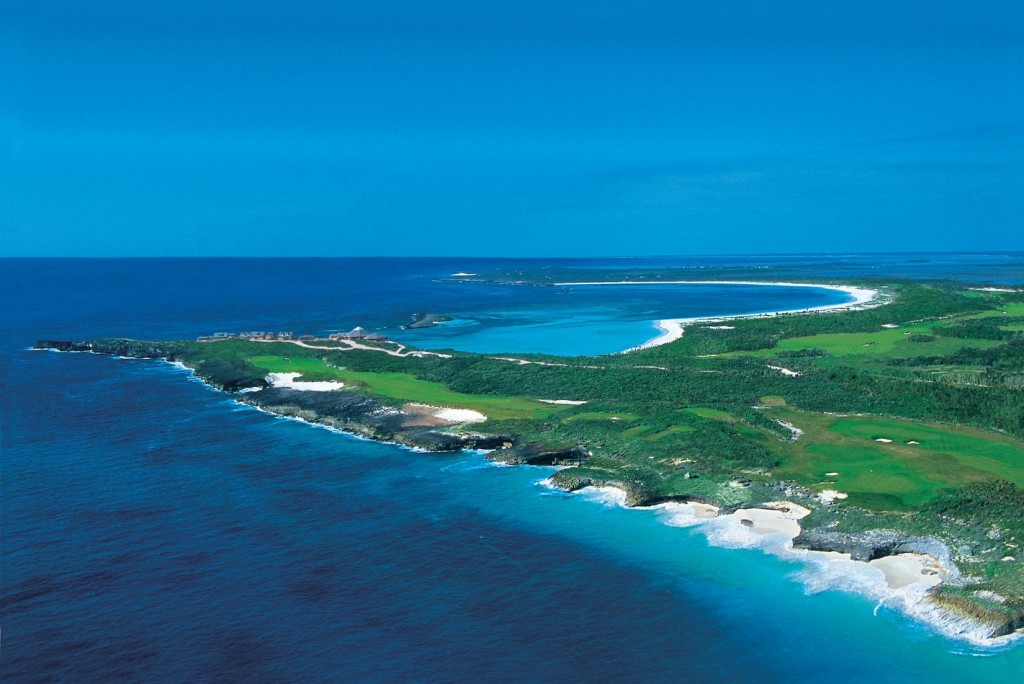 Living in Oregon, the Caribbean is not exactly an easy place to get to, but earlier this year, when I received an invitation from an old friend to play in a Member-Guest tourney at The Abaco Club—an exclusive Ritz Carlton property at a very private beach resort—it was tough to say no.  The bad news: I had the sneaking suspicion that my old friend was bringing me in as "a ringer".  This was confirmed when, showing me around his breezy, spacious beach house built on a cliff above turquoise water, he pointed to last year's runner-up trophy before he even showed my wife and I our room.  Then he mentioned that his guest last year had been a two-handicap.
I'm not going to tell you how we made out in the tournament except to say that many similar events I've played in offer a sort of tongue-in-cheek prize for next to last place, the joke being that the recipients of it were so bad they couldn't even come in last.  Which in this case wouldn't have mattered anyway, because we didn't play well enough to qualify for next-to-last place.
I'd much rather talk about the Abaco Club's actually heart-shaped beach that provides for a perfect round-trip walk of five miles, or the genuine friendliness (not the corporate friendliness you see at so many resorts) of the locals who worked the bar and the restaurant and the towel stand at the beach.  And a guy named, aptly, "Fun Bob."  I'd rather talk about grilled Cajun grouper, or wind in the palms, or the laughs we had with other tournament participants during and after our actual matches while sipping fruity drinks we didn't even know the exact contents of.  But mostly, I'd like to talk about the golf course.  Two of my partners at theAposition.com have posted in recent months about the "best" course in the Caribbean, and though I haven't played some of the obvious suspects, I'd like to offer up The Abaco Club for consideration.
I play a lot of golf courses every year in my work as a golf and travel writer, and I receive about five press releases describing new courses for every course I actually get to play.  Note to pr/marketing types: if you use the word "breathtaking" I will feed your press release to the squirrels in my yard—and even they won't read it any more, and will likely pass it on to the raccoons, who as you probably know, will read anything.  Of course, they also watch Dancing With the Stars.  Also, please avoid the word "undulating" as it makes me seasick and could be used to describe almost every putting surface ever constructed.  Third and last, at least for now, for God's sake don't call your course the Pebble Beach of the Horse Latitudes, or the Pebble Beach of the Iowa Corn Belt or any other such stupid thing because anyone who's been to Pebble Beach knows what utter frippery this is.  Plus it's just lazy of you, not to mention annoying.  Even though I don't even like Pebble Beach.
But I digress, as none of this has anything to do with the luxe and terrific Abaco Club.  What I really wanted to say is that I had no advanced pr onslaught about the golf course at The Abaco Club (in fact, their website offers little golf information), and virtually no expectations other than that the layout would be windswept, close to the ocean, and a golf course—all of which made it very attractive to me, for obvious reasons that didn't even require a press release.
What I found there during one very well-played practice round and three soundly hacked up tournament rounds was the rare golf course that got better each time I played it.  And that owes to a tremendous simplicity and subtlety of design, for starters, from architects Tom Mackenzie and Donald Steel.
Additional kudos to the designers for writing the definition of a true links course in the yardage book, and distinguishing this actual links from the many imposters around the globe.  Set in a windy location much like the best Scottish links, The Abaco Club is also built to be played along the ground, and hence features rather large greens to provide sensible targets.  The architects also admit in said yardage guide that banks and swales should be used to direct shots toward the flags—something I knew already, but they offered me no advice at all on how to accomplish this while playing so badly.  My only complaint about their excellent summary and course description is the forgivable lapse into using the phrase "breath-taking views".  The only thing that took my breath away during the tournament was our team's utter inability to deliver a golf ball where intended.  And yes, okay, by "our team," I mean: Me.
The course opens straightforwardly enough with a longish par five that gives you a few chances to swing away and warm up without too much danger (except, maybe, danger to a house located along the left that one of our competitors nearly hit– and you know who you are!).  Lovely bunkering guards the right side of the first landing area and a couple of other clean, beautiful hazards bracket the second landing.  The green introduces the concept of tightly mowed surrounds, which will reappear throughout the round.
Drama ratchets up a bit on the second hole, a par four with bunkers left and right of the landing area requesting a more accurate drive if you wish to have anything less than a five iron into the green.  The third hole commences from atop a dune and plays to a fairway nestled in a valley that leads to a green straddling a ridge, which itself offers views of the bay that are gorgeous, even though I had no trouble breathing while contemplating them.
The first par three comes at the fourth hole—a pretty challenge of 171 yards from the white tees, with a perky little pot bunker protecting the front right of the putting surface.  The course ascends in both quality and challenge at number five—why doesn't every golf course have a short risk/reward par four that makes both birdie and bunga bunga possible?  This one dares you to execute a blind shot over what seems like miles of waste area to a green hidden 295 yards away, and tucked in an amphitheater.  The entire hole plays along the beach, and I can tell you that the ocean can be quite a distraction when you're hitting your second shot from where it's lapping at your golf shoes.  Even the tee-shot lay-up here demands some accuracy, as, if you don't go for the 245-yard carry you have to thread a shorter shot between pods of bunkers to a fairway you can only see a sliver of.
While there are plenty of other great holes worth describing, and each seems carefully crafted, lovingly landscaped, and maintained perfectly by brilliant Scottish superintendent Mark Aitken, who must be reading Robbie Burns poetry to the grasses to make them so traditional, the finishing holes are true superstars here and may well have decided our matches in the tournament if we'd still been in the matches by the time we'd reached them.
Number sixteen tees off from one end of a huge quarry that runs most of the length of the right side—great shots will fade around the corner, leaving an iron into the raised green. Safer shots hit straight or left risk a flirtation with a bunker that will leave a tough uphill second.  Landing above the green will leave you with a next shot sure to amuse your playing partners.  Seventeen presents a great downhill par three of a mere 151 yards but depending on the wind it could require anything from a delicate wedge to a bunt driver.  If the wind is blowing sideways in off the ocean, the best shot may be aimed at a fishing boat two miles out to sea; swing away and watch the breeze bring it all the way back in.  I advise avoiding the bunkers short and right of the putting surface, as well as the waist-high grass further to the right.
The Abaco Club finishes with a formidable seaside par five that launches from a tee offering only glimpses of fairway, and sea spray foaming the air as ocean waves shatter on a nearby reef.  The drive plays to a steep, sloping tureen that shuttles balls quickly from left to right and down into a long trough.  The second shot also offers more room than is visible if you hit over a bunker and ridge to the left, though some players who delivered a bomb off the tee may have a second shot at the green, which is perched on a ridge with steep bunkering to the right and a path leading back to the terrific Club itself just beyond the green.  As I've already mentioned, each subsequent round on the golf course revealed secrets and whispered subtleties I hadn't noticed earlier.  I contend that with several months to do nothing but play this imminently entertaining and solidly crafted venue, I might have figured out the specific ingredients of my fruity post-round refreshment.
I'm glad I was able to add The Abaco Club golf course to my portfolio of venues played, especially as I'm unlikely to be invited back for next year's tournament– unless it's one of our opponents who invites me out of gratitude!