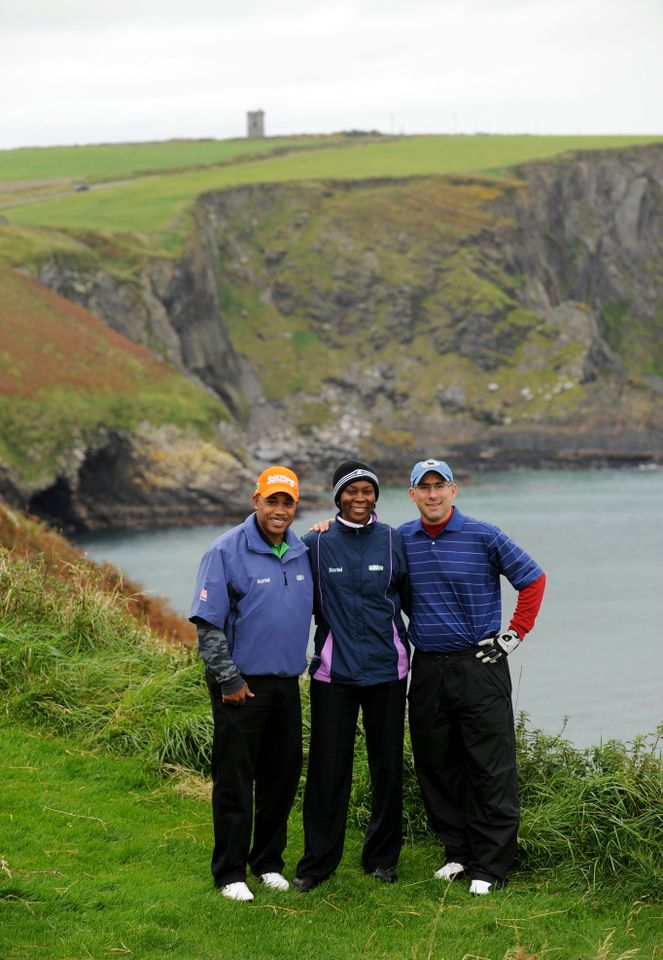 If you were to say the phrase "army staff sergeant" to me in the manner of that psychological test where I then describe the first thing that comes to my mind, it's pretty much a picture of Charles Eggleston– a powerfully-built African American man with a narrow moustache and shaved head.  Yesterday at Old Head Golf Links I was lucky enough to share about fourteen very rainy golf holes with Eggleston and his friend and fellow wounded warrior Danielle Green-Byrd, a former Notre Dame basketball player who served as an army Specialist in Iraq.  Their stories are as intense as their golf rounds were casual.
Eggleston, who received several purple hearts and has a smile that could melt your own heart was blown up while on a rescue mission in Iraq.  The blast shattered his face, back and legs and he also suffered a traumatic brain injury and Post Traumatic Stress.  When  the weather grows cold during the golf game he noticeably stiffens up, and explains that the titanium in his back gets inflexible as the temperature drops.  We joke that if lighting appears our safest course of action might be to stand next to him.Eggleston also suffered major facial wounds and it is a tribute to his doctors that no scars are visible on his handsome, expressive face.  The staff sergeant also experienced even further trauma from the military medical system after returning stateside, and he and his wife took on the establishment and succeeded in getting him the care he not only needed but most surely deserved.  He describes this part of his journey as "the turmoil of great disbelief."
Eggleston has a strong, erratic golf swing– or actually many different ones– but seems only slightly mystified when one of his Titleists heads out to sea or disappears into the gorse.  For him, playing golf seems to be far more about the playing than the golf.  He clearly enjoys himself and the company and the continuously unbelievable views of fairways and greens dropping over the edges of cliffs toward infinity.Eggleston and Danille Green-Byrd joined our group of warriors part way into this twelve-day trip and so I am getting to know them from scratch as we hunt for errant shots and talk about the way putts might break and where the driving lines are off of tee boxes that seem destined to launch our shots into the sea.
But throughout the week several other warriors have talked about Green-Byrd's story because it is so poignant.  Army specialist Green-Byrd was injured when a rocket propelled grenade struck her while she was patrolling on the roof of a police station in Iraq.  It blew her left arm off just below the elbow, opened up her leg, and caused a series of other injuries.  After she was evacuated from the battlefield to a hospital, other members of her company risked their own lives by going back up to the roof where she was hit to retrieve her wedding ring off the severed arm.Today she wears a prosthetic arm that looks alarmingly real until she casually pulls it off and replaces it with an apparatus created for attaching a golf club to it.  She has a long, fluid swing, great hip action, and a full-finish, although her results are sometimes unrelated to how good the swing looks.  She is as  independent-thinking and clear-headed as if she were still leading the offense at Notre Dame, and also has an athlete's way about her, from her speech to her swaggering confidence.  She laughs easily and sets those around her at ease.  Though she can't play basketball any more she sees definite similarities between it and golf, particularly in the athleticism of the stance and the focus on her target.  "Hitting golf shots is a lot like shooting free throws," she explains.
I am beginning to wonder what it is about these wounded veterans, who are all strikingly good-looking, poised, and willing to open up about themselves despite the pain and trauma they've experienced.  That all of them have included golf in their recoveries is an indication of the game's power to act as a catalyst– whether by revealing the true nature of business associates during a "four hour meeting" on the links, or displaying a former soldier's focus on a tactical game that really doesn't matter in the greater scheme of things, but allows a person to step outside himself and his pain and his altered abilities and play an age-old sport one shot at a time, like anyone– and everyone– else.
To read more about Charles Eggleston:
http://thewip.net/contributors/2008/03/two_purple_hearts_and_five_sur.htmlhttp://ww2.gazette.net/stories/032207/bowinew193533_32320.shtmlEggleston poses for a laugh at the Blarney Woolen Mills store.