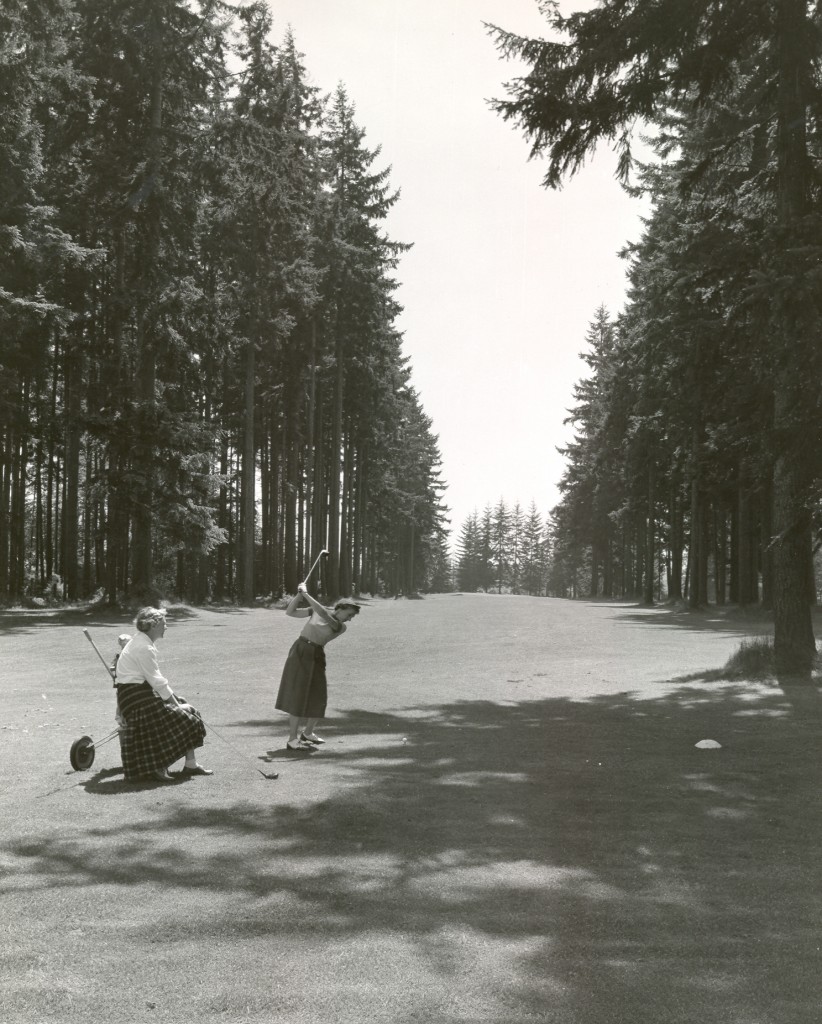 Playing a 100-year-old golf course is often the best evidence that good design doesn't rely on moving a lot of dirt– or a lot of dollars.  This past weekend I had the distinct walking pleasure of knocking it around at the Everett Golf and Country Club, north of Seattle.  What impressed most was the variety of holes and features even though the course played only 6,230 yards and had 12 par fours.  The layout was originally built as a nine-holer in 1910 on a treeless site that had been clear-cut– amazing considering the size of the firs lining most holes today.  Numbers nine and eighteen are unchanged from the original layout.  The small, mounded greens are pure and fair, with maybe one ridge or other feature providing enough challenge without making every putting stroke into a hall-of-mirrors adventure where you can't quite tell what's real.  From various locations  you can see the Cascade and Olympic Mountains and Puget Sound.  The course represents everything that's good about pure, simple design without tricks and fake waterfalls and bunkers in the shapes of famous cartoon characters and fairways that stretch seemingly for hours and make impossible demands on average players.  Let me also add that there is absolutely nothing wrong with a course that encourages good scoring.
EG&CC opens in tall firs with a fairway narrowing as it ducks to the right up at the green.  On number two the exhilaration comes at the classic putting surface, raised above the level of the fairway and framed by more giant firs.  The third presents a mid-range four-shotter that dog-legs sharply left out about 190 yards and then plays to a green complex so masterfully designed it seems to be moving while you hit to it.  Number five, the fifth par four in a row, is also the number one handicap hole, requesting a blind, uphill drive where the entire planet seems to tilt from left to right.
My playing partner Johnny and I felt some relief at number six, the first non-par-four– a 549-yard romp down the hill that we climbed on the previous hole, and defended by humps and bunkers short and right of the green.  The course rhythm, while unremarkable given the five par fours to start the round now turned fun with back-to-back par threes and a short par four providing a chance to make up for any strokes we gave away (though based on our experience not everyone will take full advantage of this).  The first of the short holes is framed beautifully by a bunker above right and another below left of the hole, again suggesting motion.  The second of the par threes, at 122 yards, features a green lurking behind a steep defensive bunker that must be flown– or in some cases, dribbled luckily past.  The front side ends with a terrific short par four with Mick Jagger  bunkers (huge lips) left and right of a diminutive putting surface.
I couldn't help comparing Everett Golf and Country Club to the Eugene Country Club a couple hundred miles to the south and of relatively similar vintage.  But while Eugene boasts design work by the great early-century architect Chandler Egan (who also contributed to Pebble Beach) and was later renovated by the Robert Trent Joneses (both Senior and Junior), that course somehow always disappoints (this despite its long-time ranking among the top 100 courses in the US).  Too many holes seem too similar to too many other holes, and at some point, despite the ginormous trees and lovely terrain, it becomes a bit of a slog.  Although Everett Golf and Country Club was tinkered with over the years by a number of "architects"– including, most recently, Ted Robinson– it's a far more distinctive layout.
The back side opens with an interesting downhill dogleg to a green tucked around a corner behind firs.  At thirteen the course makes up for the consecutive par threes on the front by offering two par fives of 534 and 474 yards in a row– the latter tempting even the likes of me to imagine getting there in two– then being happy to get there in four and two putting.  The sixteenth, known fondly by members as Hogan's Alley, is what our affable member/host Dick Kasperson referred to as the club's signature hole– a short narrow chute between big trees with a green lovingly embraced by bunkers left, right, and behind.  According to the EG&CC website, " . . . originally know as 'Maulsby's Alley,' this narrow fairway was conceived in 1929 and named in honor of a two time club champion.  The earliest know reference to 'Hogan's Alley' was made by a golf writer for the Seattle Times in 1939.  No elaboration on the name was made.  Perhaps it was in reference to Ben Hogan, but if so the reference came a year before Ben Hogan won any tournament of major significance.  Another theory about the naming of the hole was that it was simply a misspelling of the name 'Haugen's Alley' referring to Oscar Haugen who completed construction of the hole."
And such is a further attraction of a virtually unknown, lovingly maintained and artfully designed golf course in a place most people will never visit: quirkiness, great stories, mystery– not the least of which is why anyone would ever need to spend $50 million to build a golf course.