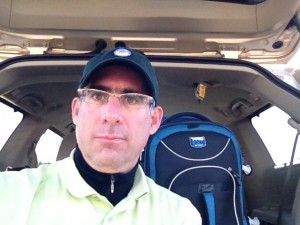 This in the parking lot of We Ko Pa Golf Club, one of the best courses we played on the recent Golf Road Warriors (GRW) trip to Scottsdale.  I'm posing with my 28-inch T-Pro Bold Expandable Rollaboard, which is ready for action as I head for Phoenix Sky Harbor Airport directly from the golf course parking lot.
We Ko Pa was a perfect last hurrah as Peter Kessler and GRW videographer Jamie McWilliams joined me on a crisp morning with fog rising off the golf holes when we arrived just before nine.  The others left early providing me with the first peace and quiet I'd had during an over-stuffed trip full of great golf, terrific lodgings, belt-tightening meals, superior cigars, and more.  I played the last three holes alone in the warming afternoon, enjoying the spaciousness of the surrounding desert and views of the Verde and Salt River Valleys and the Superstition Mountains, communing with a few saguaros and an inquisitive coyote who watched one of my tee shots in amazement, as if to ask: you actually hit one straight now that nobody's watching?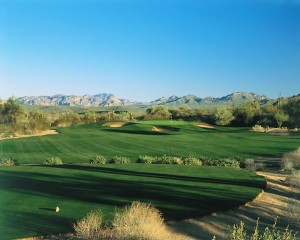 The Cholla Course at We Ko Pa, designed by Scott Miller, plays out into a desert wilderness that stirs the spirit and challenges the golf senses with a series of thre- four- and five-shot puzzles that require concise decision making: when to attempt a carry over the desert, and how much to bite off; whether to lay up in front of well-protected greens or to carry a few hazards in an attempt to arrive earlier.  The holes are all well-considered and challenging without being cruel.  The rhythm of holes is well-balanced and the scenery pristine, with no housing to mar the backcountry experience– just a cozy clubhouse  inspired by local Yavapai Native culture and built with sloped entry walls and a wood-beam entryway to create a natural, embracing, canyon-like feel.