Driving across the muddy Ameca River— just north of the airport in Puerto Vallarta, Mexico— I adjusted not just the time on my watch (to an hour earlier, providing at least the illusion that merely by crossing into the state of Nayarit I'd earned an extra sixty minutes of relaxation) but my attitude, as well.  The river provides the perfect transition to the more laid back zone I'd just entered.  Just up the coast from the hip, bustling beach scene of Vallarta, Nayarit is a place where the word "crowd" more accurately refers to hatching sea turtles scrambling into the warm Pacific along pristine deserted beaches than to the gaggles of happily-sunburned, margarita-sipping cruise ship passengers I'd encountered in PV itself.
The recently dubbed "Riviera Nayarit"—stretching nearly 200 miles from Nuevo Vallarta to the fishing village of San Blas—is the Mexican government's new eco-destination both for upscale travelers who care about how properties are developed, and less-luxury-minded travelers who crave a genuine Mexican beach experience.  The long swath of Nayarit coastline boasts properties as varied as the Punta Mita Resort (with Four Seasons and St. Regis Hotels) and Playa Las Tortugas, an eco-development with lovely custom homes and its own turtle camp where biologists and volunteers work to save a dwindling turtle population.  But wherever you end up on this scythe of natural, sandy coastline, it's sunny, relaxed, and nearly as warm as a habanero pepper.
On my most recent trip I visited only the lower part of Riviera Nayarit, where nearly all of it's golf courses are located; but on previous sorties I explored many other beaches, hostelries, restaurants, towns, and attractions all the way up to San Blas (don't miss the old Spanish fort there) that draw non-golfers the way the ice-cream vendor at a tiny beach called Platanitos attracts hungry, well-muscled surfers.
While the Vallarta area has gotten away with a mere couple of golf courses for decades, Riviera Nayarit is one of the rare places on the North American continent where the game's great architects are creating exciting new venues, mostly associated with posh hotels and housing communities.  But a couple of public courses also provide for enough shanks and chili-dips for everyone.  Five courses are currently available for play in the southern part of the area, with several new venues slated to open in the next couple of years.
Upon entering Nayarit I soon came into Nuevo Vallarta, where construction cranes proved that many folks are still buying vacation property in this idyllic, beachy suburb mixing modern glass condos, single-family homes tucked in palm groves overlooking the water, and hotels with pools, paths, and other amenities.  Nuevo Vallarta is also home to a vast marina full of pleasure craft, and an endless variety of neatly-coiffed resorts.  Non-golfers can charter a fishing boat, go scuba diving or sailing, take a canopy tour, and even swim with dolphins.
Three lakes converge here– nearly the number that dot the landscape at the Mayan Palace Golf Club's Nayar Golf Course, which nestles between the river and the salty blue waters of the Pacific.  Designed by Jim Lipe of the Nicklaus Design Group, this easy-going resort course routes through palm-lined flats within the Grand Mayan Resort.  It's the perfect venue for a family golf outing—or a foursome of friends puffing on cigars, as we did. The back nine is currently under renovation, but the front side stretches to 3,641 yards of Bermuda-grassed fun.  Wide fairways decorated with lakes, palms, and bunkers welcome even the kinds of shots I'm known to hit.  Wind off the ocean provides an invisible hazard—and a great excuse to explain wayward approaches.
Nuevo Vallarta is also home to Tiger—no, not that Tiger, but the El Tigre Golf Course, part of the Paradise Village Resort.  Robert Von Hagge crafted one of his best Mexican courses here among eight lakes, 144 free-form and pot bunkers, and grassy swales.  The features unfurl across rolling hills and Sonoran desert flora such as purple bougainvillea, red hibiscus, and the "gringo" tree (so named because of its peeling bark). Other hazards include the live tigers who live behind the 17th tee box (I am not making this up!) in a natural enclosure.
The course plays to a muscular 7,239 yards from the grande hombre tees.  Wide fairways sculpted with gentle moundings and fair placement of water hazards make for a perky round.  Although a plashing stream and waterfall accompany golfers from the first tee to the peninsula green on number one, the course grows truly interesting on the par-five fourth, where sand demands focus on the second shot and then encroaches upon the green.  Number five presents a monstrous 474-yard risk/reward puzzle over a lake and perfect round pot bunkers.  It's followed by a par three with an island green fronting a view of the rugged Sierra Madre Mountains in the distance.
Memorable holes on the back nine include the thirteenth, sporting a double fairway and a funhouse green, and the par-three seventeenth, 250 yards of mayhem with a putting surface tucked between sand and water.  In case that's not long enough, the 18th plays 621 yards with water down the entire left side and a green that also gets jiggy with sand.   El Tigre's elegant Spanish-style clubhouse provides a great place to have a drink while your playing partner revisits every shot he hit over 18 holes—even though you were there to see them.
Also in Nuevo Vallarta, English golf course architect Percy Clifford's Flamingos Golf Club provides a sense of entering the wilderness.  While the most obvious attraction of the area is the ocean, moving inland took us into tropical jungle dense with ficus, stranger fig, rubber trees, and other tropical flora, and an increase in humidity.  I believed that Indiana Jones might rush out onto one of the greens at any moment, chased by machete wielding caddies.
The course routes through rolling terrain bordered by jungle.  Holes play around, over (and sometimes into) natural lagoons, estuaries, and mangroves full of birds ready to taunt you for a mishit.  Mango trees and 1,800 palms stand ready to deflect errant shots.  Built in the 1970s, Flamingos has matured into its setting, as evidenced by how comfortable deer, hare, crocodiles, and turtles feel there—keep an eye out for them (especially the crocs).  The course underwent a $3 million renovation in 2000.
The 6853-yard track opens with a narrow fairway slicing through the jungle.  The next three holes, while more open, snap back with length, playing 452, 611, and 547 yards respectively.  Respect is the operative word on the entire front nine, which is 500 yards longer than the back. Great holes on the back side include number 12, which plays over a ravine with trees to the right and water to the left.
Moving north out of Nuevo Vallarta, the land mass suddenly spears out into the ocean and the terrain opens to reveal the shape of the drier peninsula.  The upscale resort development of Punta Mita marks the end of the large tureen of Banderas Bay and the beginning of the rest of the Nayarit Coast.  It's also the pinnacle of upscale golf and hotel development.  For those who prefer a sandwich to a sand wedge, Punta Mita boasts world-class cuisine (see sidebar) in addition to a wealth of non-golf activities.  Mountain biking and horse trails cut through the area, and nearby small towns offer their own specialties—Sayulita has a great surf break (I nearly broke a few things of my own when surfing there), whereas San Francisco is home to a polo club.  Many of the towns also have galleries of original art and handicrafts, such as the colorful beaded animals made by the Huichol Indians.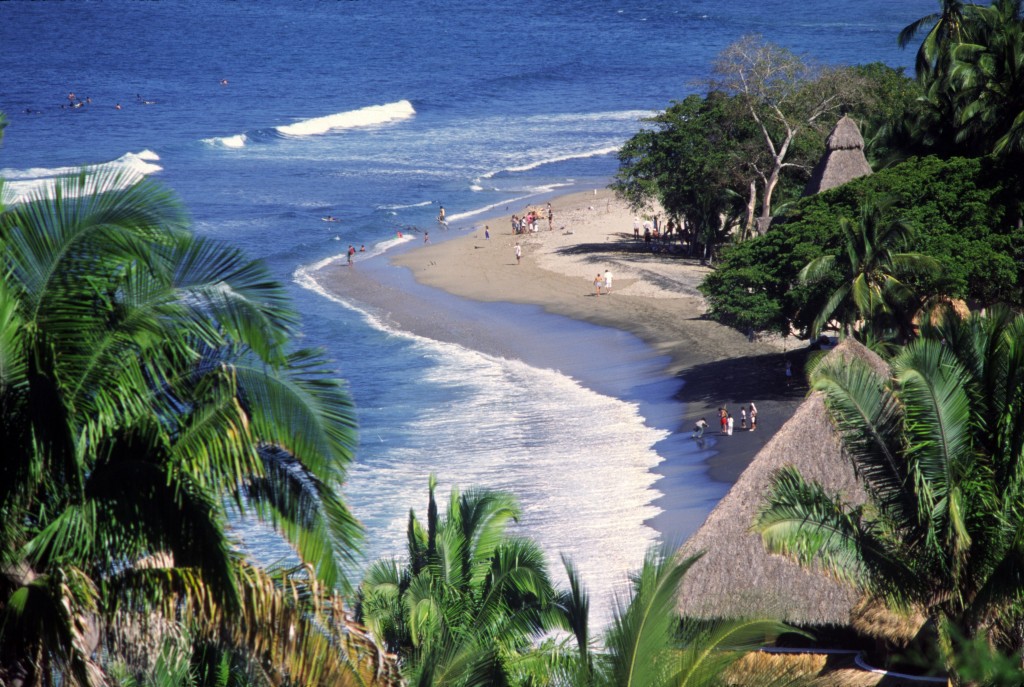 Punta Mita Resort's 7035-yard Bahia course is the younger of two Jack Nicklaus designs, and features green contours verging on the whacky—at one point my friend and I had the same putt, and each one broke in a different direction.  Just getting to some of the greens can prove an adventure, given ledges that drop steeply into bunkers and other entertaining features—entertaining if you're the architect, that is!  The par-three fifth hole presents a demanding 173 yard poke that carries over a nasty bunker but not over the green.  The front nine features three each of par threes, fours, and fives, creating a rhythm as upbeat as a Mexican ballad.
The back side emerges from jungle into an open seaside plain with two large lakes, and no shortage of wind.  Number fifteen capers steeply toward the water while also canting left in the direction of a bunker, while the right side is protected by palms lining a ridge.  Hit a low running draw to the left side of the fairway and you'll feel like a long-drive champion.  Looking past the green, the wide sweep of beaches and breakers far off on the other side of Banderas Bay pleases the eye.
But the real golf treat at Punta Mita is the older sibling Pacifico Course— which Conde Nast traveler has named as the number one layout in the world.  Eight holes of the 7,000+-yard venue samba along the ocean, and all offer ocean views.  The course opens with several fairways defined by sandy waste areas.  Number three—at least the first number three—plays over a wetland, and maximizes excitement for what's coming next: wait for it . . . wait for it . . . hole 3-B: an optional extra hole that floats 194 yards across the Pacific and boasts the only natural island green in the world.  At high tide, golfers climb into a partly submersible golf cart to reach their birdie (or double-bogey) putts.  Other treats such as cross-bunkering, creek carries, and risk/reward opportunities continue to delight throughout the round.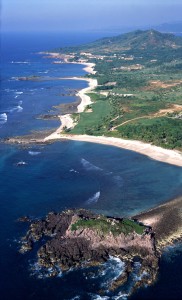 As you make the turn, uniformed attendants may whisk cool towels or mango smoothies out to your cart, which is to say that service and great conditioning help make Pacifico stand out from all other courses in the area.  On the back side, number 12 presents as much intrigue as a David Mamet play as you decide which set of bunkers to attempt crossing.  And the bunker in the middle of the fairway on the thirteenth could end your round early; there are no easy shots on the hole but hitting out of sand beside a lake is one of the tougher options.  Palms and flowers may ease the pain (okay—not really).  But at least you know you'll be headed for a great hotel after you've lost your last golf ball.
Although most of Riviera Nayarit's golf currently ends at Punta Mita, new developments are already underway further north.  Road and airport improvements, new resorts, a Greg Norman course at Litibu just on the other side of the point from Punta Mita, a new Robert Trent Jones II layout at Punta Raza, and other attractions will provide additional options soon.  In the meantime, head up the undisturbed coast to fishing villages and surfing towns, pursue water sports, hiking, archaeology, and other activities, or their opposite– pure, laid-back, turtle-slow Mexican beach time in a quietly developing tropical locale.
Dining
Though not long on ambiance, El Tacon de Marlin ( +52 322 221 1914, 8106 Avenida Francisco M. Ascensio) simply has no competition for serving the best seafood burrito in the universe.  Just across the pedestrian bridge from the PV airport, this hole-in-the-wall has been a secret of flight attendants and pilots for years.
Chef Sylvain Desbois's culinary wizardry makes the St. Regis Punta Mita's Carolina Restaurant da bomb.  Try the roasted Caribbean lobster or the canelon— an artichoke stuffed with lobster, foie gras and truffle.  Lush black, white and silver décor with handcrafted furnishings form a sleek backdrop for the smooth Mexican-accented Mediterranean cuisine.
While we're on the subject of seafood, Restaurant Café des Artistes (866-628-6293), just off campus from the Punta Mita Resort, plates an upscale version of a Riviera Nayarit specialty—pescado zarandeado; in this case, it consists of grilled salmon with a sauce that is kept secret by anyone who prepares it.  Grilled swordfish, giant Portuguese shrimp, and red snapper only begin to fill out the menu concocted by celebrity chef Thierry Blouet.  And the restaurant only begins to hint at the delicious elegance of the associated Hotel des Artistes.
Lodging
Stepping into the lobby at The Grand Mayan (877-999-3223, www.MexicoMayanResorts.com) provides the kind of slightly disorienting experience that travel is all about—the nearly pitch dark room is lined with gigantic Mayan statues several stories tall, which only become visible as your eyes adjust to the light.  The entire property expresses a fusion of ancient Mayan styling and super modern décor— for example, sleek lines, polished marble floors and engaging modern artwork.  Guest rooms are cool and welcoming.  The Brio spa offers treatments in beachside palapas, and the pool complex features a loping, lazy river with fountains and waterfalls, flume slide, and wave pool.
The luxe 1,500-acre Punta Mita Resort is home to both The Four Seasons (52 329 291 6000, www.fourseasons.com/puntamita) and The St. Regis hotels (52 329 291 5800, www.stregis.com/puntamita).  The Four Seasons—Punta Mita's first grand hostelry—features 173 casita-style rooms with tiled roofs and views of beach, hills, and water. Highlights include the Apuane Spa and the Tamai Pool complex, complete with waterfall and high-tech cabanas.  The poolside restaurant may well serve the world's best guacamole.  The St. Regis consists of 120 rooms in the Mexican and Provence styles and employing river stone, marble, onyx, wood, and clay in a convergence of natural luxury.  You may never want to leave a room replete with terrace or balcony, outdoor shower, and butler service—they'll even unpack your bags for you.  Check out the famous champagne ritual in the Altamira lobby bar and the pool area that's itself an artwork of tile, stone, grass, palms, and gardens.
For travelers seeking a different kind of Riviera Nayarit experience, head north an hour from Punta Mita and far from the golf courses to visit Playa Las Tortugas (877-287-8905, www.playalastortugas.com).  The secluded resort features grand eco-villas set amidst a coconut plantation beside miles of undeveloped beach and a natural estuary worth exploring by canoe.  While a cook, kayaking, horseback riding, and other services and activities are available, PLT is meant for more self-sufficient travelers.  Guests can volunteer at the turtle camp on property, and many find the release of hatchlings into the ocean on some nights to be a highlight of their travels.