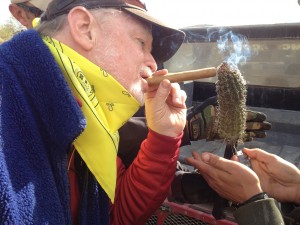 Please don't tell our wives, but the Golf Road Warriors have been known to smoke a few cigars– daily, that is– in our adventures in the world's best golf destinations.  But there have been many occasions on which I went to my little leather cigar case in my golf bag to discover a dry stick that was a shadow of its former self due to having been in the bag since a round played several months earlier.
Actually, the problem extends to many pro shops, which are happy to stock a humidor on the counter but not always as happy to remember to put water in it to keep the cigars fresh.
Enter our friends from Certifresh, who have begun packaging some of the best smokes available anywhere in sealed little cigar condos complete with mini humidifiers.  The cigars stay cozy and moist for up to a year, so if you buy a dozen and stash them in your golf bag, your office, you car, your gym bag, or wherever, as long as you come back to them within a year they'll still be in perfect smoking shape.
And if you're a golf pro or a tournament organizer, Certifresh can package each stick– or a pack of four– with a logo, photo, card, or other branding.  In fact, they don't generally sell directly to the public unless you're hosting a large golf event, so make sure to ask your local pro to begin stocking them.
We've been smoking Certifreshes all of this week in Scottsdale.  Pictured above is beloved beer and golf writer Tom Bedell on our outing this morning with Desert Wolf Tours, who allowed us to drive crazy off-road vehicles on a remote desert trail that crossed streambeds and climbed mesas and took us past ancient ruins and a turquoise mine.  More on this adventure coming in another post.
The cigar smoker's highlight of the tour was watching Bedell seize an unusual opportunity: our guides were preparing a piece of strawberry cactus for us to taste, and to get it ready they had to burn the spines off.  The moment a flame appeared, so did Bedell, with Certifresh in hand.
We recommend against trying this at home.
While we're on the subject of cigar-smoking golf journalists, here's a shot of Peter Kessler and myself enjoying a Certifresh stogie at the Boulders Resort's south course this afternoon.