As someone who enjoyed years of fun at summer camp as a kid, the private community of Martis Camp, just a couple of mountain peaks over from Lake Tahoe, is aptly named.  This is exactly the camp I would have designed for myself as an adult who has never lost my interest in playing as many sports and games as possible in a single day, with my family and close friends, in a terrifically beautiful mountain setting .  But unlike the rough, open bunks I remember from Camp Sequoia in New York's Catskills, Martis Camp is an outpost of extreme luxury in a rugged wilderness, with homes that have the allure of Manifest Destiny, and everywhere on property you're confronted with an opportunity to have even just a little more fun.
Putting aside for a moment the ice cream honor bar (which I'll come back to here, but not as often as I went back to the one at Martis Camp), which may be the single best idea at a destination that I've ever encountered, the entire grounds of the 2,177-acre property (set amidst additional national forest land) have been created to deliver  moments of suddenly-realized happiness.  I really cannot think of any place I've ever traveled to that I more wanted to bring a large group of my friends for a weekend of brutal gaming rivalry, occasional trash talking, and other equally competitive cameraderie.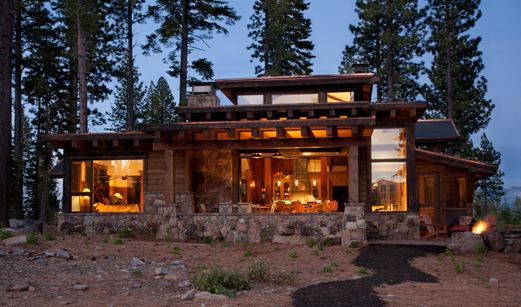 The lodgings themselves– houses and cabins which are required by covenants to reflect "mountain architecture," whether that's the Tyrolian Mountains or the Rockies, whether old-school big-timber log homes or sleek modern adaptations full of glass and slate– set a naturalistic feel to even the largest homes.  And there are some large ones.  Complexes, really, some consisting of several houses neatly attached or standing side by side so that visiting relatives or friends might enjoy their own private enclaves within the private enclaves.  There'll be a maximum of 653 homes on the massively extensive property, including acre-plus estate homesites and cabins of up to 3,250 sq ft.  And though not normally available to non-journalists, a morning's tour of five or six of the houses, which were mostly designed by named architects from the Bay Area, revealed that even the largest second homes can be designed with museum-quality artistry that still manages to feel warmly encompassing.  A favorite detail of mine was the Zen-like house with a yoga room hanging like a treehouse from an upper level and the flooring of small stones that deliver pressure point massage to the bottom of your feet as you walk down one hall.  All manner of modern media rooms, including one that was actually a mini-theater designed with a Moroccan motif, compete with wine cellars and great rooms and really really great rooms to provide the ultimate in luxurious living.
None of which really has anything to do with the games waiting to be played.  Although visiting Martis Camp with my wife, I envisioned a trip of my men friends who would run out of time in the day before they found all the different activities at which we could compete– and that's without considering drinking cold beer or an icy Sonoma Chardonnay on a warm porch in the evening as a sport.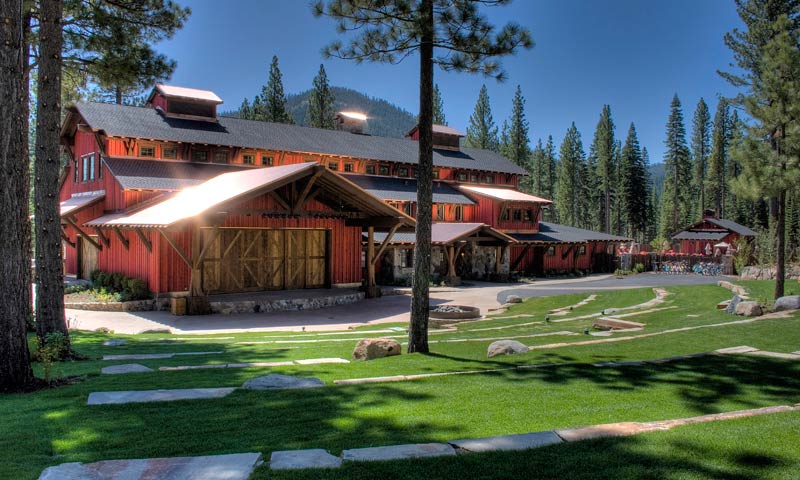 So let's start with the Family Barn which is, well, a really really big red barn– 18,000 sq ft of giddy childishness.  Out back are swimming pools and all the assorted chlorinated fun that goes along with them.  You could stage a water basketball game there, or swim laps, or simply sip a milkshake in the shade.  Or unwind in the cool mountain air in the jetted tub.  Inside there's an old-fashioned soda fountain and also a restaurant  serving casual food all day– like burgers.  And wild boar risotto.  Downstairs is the bowling alley.  On the main floor await video games like Pacman, pinball, pool tables, shuffleboard (the bar kind, not the Miami Beach kind), and then, through a giant sliding barn door that's open to the lounge area, is the Camp Hall with half-court hoops and floor hockey.  In summer, other barn doors on the opposite side transform this room into an outdoor stage facing the terraced outdoor amphitheater, where folks like Lyle Lovett and Jose Feliciano stop by to play informal concerts.  Upstairs is home to the Art Loft where you can take drawing and painting classes, although it is difficult to wager with your friends on these.  The 44-seat theater is located next door. Of course, you could also go back to your house or cabin for further game playing– ours was stacked with  Scrabble and cribbage and jigsaw puzzles, and I envisioned hours devoted to these pursuits among the high ceilings, dark wood, and sweet-scented fire.
As a break from gaming you could walk 26 miles of paths and trails, say, along a creek that disappears into a wilderness area, or winds past the fishing lake; or head to the Craftsman-style Lost Library hidden in the woods with a cairn garden and espresso machine and the New York Times.  It's right near the community garden, which has its own naturalist.  But on your way to these you might pass the park pavillion, with its mini soccer field, outdoor basketball court, bocce, grand croquet lawn and lawn bowling court, sand volleyball, labyrinth, barbeque grill, and more.  And okay, tennis.  And the previously mentioned ice cream honor bar which I would appreciate it if you would not tell anyone that I visited, or how often.  And alright, a 60,000-sq-ft. bentgrass golf putting park of perfect turf winding amidst aspens, lakes, and streams.  It may be the only putting course where you could actually lose a ball.  And not care.
To stop at this point in the day, even if you're tired, would be like playing all of these other games and suddenly remembering about the Tom Fazio Golf Course, for godsakes, with a slope of 141 from the back tees and beautiful retro square tee boxes.  I found it to be the rare course that may actually play easier from farther back, as the longer set renders many of the hazards irrelevant.  I shot 92 on the first day there, landing in many bunkers.  Then followed with an 82 from the longer tees because I couldn't reach those bunkers.  Even the flagsticks here are special, artily crafted of wood and metal.  The course opens with a very forgiving hole with room to miss right and two round humps in the green.  Number two is a less forviging hole of 442 yards from the blue tees with a green-edge reached over a rock outcropping that drops off into never never land– meaning never never go there.  Number four may be the best on the course, 515 reachable yards (remember you're at altitude here) that begins from an elevated tee box.  Though trees block the view to the left, the hole is actually open and parklike.

By the eleventh, you may tire a little of the shape of holes that dogleg left and require a draw over or around a bunker at the corner, but by the twelfth you'll hear the faint music of a stream in the woods as the course drops down into a wetland and becomes more interesting and secluded.  The seventeenth delivers the best view of distant mountains all day, and eighteen provides a great finish just below the towers and great rock work and the notion of repose in The Lodge– the ginormous center of high-comfort, good-eating, high-life that Martis Camp is built around.  It's set on a rock promontory overlooking the Sierras and has every facility you've ever hoped to find in a golf clubhouse.
I haven't even mentioned Martis Camp's private ski hill and lodge, and access to Northstar at Tahoe.  That's for another story.
The only bad news?  Martis Camp is private, so befriend a member or buy your own home here.  www.martiscamp.com.