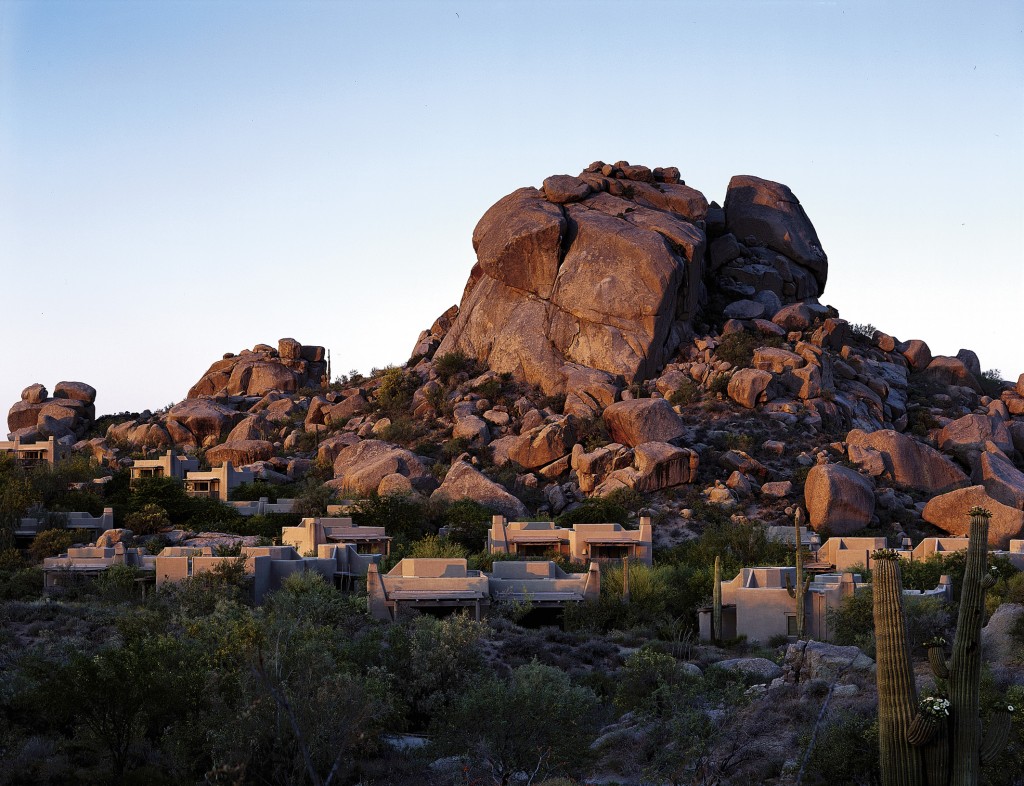 A lot of resorts– particularly those built back in the boom of the 1980s– have grown tired enough to be forced into retirement, especially with all the great new boutique properties popping up  full of eco-engineering, flat-screens t.v.s as thin as the 600-thread cotton sheets, and animatronic deer walking past your room on cue (okay, I'm making that up).
Which is what makes a visit to The Boulders Resort, north of Scottsdale, so refreshing (I mean, in addition to 36 great holes of golf, a Golden Door Spa, Four-Diamond Restaurant, and newly renovated private casitas).  Few places on this planet are just inexplicably magical.  That said, The Boulders— not coincidentally located in the town of 'Carefree' outside Phoenix– is the destination you hardly dared dream of.  The resort and golf courses have collected scads of awards, including the coveted Platinum Resort designation from GOLF magazine.  It is the rare property that just keeps getting better with age.
Of course, the sublime setting on 1300 acres of Sonoran desert foothills has not changed much since, well, the Mesozoic era, and it still provides the perfect atmosphere to see The Stones play– no not those stones: I'm talking about Fred and Wilma, Barney and Betty, who would have appreciated the surroundings.  While geology provides the backdrop, comfortology is the operative word in the public rooms and casitas, which blend native American crafts, the scent of mesquite from ubiquitous fireplaces positioned perfectly around the resort, and the enticing perfume of the Southwest-accented New American cuisine being created by new chef Stephen Jones at Latilla, the AAA Four-Diamond restaurant– one of six eateries on property.  Start with the grilled romaine salad with Spanish white anchovies, cotija cheese, piquillo pepper marmalade, Kalamata olives, croutons, and Mexican crema dressing.  Follow this with the venison short loin in fire-roasted poblano butter and encourage your dinner companion to order the sea scallops with roasted cauliflower, Japanese eggplant, pistachio pudding, and several other incongruously brilliant flavors, so you can steal tastes of that, as well.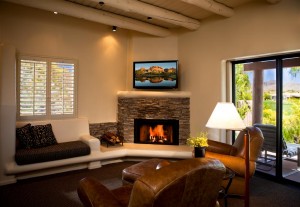 After which you might want– as our host at Latilla suggested– to enjoy dessert and a glass of ice wine back at your casita while leaning back in the big leather club chairs by your own fireplace, with the patio doors open to the occasional yips of coyotes asking whether you are finished with that gingersnap crumble, and might they help?  The 160 sand-colored low-rise casitas boast 550 sq ft decorated with hand hewn wood beamed ceilings, wood burning fireplaces, decks, earth tone furnishings, glazed tile, and fresh, original artwork.  They've just been upgraded with new finishes  in browns, beiges, and subtle desert hues, and received technology enhancements at the same time– something I am awaiting for myself.
My advice to you is do not let the coyotes in your room, as they have a reputation for refusing to go back out to the desert once they taste the interior luxuries.  They will be unimpressed by the fact that the casitas have won the Urban Land Institute's environmental award of excellence.  In my own experience, they'll be far more interested in borrowing your key to the mini-bar.
While celebrating The Boulders let us not forget the 36 holes of Jay Morrish-designed golf comprising the far under-descriptive "North" and "South" courses– which might have benefitted from more fitting names such as "Rock Garden" and "Oh, My God," for example–and which artfully curve through pure desert with tough penalties, an occasional pulse-quickening carry, and views of the granite boulder formations all around you.  Playing well here honors the architect, yet you'll be intoxicated enough by the terrain that you're unlikely to really care about your score.  Both courses weigh in at just under 7,000 yards from the tips, but there's no reason to play from back there, as you may recall that golf is supposed to be fun.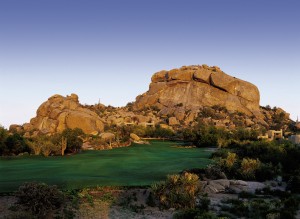 Highlights include the first  hole on the North Course, which proffers a double dogleg of 513 yards with a forced carry on the second shot.  The south course features back-to-back par threes of 151 and 198 yards at the fifteenth and sixteenth holes—possibly to make up for the impossibly long 601-yard eleventh.  Keep an eye out for wild javelinas—and don't embarrass them by flubbing a drive.  The so-called signagure hole is South #5, a narrowing par five with dramatic rock outcroppings sheltering the green.
Equally well camougflaged as some of the putting surfaces is a world-class Golf Academy commanded by top-100 teacher Donald Crawley, which offers a variety of clinics including a "scoring zone" school and lessons for beginners, women, and other constituencies, ranging from one hour to three days.
Following golf you'll also want to consider rock climbing, biking, horseback riding, hot air ballooning, hiking, or just a stroll through the organic garden.  Or not.  Perhaps lying by the pool and listening to the plash of a waterfall dropping through a crevice in the rock will have exhausted you to the point where only a visit to the 33,000 sq ft Golden Door spa will revive you.  The spa is an oasis within the oasis of the property itself, quiet, private, with a labyrinth, tipi, and views of Black Mountain in the distance in addition to private pools and treatment rooms featuring services like an underwater Watsu treatment or a Native American turquoise wrap.