The Golf Road warriors kicked off our latest sortie– in Gaylord, Michigan– with a surgical strike on Big Buck's Brewpub, just a couple miles down the road from our base camp at the Treetops Resort.  Unassuming on the outside, once inside– and past the defenses posed by a taxidermy army of bears, eagles, ferocious ducks (see the one that seemed to attack warrior Brian McCallen), and other creatures– we found a wide ranged of alcoholic weaponry.  I made the tactical error of partnering with renowned beer writer Tom Bedell and committed to working our way together through the entire arsenal with the agreed upon exception that we would not drink a light beer or any concoction made with fruit.
On the lighter side, the Big Buck American style, which includes corn added to the grist, proved refreshing if just a little short on character for this Warrior from the Pacific Northwest, home of craft brewing.  The traditional India Pale was a hoppy conincidence of three different kinds of hops that leant it a dry, citrusy finish.  Followed directly by Doc's ESB, with it's lovely reddish color, these were excellent with the spicy  chicken wings we warmed up on.
The Black River Stout proved almost rich enough to serve as a dessert– creamy and moderately bitter it delivered notes of coffee and chocolate, and had more strength of character than even the Russian Roulette Imperial Stout.
Bedell seemed to prefer– not surprisingly– the Triple Rye, a land mine of complexity  and alcohol content supplied by 12 months of aging, and with an ABV of more than 15%.  Part of Big Buck's "gourmet brew collection" they won't even serve you this one in anything bigger than an 8 ounce pour.  But being the clever beer expert that he is, Bedell slipped past this particular restriction by ordering two or three of them, and camouflaged his tactic by ordering pretty much everything else on the menu in between to distract our server.
Videographer David Whyte, who refused to order a beer of his own, certainly seemed willing to drink ours, and he was particularly fond of the Breezy Kilt until the Scotsman learned it was an Irish stout, with a malty aroma.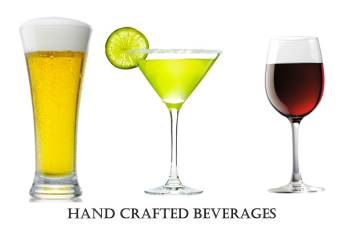 I'm sorry to report that given our beer consumption, our leaders agreed it best not to also test all the products from the Big Buck distillery, which makes a variety of vodkas, rums, and whiskies, as well as homemade sodas including root beer and vanilla cream.  All the more reason to go back for another burger.
The pub was the ideal headquarters from which to develop our plan of attack for golf at Treetops, which begins this morning on the Rick Smith Course, followed by an afternoon on the Fazio Course.  I'll be looking to pick up some ground on fellow warrior Peter Kessler in our lifetime match, which I will not tell you the current score of.