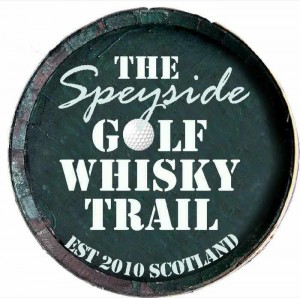 In October, my friend David Whyte– the renowned Scottish golf journalist– picked me up in Glasgow for a quick tour of the Speyside Golf Whisky Trail in central Scotland.  Over five days we visited some of the best little-known golf courses in that golf-rich nation (Moray, Forres, etc), toured several whisky distilleries including Benromach (the smallest working distillery in Speyside) and The Glenlivet (with roots going back nearly 200 years), and stayed in a series of upscale golf hotels.  If there is a better "work" trip anywhere in the world, I'd like to know of it.
Mr. Whyte and I toiled mightily, beginning with our visit to Mar Hall (see separate story) and then heading for the Highlands, where we overnighted at the Garth Hotel in Grantown on Spey.  The hotel has anchored the town square since the 1850s, and its Victorian styling brings back the warm comforts of a long-gone era.  As does a meal of creamy seafood chowder followed by something like the grilled Cajun-spiced trout or trio of pan-seared collops of Cairngorm venison, sourced in the nearby mountains.  We dined with long-time golf pro Bill Mitchell, who regaled us with stories throughout the repast.
The next workday began with a hearty Scottish breakfast followed by a quick visit to the Grantown Golf Club, which was closed for the morning due to a dusting of fresh snow, which didn't prevent us from walking a few holes, including number nine, a terrific downhill reachable par four of 275 yards that I was quite keen to play despite the weather, until David talked some sense into me.  The  holes we saw were full of character, and the peacefulness of the pastoral setting likely belied some of the challenges of this perky inland layout.  The course features three different topographies: holes 1-6 route through flat parkland, 7-12 play through hilly woodlands, and the final six revert to more undulating parkland.
Tramping through the snow at Grantown set us up perfectly for a warm, malty visit to the Glenlivet distillery for a tour and background on one of my favorite subjects with Douglas Calendar over shortbread in the Glenlivet library, where framed military portraits kept a close eye on us as we  sat on the leather couches.
The only thing left on such a weather day was to head to the coast, where conditions at Moray Golf Club in Lossiemouth were, well, okay, not exactly better given the rain and wind, but at least playable.  And one look outward to the links from over a hot lunch in the clubhouse was enough to inspire Gore-tex donning and an eighteen-hole round.  Old Tom Morris designed Moray's Old Course, a 6,228-yard old-school delight with, inexplicably, a giant metal moose standing guard on the first tee (which I was told had been known to attack American golfers).  The flags were at full attention in a stiff wind as we teed off on number one and looked out toward the Moray Firth and a lighthouse designed by the grandson of Robert Louis Stevenson.  The course– routed through high, dense whins, gorse, and heather– boasted deep ravetted bunkers and seven par fours over 400 yards.  A wee burn and abundant dunes added to the fun.
On number five a sign warned "Beware sudden aircraft noise" which it occurred to me might be the worst swing thought ever.  But it was no joke– the planes flying into Lossiemouth Air Force Base were low and loud enough to make your ears bleed, though they may be finished soon, a casualty of the economy.  I can swear that one jet came over so close that I could see the silver fillings in the pilot's mouth.  Tough to hit a touch shot to a rolling green when your hands are shaking like that.
Great holes at Moray include a 310-yard driveable par four at number nine where humps and dips obscure the green, and the fourteenth, where a long approach over rippling dunesy fairways offers views of distant mountains and the sea, and a green set next to the beach.  The finish here is also terrific– a reachable but well-guarded par five at seventeen followed by a long par four at eighteen with the green set on a high platform fronting the clubhouse.
Although Mr. Whyte was skeptical at best he still managed to get around with me and not lose the match until very late.  My advice  was that he put on some additional body fat via sticky toffee pudding so as not to disappear in a gale.  According to the member we lunched with before the round, Moray has always enjoyed a strong link to the nearby distilleries, and each year put a barrel aside at the Macallan distillery for a club whisky, which it was only right for us to sample post-round despite the portrait of Old Tom Morris looking down from the wall and reminding us of his own drinking-related fate.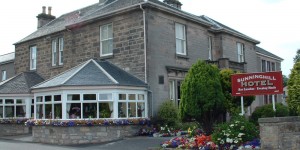 That evening, after peeling off our wet togs, we made for the dry, warm, and inviting Sunninghill Hotel in Elgin, where hostess Winnie Ross welcomed us to the fine establishment and equally warm bar.  The restaurant menu was so extensive as to create great sorrow over all the things I was not able to order, but Winnie sent a dram of her husband's favorite whisky, from Glenrothes, which eased the pain a little.  Following dinner I was barely able to enjoy the elegant room as head hit pillow before I even realized it.  Which was good, because as soon as head lifted off pillow, it was downstairs for a full Scottish breakfast to inoculate us against any challenges the day might present.
From Sunninghill it only made sense to pay a quick visit to the Elgin Golf Club, which was established in 1906.  The clubhouse originally served as the local smallpox hospital.  Club members originally rejected the idea of Sunday golf at a meeting where police presence was necessary, but sixteen years later they approved it in another meeting at which members requested a liquor license.  The parkland golf course at Elgin plays firm and fast with natural silver birch and pine growing nicely in the sandy soil.  The course can be stretched to nearly 6,500 yards for championships.  It was originally designed by the local businessmen who founded the club, though it has a strong James Braid influence.  The unique and mostly original and wholly difficult greens feature a variety of slopes, knolls, hogsbacks, and runoffs.  In an early competition the club offered a washing machine to anyone who could make a hole-in-one on the 220-yard par three sixth, but the pro suggested they might consider offering the prize to anyone who could hit the green.  From many holes at Elgin you can see smoke from the Glenlossie and other distilleries nearby, and in fact many members are shift workers and managers at various distilleries.  In the old days the club put down a hogshead of whisky each year for sipping in the bar.
So it was only appropriate that after golf David Whyte and I went window shopping at the original Gordon & Macphail whisky shop, which left us drooling a bit, which seemed to alarm the clerk.  To read about the best whisky tasting ever held, which took place that evening, click here.  Following an even quicker tour of Johnston's of Elgin's cashmere shop to buy something for the wife, we headed to Nairn, one of the finest lesser-known links courses I've ever had the pleasure of meeting.
Plenty has been written about Nairn Golf Club, a popular stop for golfers heading even farther north toward Dornoch.  Although originally concepted by Andrew Simpson, the head greenskeeper at Royal Aberdeen, Old Tom Morris revised and extended the design.  Twenty years later, James Braid worked on tees, bunkers and greens, and many years later Ben Sayers of North Berwick also contributed design work.
Every hole on the golf course offers views of the Moray Firth.  Depending on where the clouds are swirling, some holes also provide views of the Black Isle.  And every one of the first seven holes offers the opportunity to hit your ball into the sea.  The par threes are cleverly angled to make them tougher than first appears and mined with devilish bunkers.   The three par fives all stretch more than 530 yards.  Nairn's fairways are virtual factories putting out humps and hollows until there's barely room for any more.  The greens are tricky yet crafty and the turf is as fine as any links can offer.  These holes are simple and pure and make you want to embrace them.  Potential mates include the  gorgeous 373-yard number three with a green hidden way behind a mound and eyebrow bunkers; the enchanting fourth which routes over a corner of beach just visible out of the corner of your eye (especially if you tend to slice); and the painfully attractive yet barely-manageable 13th, 423 yards of winding mayhem between sexy bunkers which climbs sharply by the green, thus making the tiers of the putting surface invisible.
Our cold, wet, invigorating round not only exhilarated but also  created an appetite for– yes, you guessed right– whisky, which was heartily quenched fireside that evening at the fine, fine Knockomie Hotel, thanks to David Urquhart of Gordon & Macphail.
Our final day on this grueling work trip included a quick visit to Forres Golf Club, the playing of which we were forced to save for another time (thus requiring a return visit).  James Braid braided the original nine holes into a lovely parkland setting in 1889 and Willie Park added another nine in 1912.  The medal tees play a manageable 5,906 yards and to a par of 70– there are no par fives on the back side.  Par-three number seven plays 187 through a chute of trees to a green protected by bunkers in front.  Sixteen boats a pond to the right and a large patch of gorse splitting the fairway.  The entire layout climbs and dips between tall pines and patches of heather and gorse.  The course lies within om-ming distance of  Findhorn, Scotland's answer to Esalen.
We capped our Speyside Golf Whisky Trail adventure with a tour of  the charmingly small Benromach Distillery, where I was forced to take a sample bottle that now sits in an honored location in my Scotch closet at home.
From there we embarked upon a separate business trip that began with a round at the most amazing Castle Stuart, which I will write about in a separate story shortly, as it is worthy of far deeper consideration.  That night our new trip began with a visit to the modern masterpiece known as the RocPool Hotel in Inverness.   Although the super-modern room was in great contrast to many of the older, more classic hotels we'd been visiting, the luxury of it was not lost on us.  Nor the convenience.  Or the fantastic dinner, dedicated staff, attractive design, and much more.  We loved and admired it until we fell dead asleep while chatting in the lobby, but still managed to find our separate ways to our very comfortable beds.
All photos by David Whyte.