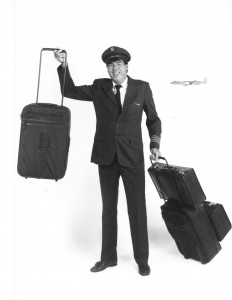 For me, it's easier to picture dinosaurs roaming the earth than to imagine that just 25 years ago, even seasoned travelers actually lugged wheel-less suitcases through airports.  But just as  sea-dwelling creatures eventually evolved onto land, so too did luggage develop wheels.  Say happy 25th birthday to Travelpro's Rollaboard, the suitcase that marked a Darwinian leap forward for travelers across the planet.
It began with Northwest Airlines pilot Robert Plath, who first changed the physical orientation of luggage from horizontal to vertical, added wheels and an extension handle, and brought man forward and out into the light.
Plath eventually began piloting the new company know as Travelpro and providing Rollaboard pieces to airline flight crews and pilots.  The early adaptors took to the product with such fierce dedication that Travelpro launched the product commerically through retail stores in the mid 1990s.  Inc. Magazine recently ranked the Rollaboard as one of the top innovations in modern history.
Plath didn't invent the wheel: he just figured out one of the best possible ways to use it.  And just like a good pilot, the product took off from there.