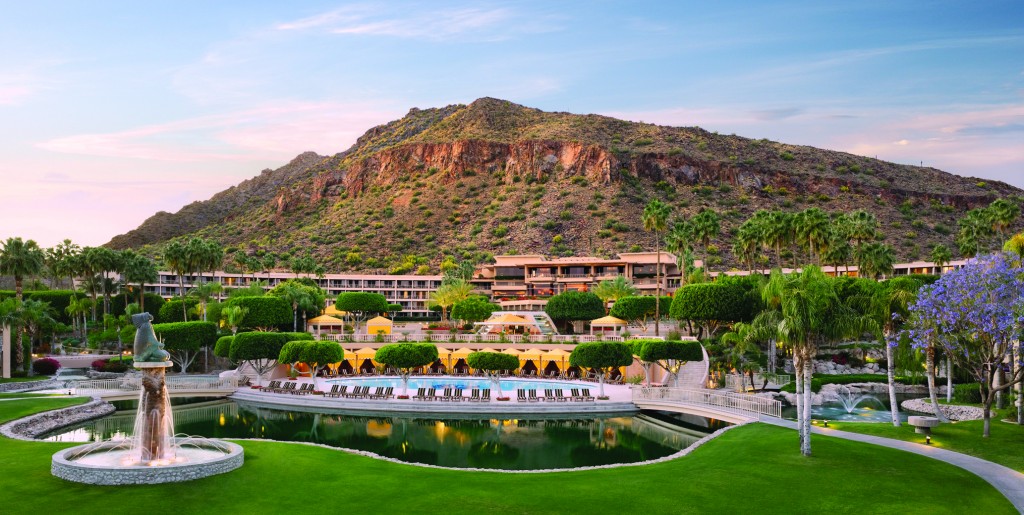 Today the Golf Road Warriors marked their return to Scottsdale by traveling directly from Sky Harbor Airport to the first tee at the toney Phoenician Resort.  The Warriors were joined by the affable Bob Sweeney, the resort's director of sales; long-hitting Chris Kaplan from Communication Links, one of the world's best golf PR firms; and Brian Donarski and Chad Pfeifer, two wounded veterans who have been using golf as an intrinsic part of their recoveries and rehabilitations from injures sustained in wartime.
We headed for the practice range first as the staff attended to our various needs and demands ranging from immediate sandwich aid to rental clubs, delivered packages that were waiting for us, and proved exactly how staff at a five-star destination are supposed to behave.  There's really nothing quite like going directly from runway to fairway to set the golf clock on an out-of-town adventure.  And it didn't hurt that the temperature was about 75 degrees and the sky as clear and unscuffed as a Titleist fresh out of its box.
Pfeifer, who is the armed forces golf champion by more than just coincidence, came out swinging hard on the first tee of the Desert nine despite a prosthetic leg, and birdied the first two holes while Sweeney and I watched in a combination of envy, admiration, and amazement.  I'd witnessed Pfeifer's immense talents before– on a two-week journey to Ireland  during which the soft-spoken and eminently huggable former soldier shot lights out from Ballybunion to Royal County Down.  Today he hit his first approach to about four feet and if it's possible to combine both shyness and confidence simultaneously, that's how he drained the birdie putt.
Pfeifer is the ultimate testament to golf's penchant to be adapted to an endless variety of physical abilities– as well as the idea that it's really a game about discovering the best swing that works for you, with your very specific range of motion, ability to turn and shift your weight, hand-eye coordination, and about a gazillion other factors that make this unnatural motion so satisfying and confounding.  Because he can't make a full move onto his left leg during the swing, Chad has created a motion that generates power mostly through the arms and upper body and then triggers by a snapping of the hips.  It's startling to watch– even more so when you realize that the high ball flight is also llllloooooong.  And sniper accurate.
The Phoenician's golf holes themselves prove the Scottish adage that a course does not have to be long and difficult to be, well, difficult.  The Phoenician is all about subtlety and subtext– the latter being giant Camelback Mountain, rising somewhere in the viewscape on virtually every hole but also subliminally influencing not just putts but club selection, stance– and it may well also have had something to do with who shot J.R. for all I know.  At times, focused on the blades of Bermuda grass and the ball sitting up on them, it's easy to lose track of Camelback Mountain, but when that three-foot putt ends up a foot short and you look up at the sky to curse the universe you'll see that orange ridge of saguaro-spotted rock and realize the damn thing was straight uphill.
Today we played the Desert/Canyon routing which began in a tranquil, manicured setting of flower beds, palms, mesquite, sage, and tightly-mowed grass and wound past resort facilities and beautiful old houses, then transferred into wilder terrain at the base and around the sides of Camelback Mountain.  Hikers stopped to watch our tee shots on the steeply-downhill #6 on the Desert side, so as you decide what club to hit remember that laughter echoes.  We stopped to watch distant views of Paradise Valley and the Superstition range off in the distance.  The hole drops approximately 100 feet from tee to green.
The Canyon nine– with holes 1-7 designed by Ted Robinson and eight and nine by Homer Flint– features more elevation changes and may leave you wondering how almost every hole can seem to hug the base of Camelback Mountain.  Number six here presents a driveable par four (driveable if you're Chad Pfeifer, that is) with the green hidden uphill and just beyond view.  The short layout ends with a surprising treat: two lovely back-to-back par threes at numbers seven and eight decorated with streams and waterfalls and flowers.  The side closes with a somewhat controversial 90-degree dogleg par five.  Strangely, the guys who made pars by avoiding water everywhere and landing in the very narrow fairway loved it.  Having launched my second shot into the street beyond sculpted fairway mounding and watching it bounce onto a second-floor balcony where not even as intrepid a recover-shot expert as myself could retrieve it, I of course concluded that this conclusion was a little tricked up.
There is no more satisfying golf accomplishment than playing straight into the teeth of a red dusk (especially on a day when you woke to the cold rain of Portland, Oregon) and holing the last putt as the temperatures cool into the desert evening and coyotes bark and cocktails rattle in metal shakers.  It's somehow like stealing– but in a good way.  Like laughing in the face of death: muhahahaha!  Like winning a $5 Nassau.  Like– well, you can add your own analogy here, I haven't got all day!
Well, okay, maybe  there's one more satisfying accomplishment– which is to be accomplished through the generosity of Kobe beef served in the form of the medium-rare Cowboy Burger at the Relish Bistro in the clubhouse upstairs.  Even the tater tots are so exclusive as to arrive in their own mini deep-fryer cage, golden and glistening with salt.  Washed down with a local IPA and followed by the at-table S'mores dessert, even the crankiest Golf Road Warrior can retire to his luxe guest room at the Phoenician without complaint.