The response of my friends in Portland, Oregon when I told them I was headed for Kelowna, in British Columbia's Okanagan Valley, for a golf trip:
"Isn't that in Germany?"
They hadn't even heard of this fine Canadian golf and winemaking destination a long scenic drive or short flight from many cities on the West Coast.  When I added that I was also headed for Kamloops they didn't know where that was either, but them seemed to like saying 'Kamloops.'
Possibly obscured by the tourism shadow cast by such famous nearby destinations as Whistler and Vancouver/Victoria, the Okanagan Valley lies in fertile high-desert fruit-growing country between the Cascade and Rocky Mountains.  Dusky hills and blue lakes punctuate miles of blossoming orchards and vineyards.  In fact, the Okanagan hosts four wine festivals every year.  It encompasses dozens of vineyards and stands as the largest producer of ice wine in the world—that sweet, quenching draught made from grapes that have frozen on the vine. In addition to the vineyards, the town of Kelowna also sports a charming art district in what was once the center of the local fruit packing industry.  Now six blocks bloom with music, galleries, and shopping.  You might also wander over to the beaches along Lake Okanagan with an eye toward glimpsing Ogopogo, the local monster who lives under the water.  Of course, you're more likely to see the giant green sea serpent (there's a $2 million award for finding him) after a few tastings at local wineries.
Or take on your own personal monster (such as three-putting or the shanks) on one of the area's fine and varied golf courses.  Fruit and wine aside, the Okanagan is ripe for a golf-focused visit, as well.
Why not stick with our theme and begin at the easy-going Harvest Golf Club, a Graham Cooke design routed through orchards and vineyards that encompass 1000 apple trees of nine varieties, as well as peaches, pears, and cherries.  The 7,109-yard layout feature views of Lake Okanagan from every hole.  Cooke cooked up a golden delicious confection of great golf shots defined by easy landing areas from the tees but more demanding approaches to large greens.  He made the terrain here even more interesting by developing bent grass fairway platforms that seem to float like green islands in seas of thicker blue grass.  The edges of the islands fall off toward the club-grabbing rough, creating an aspect of target golf.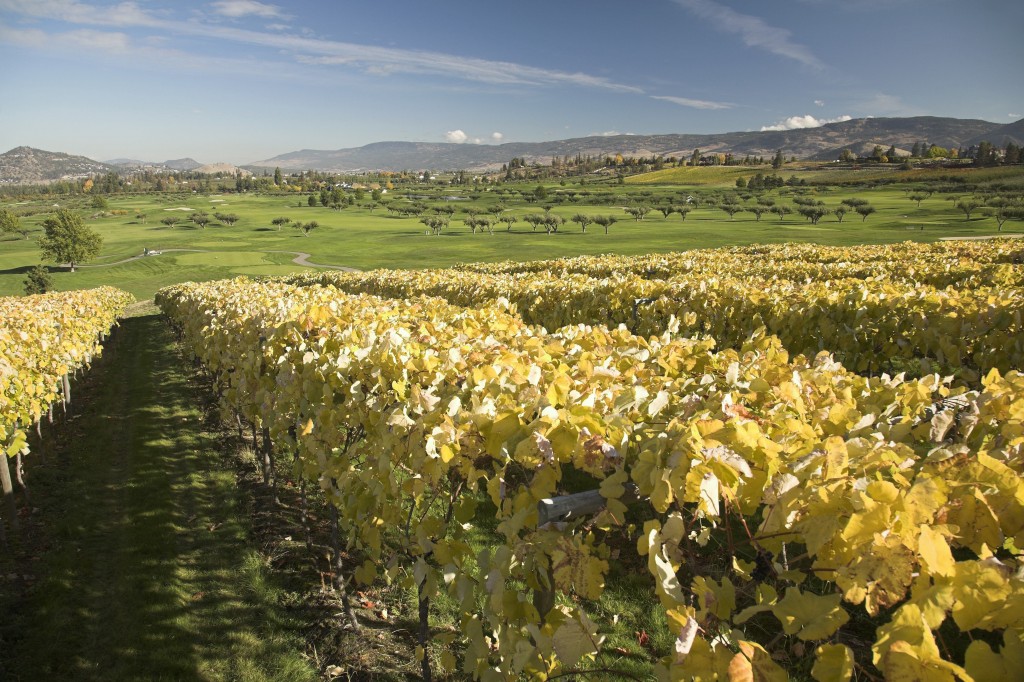 The front nine includes several shots that flirt with water and a few hit to greens and landing areas not entirely visible from the launch pads. The back side opens with unusual Anjou and Bartlett hazards. Both of the par fives on the return nine play short from the blue tees—479 and 468 yards.  Fifteen is a local favorite.  The 419-yard challenge turns right around orchards; determining the depth of the green provides part of the challenge.  Cap off your round here with an outstanding lunch in a restaurant where the entrees do not all feature goofy golf-related names.  Or consider coming back to the fine Harvest Dining Room for dinner after changing your spikes and gussying up a bit.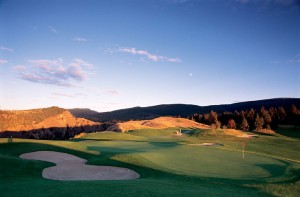 After harvesting a fine round at the Harvest Golf Club why not step up—literally—to a game at Gallagher's Canyon Golf and Country Club.  The 6,802-yard 18-hole routing was designed by William Robinson and Les Furber.  The course opens with the number one handicap hole, 434 downhill yards that might call for a lay-up unless you catch a mound along the right side of the fairway that will toboggan your tee ball within striking range of the elevated green.  You're second shot is better off at the bottom of the hill, in short grass, than with a funky uphill lie in the rough closer in.  Make sure your driver is humming by the ninth hole because three par fives are coming up in the next four holes and they all stretch over 500 yards.  Yikes!  Number thirteen, a 187-yard par three, features a three-tiered corduroy green that you'd be better off re-teeing to than having to putt on from the wrong tier. the fairway.  On eighteen, avoid a pine tree in your face in the landing area.  Gallagher's also offers the nine-hole Pinnacle course.  George Orwell might have been inspired by the par-32 layout, which plays to 1,984 yards.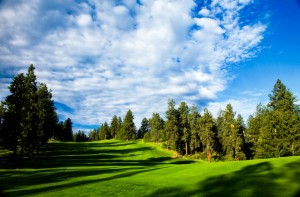 If you liked Gallagher's Canyon, why not give architect Les Furber another chance to deepen your relationship with a little more Furber at the Okanagan Golf Club, located in hilly terrain a runway's length from the Kelowna Airport.  Furber's 6,785-yard Quail Course shares 384 acres with the Bear Course, executed by Nicklaus Design.  OGC is also home to the John Jacobs Golf School.
You'll need accurate shooting to bring down the Quail, which features dramatic elevation changes, multi-tiered fairways, and the occasional lake and rocky bluff. You could play Okanagan's Quail Course every day for the rest of your life and never face the same series of shots.  The short opening hole ripples down and to the left for 343 yards.  Hit an iron off the tee.  Kind moundings may well kick a mishit shot back to fairway. Number seven presents one of the layout's many long, tough par threes that comprise a good chunk of the yardage here.  This one tacks on 227 yards, as opposed to the shorter par three on the front, which only adds 224 yards.
The back side begins by bringing houses nearly into play (if you play like I do) and offers a brief respite from the best holes.  Number twelve growls with a crazy, nasty, skinny, narrow green complex fronted by a ball-swallowing dip.  Following the 231-yard par three fifteenth, step back into the trees—including one in the middle of the sixteenth fairway.  Quail finishes with a strong burst in the form of a 408-yarder that allows you to blast 240 yards to the edge of a lake that must be carried en route to a toughly entrenched putting dais.
On OGC's 6,885-yard Bear Course, holes thirteen through fifteen are da bomb, playing in the vicinity of Lake McIvor.  Do like the television hero of the same name would and manufacture a few brilliant shots using matchsticks and duct tape.  Overall the Bear is more like Pooh or Ben than grizzly: wide and gentle.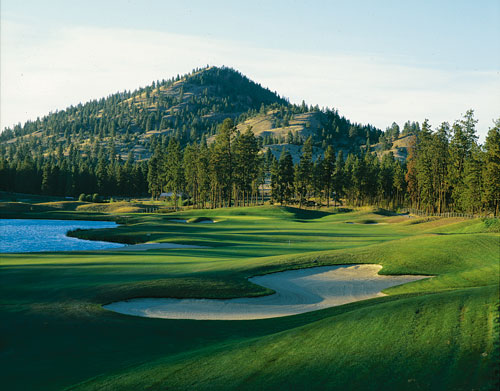 Once you've played the top courses around Kelowna, head north forty-five minutes for a visit to what may be one of the finest destination golf resorts you'd ever expect to find in a place you've never heard of.  Outside of Vernon, B.C., Predator Ridge Golf Resort combines golf with lovely craftsman-style villas and cottages.
The golf here spreads languorously across 1200 acres of ponds, streams, pine ridges, dry grasslands, lakes, and wheatgrass meadows.  Despite the rugged desert topography the holes exude a powerful linksy feel.
About 45 minutes up the road—or along Lake Okanagan, if that's your preferred means of travel— awaits Predator Ridge Resort.  This vast, deluxe property pairs 36 golf holes with craftsman style villas, cottages, and lodge rooms.  The golf luxuriates across more than 1,000 acres of ponds, streams, pine ridges, dry grasslands, lakes, and wheatgrass meadows, and exudes a wide, linksy demeanor.
The recent story at Predator is the terrific recent redesign of Les Furber's original 27 holes by Canadian architect Doug Carrick, who also added nine new holes to fill out the golf dance card. The Predator Course, which hosted two Skins Games, stretches to 7,090 yards.  The Ridge Course, defined by dramatic elevation changes, granite outcroppings, and views of Lake Okanagan is the more remote collection, lending a wilder feel that may pass when you return to the embracing luxury of the resort.
Okanagan Valley Wineries worth a visit both for sampling a few sips and repasting in their excellent restaurants include Summerhill Estate Winery, which boasts the largest organic vineyards in Canada.  A visit to the estate includes free tasting of such lighthearted but sincere wines as their pinot noir ice wine and the slappingly refreshing Ehrnenfelser, as well as a visit to the four-story replica of Egypt's Cheop's Pyramid where the wines are aged.  Summerhill's beautifully labeled Enchanted series was good enough to be sipped by the stars at last year's pre-Oscar party.  And don't miss dinner in the restaurant next to the tasting room, with lovely views out over the vineyards and lake.
Just north of town, Gray Monk Cellars also offers the requisite fabulous food, great views, and perky facility tour.  Their 2000 Chardonnay is a light, grapefruity wine perfect for a summer evening.  And their Latitude 50 Gamay and Gray Monk Odyssey Merlot are also worth sneaking home over the border, er, I mean "importing."
And the Mission Hill Family Estate Winery's impressive architecture is only surpassed by the quality of its wines, such as an award-winning pinot grigio that's aromatic with tropical fruit, and the Chardonnay, which one wine writer said "put British Columbia on the world wine map."  You could spend the whole day tasting wines, dining, and wandering breathlessly around the gorgeously impressive estate.
Summerhill Estate Winery: 800-667-3538, www.summerhill.bc.ca
Gray Monk Estate Winery: 800-663-4205, www.graymonk.com
Mission Hill Family Estate: 250-768-7611, www.missionhillwinery.com
Overnight guests at Predator Ridge can choose from a number of very fine lodging options in the Craftsman style village.  In Kelowna, two excellent options are the Manteo Resort and The Grand Okanagan.  Manteo is an understated but luxurious hostelry offering 78 rooms and suites and 24 villas gathered around a private beach.  The Grand Okanagan offers more action in the form of 320 rooms, an on-sight casino, spa, and fitness center.  Both are set along the shores of Lake Okanagan.
Predator Ridge: 888-578-6688, www.predatorridge.com
Manteo Resort: 800-445-5255, www.manteo.com
The Grand Okanagan: 800-465-4651, www.grandokanagan.com
For further information:
The Harvest Golf Club: 800-257-8577, www.harvestgolf.com
Gallagher's Canyon Golf and Country Club: 800-446-5322, www.golfbc.com
Okanagan Golf Club: 800-446-5322, www.golfbc.com
Predator Ridge Golf Resort: 888-578-6688, www.predatorridge.com