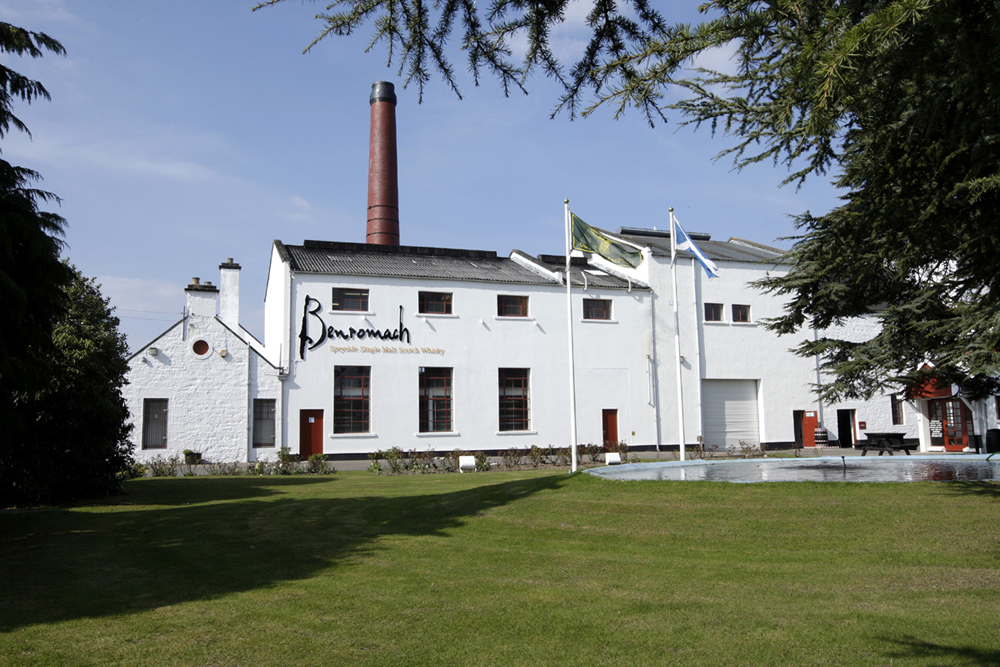 A couple of weeks before I was to be regaled during a trip to Speyside, Scotland with a private whisky tasting by David Urquhart, a partner in the storied firm of Gordon & MacPhail, I received an email from David, asking the year of my birth.  Which is when I first began to suspect what kind of event awaited me.
In the midst of a golf and whisky foray in the Scottish Highlands (click here for videos of the Speyside Golf Whisky Trail), I was lucky enough to enter the bar one evening at the luxurious Knockomie Hotel to find Mr. Urquhart waiting with six of his great good friends in shapely bottles upon a table laid out with six sipping glasses for each of us.
David began the festivities– and built the anticipation– with a short introduction to his storied firm, which started business as grocers and wine and spirits merchants back in 1895.  The setting was Elgin, the nearby town where King Duncan retreated to Elgin Castle to die from wounds inflicted by the legendary Macbeth.  The middle-age Elgin Cathedral still holds sway over the town with soaring towers and an elegiac feel.  Following later turmoil involving Bonnie Prince Charlie, life in Elgin settled down and a merchant class emerged thanks at least in part to the success of one of the most profitable commodities created nearby: whisky.  When James Gordon and John Alexander MacPhail shook hands to launch their common enterprise in 1895 they created much more then a grocery store.  Young John Urquhart joined them shortly after opening and just in time for the whisky boom that saw new distilleries starting up around Elgin.  Urquhart eventually became a partner in the company with James Gordon, who subsequently died of a heart attack two weeks later while driving one of the first motor cars in Elgin, thus unexpectedly making Urquhart the firm's senior partner.
After WWI John established strong relationships with nearby distilleries such as The Glenlivet, The Macallan, Strathisla and other top producers, and began exporting single malts while also buying stocks to mature for longer than was accepted practice at the time.
In 1933 John Urquhart's son George  joined the company to make Gordon & MacPhail a family business.  They helped support local distilleries by purchasing product in lean times and continuing to age it, so that in later years they possessed great stores of the finest single malts, some aged 50 years or more.
Later, as blends gained in popularity, Gordon & MacPhail launched  their Connoisseurs Choice portfolio of single malts, which became one of the only ways for true whisky aficionados to taste many of these malts.  Some say that G&M's actions saved single malts from going the way of the dinosaur.  Even today, Gordon and MacPhail bottles a wide variety of single malts under individual distillery labels.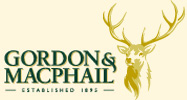 In the 1960s and 1970s George's children– including my new best friend, David– joined the company and sought new markets for single malts in Asia, Europe, the US, and elsewhere in the world.  Around that time they also began an extensive program of aging  new fillings in expensive sherry casks.  In 1993, Gordon & MacPhail purchased the long-shuttered Benromach Distillery, in Elgin, and began making their own whisky in addition to continuing to bottle single malts for other producers.
The afternoon of my evening tasting with David Urquhart I stopped into Gordon & MacPhail's original South Street shop in Elgin.  I must have had the same look on my face that my wife gets in a clothing boutique.  I wandered the aisles with a dumb grin, admiring the labels, the shapely bottles, the beautiful amber coloring, and other characteristics of the largest gathering of lovely, lovely single malts I'd ever seen.
That evening, when I entered the whisky bar at the Knockomie, David was waiting for me.  Dressed in a suit, wearing frameless eyeglasses that were just a bit old fashioned, he looked like an engineer or computer programmer, or someone you would implicitly trust to prepare your taxes.  He shook hands with a boyish earnestness despite being nearly 60 years of age– not coincidentally the age at which G&M directors are required to retire so that they won't grind it out into their eighties, as their progenitor in the business did.
David began by providing some of the history outlined above, and told me a story about how when his father called for whisky to be bottled he always specified that it come from Warehouse 11, one of many the company used for storing aging malts.  Years later, when the warehouse was torn down, they discovered that a wee burn ran underneath it, providing a damp atmosphere perfect for maturing single malt whisky.  David explained that his father knew this because he could nose the scent of the water.  And thus we began our own nosing and tasting.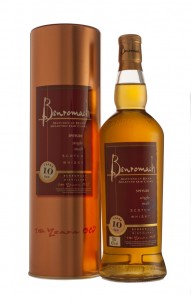 We started with a 10-year-old Benromach from the 1898 distillery that Gordon & MacPhail restarted in 1993,  We had a good look at it through the glass and up to the light.  Its gold color was inviting and the first sniff had notes of toffee and vanilla, nutty chocolate, and just a hint of smoke, as if someone had lit up a cheroot in a candy store.  The taste was a bit fruity, of raspberry and brambles, though also a little hot.  With a drop of water the taste of sherry from the casks came through.
Next up David poured a Linkwood 15-year old, from a distillery built in 1821. In the 1930s, one of the managers at Linkwood believed that absolutely everything in the distillery was integral in imbuing their whisky with its unique characteristics, and he commanded that not even a cobweb ever be removed from the premises.  David explained that whisky distillers still believe  that everything from the style of water, how it comes up through the peat,  barley varieties and locations, shapes of the distilling tanks, and much more all all influence a whisky's particular personality.  Swirling the Linkwood in my glass I noted its longer legs, suggesting an older malt.  It displayed a golden amber hue, offered a delicate fragrant nose, and provided a sweet almost creamy taste with a sprinkle of nuttiness.  With water it became even more floral but a charred oak edge emerged– as did a taste of pepper.

Our third bottle of the evening featured a lion and an old-style  typeface on the label which indicated a 21-year-old Smith's Glenlivet.  The tasting notes that David provided indicated the source of the whisky's water as "Josie's Well."  I also learned that the label indicated a "Smith's Glenlivet" because before 1815, when the Glenlivet distillery was officially established, other producers used the name of this beloved but clandestinely-produced malt.  Even the quickest consideration of the Glenlivet suggested we were on to something entirely different– this whisky exhibited a paler color and a sweet vanilla nose with a warm breeze of citrus and tropical fruitiness.  It tasted earthy and herbal and felt somehow good for you.  With a drop of water, florals and dried grass and a taste of the great outdoors emerged, as did a hint of cedar and a buttery texture.  The taste was spicier with an oiled wood note almost like incense.  The whisky was smooth and warm and instilled both calmness and excitement.
Moving down the table to the fourth bottle, David poured a dram of a 30-year-old Longmorn, distilled on a spot where an old church once stood– suggesting that drinking it might be tantamount to a religious experience.  Considered by experts as one of top four malt whiskies, the Longmorn was darker, richer, more mature, and brought to mind walnut wainscoting in an old manor house.  My glass seemed to be hosting a holiday party, with a scent of  cakes and rum.  With just a drop of water the Longmorn freshened but you could still taste the sherry cask which housed it for three decades.  It grew rich and creamy.  I dreamed of sipping it by a warm fire after a full family dinner of roasted goose and beef Wellington.
What came next surprised me entirely because I knew that two whiskies remained and I guessed that the final tasting would be of something barreled before my birth year (hence David's email a few weeks before my visit).  I expected that the last whisky and me would both be celebrating our 50ths this year.  But it turned out that bottle number five was actually the 50-year-old: a 1960 rare-vintage Strathisla, from the oldest distillery in Northern Scotland (founded in 1786) and renowned for it's fairy-tale atmosphere.  And the bottle itself had that same sort of magical quality, as if the elixir inside might convey permanent youth or good looks or the ability to shoot penalty kicks like David Beckham.  Not unlike myself, the Strathisla was weathered and dark, somehow mature looking.  It nosed of plump dried fruits such as prunes and raisins, with a brown-sugary subtext.  To the taste it was satiny smooth, with heavy sherry notes.  If it was furniture it would have been a master-crafted sleigh bed built from a beloved oak that grew in the yard for two-hundred years and fell over in a storm.  It was almost port-like in its sweetness and my favorite whisky I'd ever tasted.  We drank it without water, out of respect, I surmised.  I wondered if it would be bad form to stick my tongue into my glass to slurp up every drop.
But all the while that we tasted the Strathisla, looked upon it's rich countenance, audibly oohed and ahhed our pleasure, in the background I felt a Christmas-morning excitement knowing there was one more bottle on the table.  And if David was pouring in order of age and rarity, I couldn't even imagine what was left.  The last bottle had no label– only a small piece of tape with a hand-scrawled name.
With just a mild sense of the theatrical David introduced a Mortlach that was distilled in 1938– before the second world war– and bottled in 1998.  After sixty years of maturing it was a rich, confident, portly grandfather of a whisky.  Just nosing it was like seeing the steeple of the cathedral at St. Andrews for the first time, on your initial golf pilgrimage to Scotland.  Sipping it was like the thwok of your first tee shot on the first hole of the Old Course on a crisp, windy day.  The whisky was a deep burnished gold in color, nearly brown.  It was scented with lavender and bruised apples, and brought the countryside indoors in a glass.  The taste was dry and smoky with an unexpected flatness of burnt wood.  It was mellow– almost tired; quite possibly just beyond it's time.  To my palette it didn't taste as fine as the 50-year-old we'd had, but this whisky's charm was in its rarity.  I had to ask how rare.  $12,000 a bottle rare.  My hand shook as I sipped.
David leaned back in his chair.  We'd met and welcomed the entire family of malts he'd assembled.  It was quiet enough to hear dried leaves skidding on weathered stone outside, to hear the hiss of the fireplace.  It was the rare occasion I found myself speechless.