Today at Talking Stick Golf Club's North Course I was joined by Brian Donarski, a new friend I made earlier this year on a two-week golf trip to Ireland in the company of a collection of American veterans who were wounded in Iraq and Afghanistan and have been using golf as part of their recovery.  Donarski, aka "Ski" is a spirited, talkative and good-looking former soldier who also happens to be an accomplished golfer despite several injuries that might have sent a lesser man to full time residency on the couch.
Donarski was injured in Iraq when the fuel truck he was driving was attacked by a sniper.  The vehicle exploded, sending shrapnel through Donarski's body and head, taking out an eye, and leaving him with a traumatic brain injury, Post Traumatic Stress Disorder, and several other ailments.  Not to be deterred, Donarski underwent an aggressive recovery program because he wanted to return to the battlefield.  During a training ride on his bike on the anniversary of his original injury, he was hit broadside by a truck and ended up with another prolonged hospital stay.
Recently retired from Marines Special Forces, Donarski now resides outside of Scottsdale, where much of his time is spent playing golf but also working for organizations that help bring the game to other wounded warriors to help their recoveries.  We were lucky enough to have this true warrior along when the Golf Road Warriors played at Talking Stick.
We ventured out on the North Course on a cool morning that promised warmer temperatures ahead, but the desert chill felt great to start out in as colors rose in the surrounding country.  The course opened with a couple of wide, welcoming fairways that seemed almost impossible to miss (unless you were Brett Brooks, Troon Golf's Director of Global Marketing– no, I'm kidding, Brett!), but left us with second shots that tightened as we got closer to the greens.  On the second hole that tightness came in the form of OB located only 10 or 15 yards to the left of the target.  By the third hole features such as bunker pods and waste areas began to grow increasingly prevalent and appeared closer to– and in– the field of play.
Around the fourth hole Ski and I started to talk a little bit about "ability" and what that means to wounded soldiers who have come home from war different than they were before it.  He explained that he uses yellow golf balls because with the injuries to his optic nerves he has trouble tracking white balls against the sky.  Ski is also one of the wounded soldiers I met in Ireland who looks not just able-bodied, but particularly fit and vibrant– many of the others lost arms or legs and now wear prosthetic devices that announce their injuries from a distance.  Ski's appear in subtle ways– such as his careful, charming drawl (partly a result of growing up in Minnesota) .  But what's most moving about spending time with him is that he's so aware of the differences in himself and is learning to embrace the new person he's become.  He talks about this with great seriousness but then also observes that he used to love blondes and now he seems to prefer brunettes.  And he's relentlessly positive, despite what's befallen him in his 44 years– so much so that Brett Brooks asked Ski to call him every day to remind him how great life is– and Ski promised to do so, if only he can remember to.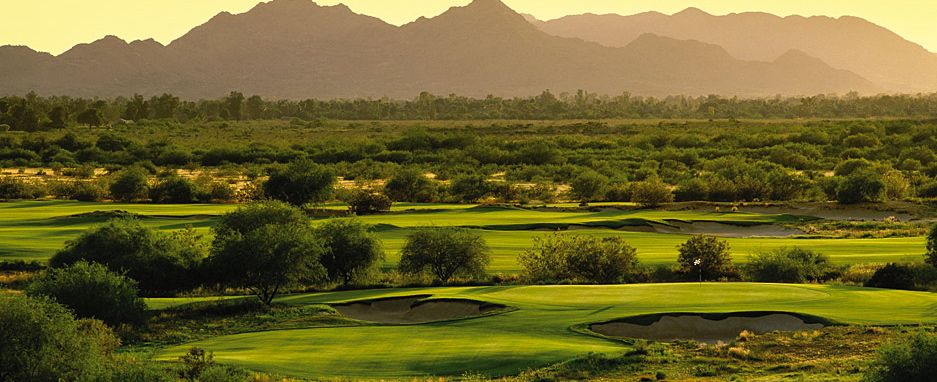 As we soldiered on through the golf round, the Coore & Crenshaw-designed holes grew increasingly difficult for a player like me with a low ball flight– many of the hazards making more and more regular appearances were tucked in front of greens and so there was no way to land short and roll the ball up, and I discovered many of my approaches loitering at the backs of (or over) the putting surfaces when I got up near the pins.  This was made even more challenging because the greens were recently renovated (and are immaculately  maintained with loving devotion by the agronomic geniuses of Troon Golf), and so somewhat unreceptive to long approaches anyway.  We finally learned to aim for the front edges or even shorter whenever we could just about the time that our round concluded.
The twelfth hole proved to be one of my favorites at Talking Stick– a 392-yard dogleg par four called "Red Mountain Gambler".  Golfers choosing a more lefterly route must carry 204 yards over a massive waste area.  Less adventuresome players can try to hit a draw around a finger of the waste area (no, not that finger!) that lurks 180 from the tee, or miss right of all of that, leaving a much longer shot to the green that must cross an arroyo just in front.  Shortly after The Gambler, walking amidst the wide open flats, we spotted a herd of wild horses not far from the golf course– wandering through the desert much as we were.
The round concluded with a very tough finishing hole– 471 yards of par four requiring two long shots– the second of which must carry framing bunkers to reach the dance floor.  We finished this perfect golf day by lunching with our other foursome, including Chad Pfeifer, another wounded veteran whom you can read about here.