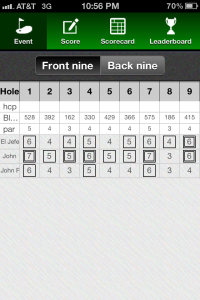 There's little better than getting on a plane in cold, rainy Portland, Oregon in the morning (after a proper dose of Peet's coffee) and teeing off on a golf course in Palm Springs three hours later beneath sunny skies in 75-degree temperatures.  Well, okay, maybe one thing that's better is winning your nine-hole match 5 and 4 and then closing out the press on the final hole of the day as the desert begins cooling and darkening for the evening.
Such was my day with fellow Golf Road Warrior John Strawn, and in the fine and entertaining company of John Faulk, Director of Golf at the JW Marriott Desert Springs Resort– as amicable and good-natured a playing partner as two journalists could hope to be paired with.  The DOG seemed amused by our antics while he calmly strung together pars from any number of bunkers and other unlikely locations and watched us roar over triumphant bogies in our Warrior vs. Warrior match.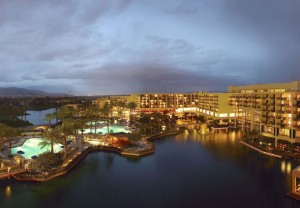 And for the record, Callaway Golf's new RAZR Fit driver (well, mine, anyway) hit the first six fairways with long, gorgeous draws off the tee.  I'm still dialing in the distance on the irons and hybrids, but hitting OVER the greens is a pretty decent problem to have.  Tomorrow we'll hone the numbers and I fully expect to add to my bankroll from Strawn.
For proof of today's results, check out the screen shot from Grow The Game Golf's phone app above, which is the official leaderboard scoring app of the Golf Road Warriors.  Sure John Faulk beat us both, but he's a golf pro.  He's supposed to beat guys like us even though he claims to have played approximately three holes of golf in the past two decades (okay, I'm exaggerating).  What matters is that Strawn opened his wallet, though my tax accountant recommends that I not refer to any specific dollar figures (let's just say that President Jackson also witnessed the transaction).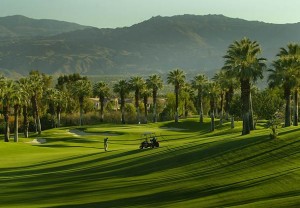 The Ted Robinson-designed Palms layout  at the Marriott provided the perfect warm-up for the upcoming week of desert golf– generous off the tee, though troublesome with bunkers and fairway moundings and tiers on the greens.  Perfectly coiffed and manicured to floral perfection, Palms is one of two ideal Marriott resort layouts full of waterfalls and rocky cascades at a hotel where you can take a gondola ride to dinner or park yourself at the atrium sushi bar, shop, lounge poolside, or enjoy any number of other activities of not last, but first, resort.
The day ended with a fine dinner at Tommy Bahama's Restaurant on El Paseo– a bit of a coincidence since I was wearing Tommy's shorts that afternoon during my round.  The ahi tuna entree was as sublime as my bunker play, and the company of Mark Graves and Joyce Kiehl of the Palm Springs Visitors Association– as well as the first full gathering of all the Palm Springs Golf Road Warriors, including Peter Kessler (who made fast work of a 20-oz ribeye in preparation for tomorrow's radio show and golf match), Bay-area writer Jay Stuller, videographer Jamie McWilliams, and our CEO, Bob Senoff– promises further good times ahead.  And reminds me that every dinner really cries out for the presence of a CEO.
Okay, gotta hit that king-size bed here in my fourth floor room at the Marriott– breakfast will be arriving in a few hours, and there's a lot of golf out there to be played.