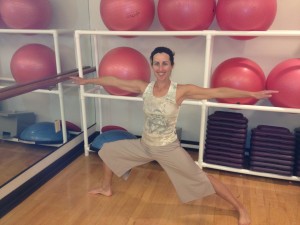 At the Four Seasons Scottsdale Resort, former LPGA TOUR professional Dodie Mazzuca will stretch your golf boundaries– literally– in a class that combines traditional yoga poses, sports stretches, and deep breathing in a calm, focused, and encouraging effort to improve your range of motion for the golf swing.
I took the class this afternoon with fellow Golf Road Warrior Tom Bedell, who grunted his way through the poses in a way that led me to keep my Iphone close at hand in case we needed to call 911.
Having taken my share of yoga classes in the past I was impressed by Dodie's ability to lead us through traditional poses such as standing pigeon, warrior, plank, and others, and explain concisely which golf muscles they stretched and how those muscles are engaged in the the complex motion we know as the golf swing.
And she managed to do it in a relaxed, non-pressured environment that pushed us just enough to understand how much we could improve our range of motion, without causing much any more pain than you might feel after shanking a pitch shot.  With a personality as easy and fluid as her poses, Mazzuca makes a strong case for combining strength and flexibility to improve your game.
I can only wonder how much better I might have played if I'd taken the class before golfing Troon North's Monument Course this afternoon.  We're hoping Dodie is going to join the warriors later this week for a round of golf and we look forward to her company.  In the meantime, we'll be practicing a little downward dog and child's pose in the hopes of hitting a few more fairways and draining a few more putts.