A big day at The Classic Club— possibly, with the exception of Ireland's Tralee, the best Arnold Palmer-designed golf course ever created.  While the first hole was unremarkable in every way and established a low expectation, by the fourth any cogent golfer would stop in his own spike marks and think: there's a LOT of golf course here.  Not just beautiful and challenging, but a course that reaches that deeper level of quality inherent in a track with design challenges that force both thought and execution, and a level of difficulty that is subtle as a smoky backdrop in a Bogart film, which is to say it creates the character without bringing attention to itself.
The fourth hole was the start of the real dazzlers, with a grassy arroyo runing the entire length of 525 yards like an alternative reality beside the actual hole– which I never even saw.  Number five, a 402-yard adventure requests a tee shot threaded between fairway bunkers then a short iron over a valley to a platform green pitted with more bunkers that must be approached as gently as a lullaby.  The sixth — a stout par three of 224 yards– also requires a long arroyo crossing.  And then there were holes like number nine, which could be played in about 200 different ways– though preferably not all at the same time.  Fourteen was one of my favorites on the increasingly difficult and perky back nine– a 511-yard romp that allows a bailout to the right, but then punishes it with a blind shot over bunkers to a difficult green.  A strong finish awaits, as well.  One of my fellow Warriors said the course reminded him very distincly of Vegas's Shadow Creek, given all the water in play and running in beautiful streams every where you looked.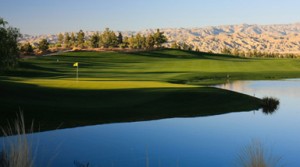 Today my half of the Golf Road Warriors (myself and Jay Stuller) hosted long-time Palm Springs Desert Sun golf writer Larry Bohannan, and Reuben Padilla, with Grow the Game Golf, our official real-time leaderboard scoring sponsor.  Reuben did the heavy lifting with the phone app by entering our scores.  Larry did some lifting of his own by making pars from a variety of unlikely but entertaining locations.  You can see the results from both our foursomes in the final screenshot from Grow the Game Golf.  Note: since this is my story, I get to choose between individual and team net and gross scores to display, and it won't be difficult to figure why I chose this one . . .  While I barely laid eyes on Dr. Barry Lotz, my partner who was playing in the group behind me, we managed to take down the other three twosomes in the net best ball match set up by our friends and sponsors at Grow The Game Golf.  Way to go, Barry!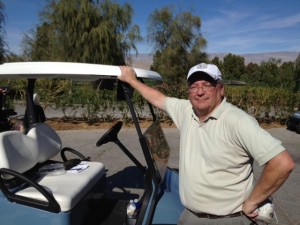 Bohannan, pictured here,  is the kind of old-school newspaper guy who shortly won't exist any more (not Larry himself, but guys with his position, that is).  He's been at the Desert Sun for 26 years, coverd just as may Bob Hope/Humana Challenges and Craft/Nabiscos, but also everything from Q School to high school sports.  He watched players like Anthony Kim and Justin Allred move from local Palm Springs junior championships to the big show.  Larry wrote his first book two years ago– Fifty Years of Hope— describing the tournament that put Palm Springs on the map.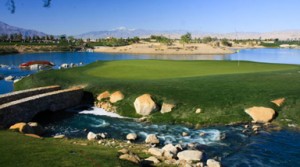 And the guy can play, though not in any obvious way– he can make a par from almost anywhere.  After one such miracle on number six, which required some strange artistry he remarked, "And I thought covering Clinton was tough."  At number ten he confessed that he could come into that particular hole eight under on a perfect day and still screw it up– and then proceeded to make par from so close to a tree that he had to buy it a drink before addressing his ball.  The same understated manner was in evidence when he claimed that he won this year's Distinguished Media Award from the California Golf Writer's Association, "based solely on longevity."  If his craftsmanship with a pen is anything like what he's capable of with a wedge in his hand, you'll want to make sure to follow his work at www.mydesertsun.com.
In other important golf news from today's matches I racked up another "Jackson" from John Strawn, who went to sleep on the back nine today, claiming that it was because the phone app wasn't behaving itself properly, thus causing him great stress and distraction (John has had similar difficulties in trying to use his phone as a phone, locating his room key, etc.), and sought to blame his performance on Reuben, who was innocently representing what the rest of us have already found to be a successful and entertaining scoring system.  I'll also note that while John claimed that the app wasn't working at all when he tried to set it up on the practice range, and also claimed that it crashed his computer, Iphone, and toaster oven, Reuben had the device working perfectly for our game and also predicting the future of the stock market, all in about thirty seconds.
And while John hinted that a phone app might have caused his poor back-nine performance, I'd like to state for the record that on its very first outing of any kind, my snazzy white-and-blue-patterned shirt from AUR– made from recycled plastic bottles– scored it's first Golf Road Warriors match victory in its debut outing.  It also tied in a simultaneous match with the ever crafty Peter Kessler, who was also in the group behind me today.
Rather than put in time at the practice range this afternoon to guarantee tomorrow's victory, I've chosen a lovely purple solid shirt to match with my khaki shorts for our competitions on La Quinta's Mountain Course, where I fully intend to increase my growing bankroll from Strawn, and bring the lifetime match with Kessler to within two games.