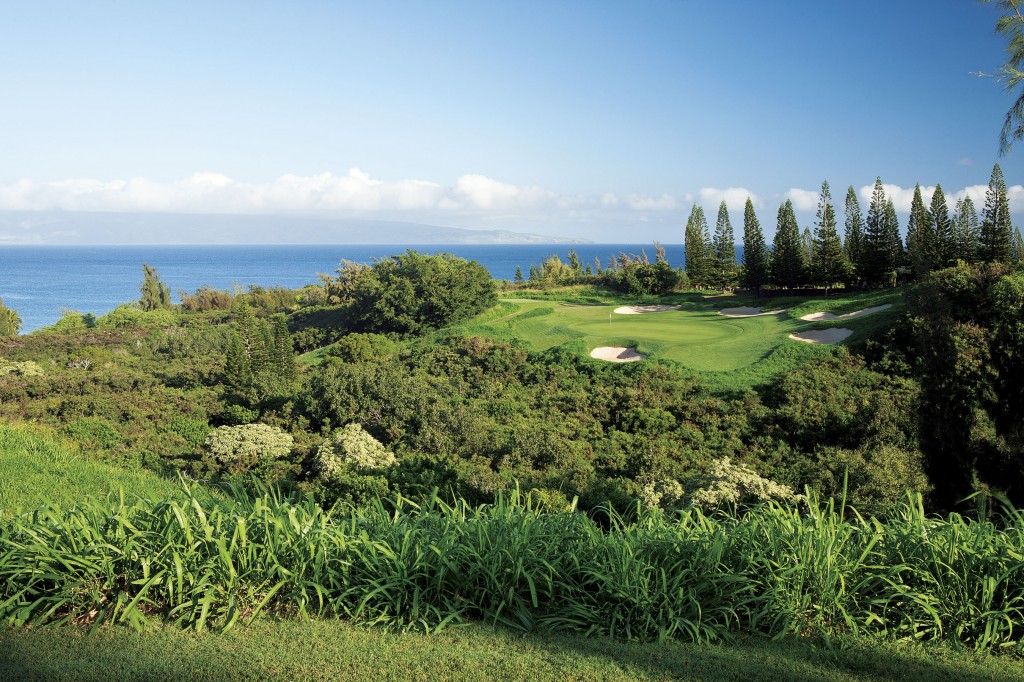 If you're at all like me, you probably feel that golf is just much too easy.  In which case you owe it to yourself to play a round at Kapalua Resort's Plantation Course– home to the Hyundai Tournament of Champions, the PGA TOUR's season-opening event.  If you happen to win a PGA Tour event this year, you'll be invited to next January's Hyundai.  If you string together a meager collection of second and third place finishes, you can still pony up the greens fee to play this course on everyone's "best" list for its luscious tropical topography and craftsmanlike design combined with an utterly alarming level of challenge.  The evil love child of a collaboration between Bill Coore and Ben Crenshaw, and set between mountains and the sea, 7,623-yard Plantation leaves a strong impression– like a Bierstadt painting, or a shot of Wild Turkey.  Which is to say it's bold, and packs a wallop..  And is a blast to play.  But if you need any further proof of the huge gulf between you and a TOUR player, this is it.  So forget about score or at the very least set yourself a conservative goal, such as trying to break 100, for example, or finishing your round without having to restock golf balls, or without knocking a putt off any of the greens and down a hill thirty yards away or three-jacking from under three feet.
I played Plantation this morning with Dustin Irwin, Director of Sales and Marketing for Kapalua, a PGA pro who owns a swing as smooth and sweet as custard, and Gregory Fields, an instructor with the Kapalua Golf Academy.  During our round I watched Irwin hit a downwind approach shot more than 210 yards (he actually blasted this one over the green) with an eight iron.  Later in the round he used the same eight iron to hit 110 yards into the wind.  Which is a way of telling you just how much wind is part of the giddy excitement and sheer insanity of a round on what is surely one of the most difficult courses every conceived.  Which is why you need to play here.    But the real key to enjoying a round on Plantation, without question, is attitude.  Remain calm and cheerful when your high, soft, perfectly struck wedge shot lands and releases sixty feet down the grain because you may also enjoy the experience of watching a chunked seven iron that you hit short and way left somehow swing and roll half a mile to run two inches past the hole, setting up a kick-in birdie.
The Plantation story really begins when the island of Maui first emerged from the ocean as two towering volcanoes (Mauna Kahalawai, now the West Maui Mountains, and Haleakala) whose lava joined to form one landmass in the middle of the Pacific.  Colonized by seeds carried by wind, ocean currents, and migratory birds, the island developed one new species every 40,000 years, or approximately the time it takes to play a round of golf using a range finder and phone app.  Bentgrass arrived only recently.  A number of Maui's rare plants and animals live nowhere else on earth.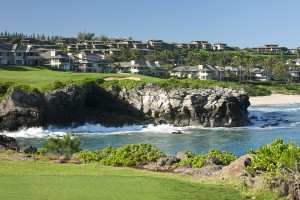 A handful of centuries ago, Maui was settled by environmentally responsible folk who raised taro root, fished, and enjoyed a wide variety of games—from a form of lawn bowling using lava balls (they waited until the balls cooled) to surfing.  Could the equally sensible game of golf be far behind?
In 1836, a missionary doctor named Dwight Baldwin settled in the area of Kapalua.  After seventeen years of service, he was awarded nearly 3000 acres of land, which he and other Baldwins added to through royal grants, purchases, mergers, and smart marriages.  By 1902 the family holdings—called the Honolua Ranch—included nearly 25,000 acres.  Although the ranch raised cattle and farmed mango, taro, and coffee, it was an experiment with pineapple that led to a sweet future as the Maui Land and Pineapple Company.  In 1969, when Colin Cameron became the fifth-generation of Baldwin descendants to manage the property, he recognized that resort development was beginning to change the look of Maui.  At Kapalua, he saw on opportunity to develop the land in a way that preserved its very special nature.
The Kapalua Resort was created with eyes wide open to environmental concerns.  The results are a 22,000-acre planned resort community set among working pineapple plantations and buffered by two huge nature preserves.  The resort itself consists of ten communities, three white sand beaches, and the premier Ritz-Carlton hotel, (which was moved when construction crews unearthed an ancient burial site).  The legacy of doing things right was even extended to the building of Kapalua's golf courses.

Kapalua's Bay Course, 6600 yards designed by Arnold Palmer and Francis Duane, rolls to the sea beside palms and ironwoods trees.  Its signature fifth hole politely requests a tee shot over Oneloa Bay.  It's an easy-going resort romp that offers not even the remotest hint of the golf challenges awaiting on the Coore/Crenshaw Plantation layout nearby.
Bill Coore grew up playing the classic venues of Donald Ross and Perry Maxwell, worked for Pete Dye, and established a reputation for producing traditional strategic golf courses with great artistry.  At Kapalua, with the help of Ben Crenshaw, he succeeded while also staying true to the legacy of environmentally responsible development.  In fact, whereas Kapalua's Bay Course was the first Audubon Certified Sanctuary Course in 1993, Plantation followed with this designation a year later.  The developers conserved water, limited pesticide use, and provided food for wildlife– as well as for thought.  Don't be surprised to see Great Frigatebirds, pretty good Ring-Necked Pheasants and Lesser Golden Plovers as you wend your way around the gorgeous routing.
From the longest of three sets of tees Plantation stretches to 7,411 yards.  Flowing across ancient lava and framed by Norfolk pines, the layout is silly with canyons full of native vegetation, elevation changes, and large putting surfaces that float like groomed islands in the dense spread of jungle.  A number of holes offer glimpses of a gleaming lei of five bays.
Begin your linkslike Kapalua expedition by driving your golf ball into a wide, welcoming downslope– but no so far that you carry into tall grasses.  The fattest part of the landing area on this inviting opener is to the right, although the best approach to the green is from the opposite side of the fairway.  Your second shot on the 473-yard par four may need to fly two grassy hazards and a pesky bunker.  The second hole, called "Drift" is a straightforward 218-yarder with four bunkers that march gracefully along the right side of the hole.  You may recognize number five as extremely Princevillian; steep ravines create intriguing angles of play, seducing you to fade into a roomy arena that will tempt you with its proximity to the green– if you consider hitting over a bottomless jungle pit "proximity."  Even if you miss your You-da-man shot, you can salvage bogey on a second attempt (or really screw up your score).  Of course, you could also play three short, straight shots down the left side.  But why would you, pussy boy?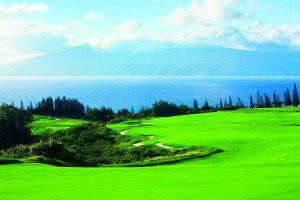 Plantation's sixth hole is a slick bobsled run where you aim your tee shot to either blast over or skirt right of a hungry center line bunker.  Short hitters will face a blind free-fall to a round, bowly green.  If you're not fond of Princevillian holes, Kapalua's eighth, called Gorge, offers a stellar Montereyish par three replete with crosswind and shaggy bunkers.  The green—waiting patiently on the far side of another ravine– tilts back toward the tees.  The hole is all about carry and soft landings or possibly whining and bushwhacking in the shrubbery.  By number nine, you'll have noticed that these holes just keep getting better.  This 521-yard slight canine femur sports a grassed valley that you must lay up in front of on your drive or face an unnerving lie.  An octet of bunkers protects the green from 100 yards in.
If you're having a tough round on Plantation, you might consider a concept introduced to me by my playing partner the first time I played the course.
"Welcome to Mulligan Bay Golf Club," he said, reteeing after an unfortunate drive.
Even on a bad day, additional happiness awaits you on the back nine of this overstimulating design.  Number twelve, for example involves plenty of good climbs and drops across 373 yards.  From the back tees hit a formidable drive over a ravine, threading two pairs of bunkers.  The green is surrounded by a curvy conga line of additional sand pits that grow larger as you dance counter clockwise.  You'll need a couple more high, soft landings by the fourteenth hole, called "Plateau."
The finish (designed to play in howling trade winds) is more surprising than the ending of the Crying Game; in fact, you might wish to play from the ladies tees or shed some tears of your own.  The par-four seventeenth plays 486 downhill yards, inviting a balls-out drive.  From the back tees you can munch up to 402 yards of turf, but from the front tees its only 180 yards to a ravine filled with forest (not Forest Whitaker).  You might as well go for it on the second shot regardless of your drive, as laying up in the narrows between ravine and bunkers is just as risky.  All I can tell you about the final hole is fuhgetaboutit.  On a when the wind blows your skinny playing partners away from the flag, the 663 yards might as well be 663 light years.  This epic close is the longest hole on the PGA rota.  A ravine runs along the left side like a shaggy haircut all the way from tee to green.  And let's just say it grows hairier the closer you get.
The word Kapalua means "arms embracing the sea," but it could as easily mean "jungle ravines embracing your golf ball."  Even if you lose several sleeves you may still throw your own arms wide and shout, "Gimme a hug!"  After a day spent absorbing the massive bunkers, sweeping slopes, dramatic contouring, and panoramic views, retreat to the Plantation House Restaurant in the clubhouse.  When you're done viewing PGA TOUR memorabilia, sit by the double-sided fireplace and enjoy fresh island cuisine  as you stare out at the distant island of Molokai, sip a fruity rum drink, and think about how good it is to be you.