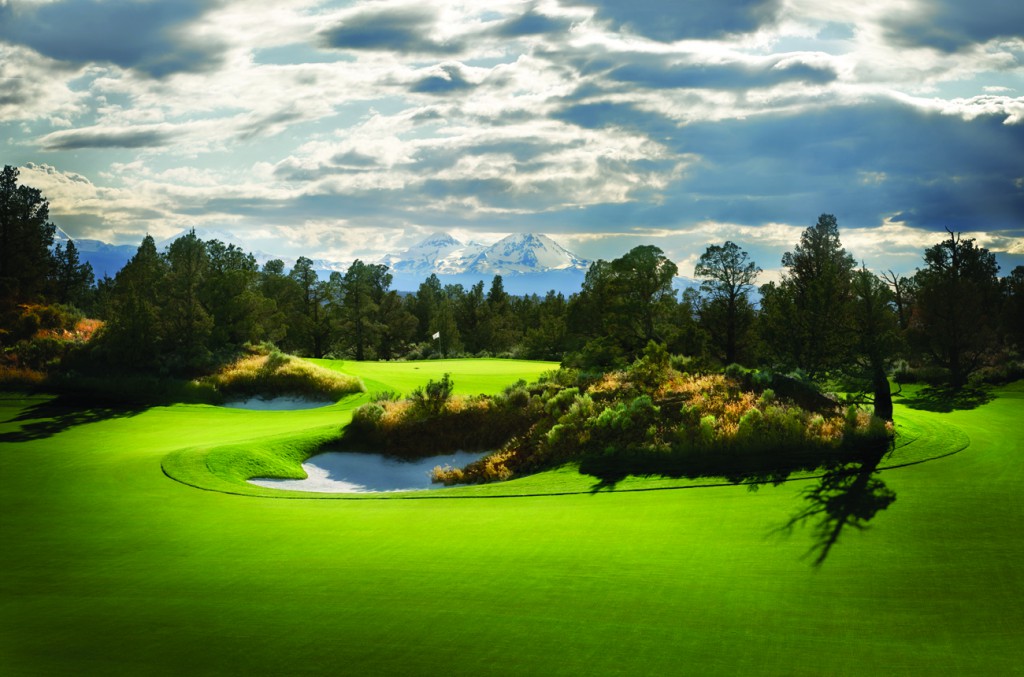 The Golf Road Warriors love nothing more than discovering a golf resort development where everything has been done right—from the Pro V1s at the practice range to the genuinely warm reception in the pro shop and restaurant.  In central Oregon—surrounded by terrain that begs to be hiked, biked, rafted, fly-fished, and skied— Pronghorn Resort joins the legion of great western mountain communities that just darn feel good.  A twenty-minute drive from Bend, Pronghorn lacks the exclusionary chicness that has infiltrated some of the west's last, best places.  It remains a luxurious yet welcoming community as pure and intoxicating as the high-desert air and the views of nine snow-capped volcanic peaks visible from the property.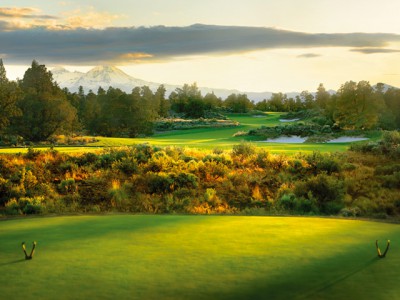 And not just the views excel.  In terms of golf the 7,381-yard Jack Nicklaus course is an exhilarating tour of local geography.  Holes play directly at or frame such features as Mt. Bachelor, Smith Rock and several fistfuls of other topographical jaw droppers.  It's as if Nicklaus worked his entire career— moving through phases of penal architecture, softer periods, and other iterations— in preparation for designing Pronghorn, possibly his most inspired work yet.  While it reflects typical Nicklaus design values such as risk/reward ratios, Jack has taken some daring chances himself—such as using split fairways, blind shots, grassy swales, and crowned greens— nearly all of which pay off on this unpredictable layout routing through sage and juniper.
Built atop a plateau of undulating lava, the course plays firm and fast with crisp transitions, clean lines, and a minimalist feel.  Pot bunkers punctuate flawless fairways like drops of dew on a flower petal.  Pod tees float atop islands of natural desert that recall Arizona.  Waste areas and rock outcroppings force you to plot strategies from the tees– you can hit run up shots to some of the canted greens if you're well positioned. One par five presents a mystery that doesn't reveal its solution until you reach the green.  And the putting surfaces are so pure you'll be tempted to remove your shoes.  Attention to perfection of details makes Pronghorn a visual confection sure to prove as irresistible as Krispy Kremes to a sugar freak.  Even the rhythm of holes creates a unique beat.
On the front side, a 254-yard par three with a punchbowl green is followed by a 331-yard par four—confusing your notion of length as if you drank too deeply from the punchbowl.  On the back side, holes 15 and 16 offer successive par fives that will test your mettle as well as your length.
The property also boasts a 55,000 sq. ft clubhouse designed in the style of the west's great National Park lodges, a children's camp and adult adventure program, a spa and fitness center, and other features that will make you worry less about the rest of the world because you'll never want to go forth into it again.  Real estate options range from fractional ownership of Residence Club units, to home sites, to wholly owned villas.  You'll want to move like an antelope yourself to grab a piece of this good, good life.