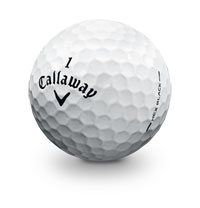 Following years of research, Callaway Golf recently announced  that their all new HEX Black Tour golf ball will be available March 2nd– which is about ten days after I'm writing this.  What they didn't announce is that twelve dozen of the balls will be waiting for the Golf Road Warriors when we check into the JW Marriott Desert Springs Resort in Palm Springs tomorrow.
Marketing materials tell me that the balls feature a host of new and proprietary technologies that differentiate this dimpled white sphere from every other one in the game.
For the tekkies among you, these innovations include a dual-core construction, exceptionally durable cover material, and revolutionary HEX Aerodynamics, all working in tandem like Santa's elves crafting a brilliant new toy that will deliver a five-piece golf ball with better spin separation and all-around performance.
Callaway promises distance-enhancing low spin off the tee but the superior control that comes from generating more spin around the greens– what has long been considered the "holy grail" of golf ball design.  The ball's I-Core dual core construction maximizes the compression difference between the inner and outer core layers.  The extremely soft inner core helps reduce spin off the tee for more distance, while the high compression outer core creates higher spin closer to the green for more control with irons and wedges.  Both inner and outer mantles are comprised of ionomer blends in different ratios to affect the hardness and resilience of each mantle layer.Callaway calls this remarkable accomplishment "Spin Separation."  And if it works I'll call it whatever they like as long as it helps me to separate my opponents from their money.
Whereas traditional round dimple patterns typically cover only 88% of the surface of a golf ball, Callaway's HEX aerodynamics deliver 100% surface area coverage.  The highly engineered pattern has a more consistent finish and optimized performance, reducing drag and promoting a stable, penetrating ball flight in all types of playing conditions– even the perfect, warm, sunny conditions we're likely to encounter in Palm Springs.