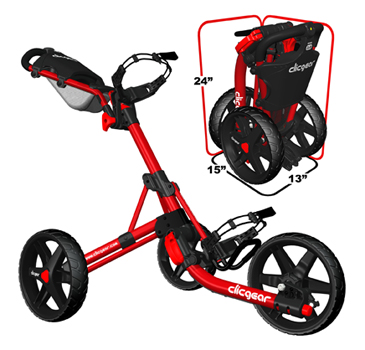 You've just got to love an engineer who redesigns a part of his product so that you won't spill your beer.  At this year's PGA Merchandise Show in Orlando, I met Kevin Kimberley, who invented– and has now vastly improved– the best bag carrier in golf: Clicgear's new 3.0 model.  In 2007 the original compact three wheel golf cart won the Best New Product award at the show.  But that wasn't enough for Kimberley, and he's improved it based on input from users.
I've always been a walking golfer and I've carried my bag on my shoulder– first with a chafing leather strap then with various cushioned X-straps– during most of the rounds I've played in the past 30 years.  But since I'll hit 50 (my age, not my nine-hole score) this year, I'm considering giving in to gravity and decrepitude, and employing a pushcart that suits my style and demeanor.  I think I've found it.
Not only does the Clicgear 3.0 fold up into a perfect little rectangle of advanced technological deliciousness that fits easily in the back of the car, but these guys have thought of everything:  ergonomic levers so I won't hurt myself (still unproven); an easy-action brake lever; a console designed to hold scorecard, pencil, tees, balls, glove, towel– basically everything except the cyanide pills I always bring in case of a putting emergency.  And yes, the improved beverage holder that fits larger beverages.  Crikey, they've even improved the handle foam.
I got the black one to match my most prevalent mood, and took it for a spin at Portland's Heron Lakes Golf Course, a perky, linksy Robert Trent Jones II course just outside Portland, Oregon– possibly one of the best munis in the US.  While my friends wrestled with their rented Rikshas I capered down the fairways with my Clicgear 3.0.  (Okay, I actually capered in the rough, wiseguy.)
I'm thinking about taking my new carrier for a stroll in the park tomorrow, and maybe to the zoo this weekend.