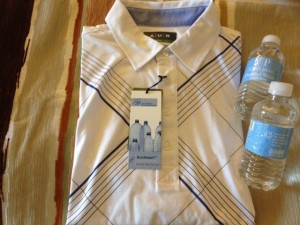 I don't normally make a habit of photographing my golf shirts before play, but I took the above shot in my room at the JW Marriott Desert Springs Resort, in Palm Springs at seven this morning, as I finished my continental breakfast, because it's just so so cool.  I posed the shirt– from Canadian company AUR– with two plastic water bottles, thus essentially making this a family portrait, because the shirt is MADE from plastic bottles.  Even the tags on the shirt are cool: they come with a FAQ that explains how the fabric is made from recycled polyester yarn that is itself made from plastic post-consumer products.  So it's double recycled.  It's environmentally friendly because this process reduces fossil fuel consumption and greenhouse gases.
As if this weren't enough already, the shirt boasts the following additional features:
Moisture Management
Anti-Odor
Fast Drying
Added UV Protection
Easy Care
Now let's see if it can go out and win a golf match.