In honor of an upcoming visit to the renowned La Costa Resort, outside San Diego, to have a look at the newly-renovated property, I felt nostalgic enough to post this La Costa story written several years ago.  The names have not been changed to protect anyone.  And I'm still waiting for my dollar.
All photos are post-renovation.  I'll write an update of my more recent visit in the next few weeks.

Even if you watched this year's Accenture Match Play Championship at La Costa on television, you may have missed my exciting match against a Texas golf writer who hit the flagstick with a sculled chip shot as hard as anyone has ever hit a flagstick in the long, storied history of golf.  Somehow the ball dropped into the hole for birdie.  You didn't see this miraculous trick shot (the pros don't even attempt stuff like that) because the Texas writer— whom I'll call "Art"— and I weren't actually able to make it to La Costa for the tournament.  We played our match several weeks later, when the crowds had already left.  I won't give away the outcome, but let's just say that a dollar was supposed to change hands and it wasn't supposed co come out of my wallet.  So it wasn't the blue Wedgwood Walter Hagen Trophy (or the $1.3 million) that Geoff Ogilvy pocketed this year when he beat Davis Love in the Match Play finals 3 and 2.  But sometimes squeezing a buck out of a tightwad can feel just as good.
Okay, I'm lying.  But it was still better than losing a buck.
Professional golfers have been teeing it up in tournaments at La Costa virtually since the toney resort opened in the rolling, coastal foothills 30 miles north of San Diego in 1965.  Designed by Dick Wilson and Joe Lee (best known for their work at Doral), La Costa's golf courses have hosted events ranging from the Haig and Haig Scotch Mixed Tournament (1965-1967) to the Tournament of Champions (1969-1998).  In the early days, names like Hope, Martin, and Crosby showed up regularly on the tee sheet at this resort that was the first in the U.S. to boast a full-service spa.
La Costa added its second golf course— designed by Lee one-half at a time in 1973 and 1984— and eventually paired new nines and old nines to create the North and South Courses.  The Accenture Match Play Championship, which was held here seven times (it will move to The Gallery, outside Tucson next year), took place on a composite course that is available to guests several times each year.  It consists of the back nine of the South Course as the front nine, and North 1-3 and 13-18 as the back nine.  La Costa's charming and efficient Director of Golf, Desi Howe, says, "Our guests who play the composite course really enjoy playing and visualizing the same shots the tour professionals faced only a few weeks before.  It's a great way to make a personal connection to the history and tradition La Costa has enjoyed with the best players in the world, dating back to the 1960s."  And also with some of the worst players in the world, if you take Art and me into account.
In addition to myself, winners at La Costa include names such as Love, Woods, Kite, Miller, Nicklaus, and Trevino.  Nicklaus has said of the course, "You've got to start out fast and hold on at the end."  San Diego Magazine reported, "The players . . . think it is a fair course, challenging without bordering on ridiculously difficult."  Nobody thought to quote me, perhaps for good reason.
Both layouts feature Bermuda grass in the fairways and roughs, and Bent grass greens.  They play through mature trees of seemingly infinite variety, with generous fairways, rounded grabby bunkers ingeniously placed, man-made lakes, and small, elevated putting surfaces.  North plays a bit longer while South requires a little more accuracy.  Wind is a factor throughout and you must have an aerial game to survive on either venue.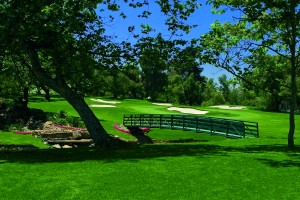 Art and I played our entire match on South, where he started aggressively by power fading into the topiary to the right of the first hole, an easy 357-yard opener where he meant to hit to the edge of water, leaving a short chip to the green.  Speaking of water, his approach to the second green would have ended up in the pond behind it had he not slammed the pin and sucked down into the cup for an ill-conceived birdie.  I assumed neighbors were dialing up 911 when they heard him cackling not far from where children played in grassy yards.
Number three is the toughest on La Costa's South Course, an uphill three-shot par four with five bunkers clustering around the green like Tony Soprano's cousins.  Both of us avoided these dangers en route to bogies. The fifth hole presents a bit of trickery, which Art fell for.  This 406-yard downhiller features wind blowing toward a ditch, where Art's ball likely still lies, and which led our playing companion to call him "Baranca Obama."  I overcompensated for my slice by yanking one far left, leaving an amusing lie that forced me to lay up, though I didn't know that until after striking the shot.  Following my three putt, our droll third told me I was "no Two-Putt Shakur."  But I still won the hole.  And told him to shut up.
After that, my wheels spun off for a couple of holes that I will not describe to you except to say that the widest part of number six is the hot dog shack beyond the green, which I hit easily.  Number eight presents a fine par three with a swampy waste area to the right, and though Art hit to 12 feet and I was in a bunker we both made pars, which deflated him faster than a parade float.  Art then shook hands with the snowman on the ninth hole to leave me one up for the front side.
On the back I began to realize just how diabolically La Costa's bunkers are placed, and thought about tracking down Joe Lee if he's still alive.  I also learned—twice—that five wood isn't always the best way to escape said bunkers, especially when you've still got 200 yards to a green protected by trees, lake, and other bunkers and you need a perfect angle and an air drop to end up in the same area code as the pin.  I hit into another bunker on eleven to add to my collection.  Fourteen, an excellent uphill par three with elevated green and four deep bunkers, cries out for loft, which I delivered.  I guess I never heard it cry out for accuracy, as well.  I missed a short putt for bogie, but my opponent's growing portfolio of flubs conspired to award me the hole.
Nobody knows better than me and Art why they call the last four holes of the South Course "The Longest Mile" (it plays 1847 yards into the wind).  Art made it seem even longer by dropping an 18-footer for birdie on fifteen and executing a dance step the likes of which I can only hope to never witness again.  On sixteen and seventeen we took turns hitting into water, leaving our match even going into eighteen—which the fans would have loved if there had been any fans.  Even our cynical companion could barely stand to watch us any more.
La Costa South's par-four closing hole plays 460 LONG yards uphill into the wind, with water fronting the green and an excellent restaurant lying in wait behind it.  After swinging harder than men our age should ever swing anything without a chiropractor close at hand, I lay 150 yards from the pin in the middle of the fairway while Art was about 225 out in the rough.  Most guys wouldn't have laid up into the fairway bunker from there, but Art is not most guys.  If his plan from that point was to hit his wood 75 yards short of the green, he executed perfectly.  I won the hole—and the match—unprettily with a bogie.
I soon discovered that beyond the two golf courses lies a resort as beloved by guests as the courses are by tour players, local sticks, and many others who are not Art.  Coming off a $140 million renovation, the property boasts 474 remodeled guest rooms; a new clubhouse and 8,000 sq ft fitness center staffed by dieticians and exercise physiologists; two new restaurants (BlueFire Bar and Grill and Legends Bistro); and a 28,000 sq ft spa designed in the Spanish colonial style with feng shui features, 42 treatment rooms, and a roman waterfall pounding massage.   La Costa is also home to the Chopra Center, an additional full service spa the goal of which is to align body and spirit.  That was the last place I saw Art.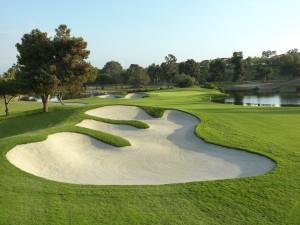 Flexible Flyers
There's always been a huge gap between two schools of instructional thought– the technocrats, who believe that technical mechanics are the key to playing great golf, and the mystocrats, who believe that great golf is all in the mind and you need only access your inner-scratch-player to succeed.
At La Costa, PGA member and certified yoga instructor Roger Fredericks is now playing the music that will bring the two together.   The magical theme song with the power to conjoin them is flexibility, something that both sides are talking about without really saying it.  Mechanical instruction peddles it when touting shoulder turn, hip rotation, and arm extension; new age instruction addresses flexibility of the mind in terms of opening up to new ways of thinking.  Fredericks, who employs knowledge and techniques from physiology, biomechanics, kinesiology, yoga, swing videotape, and other sources, has used it in his work with such luminaries as Nicklaus, Palmer, Player, and more than 60 other touring pros.
Traditional golf instruction often tells players to do things that they are physically not capable of because their shoulders are too tight, their hips don't flex in the way that Tiger's or John Daly's do, and their general range of motion is limited.  Most golf students are entirely unfit (literally) to execute the things they're being told will make them better golfers.  The only thing traditional golf instruction stretches is credibility.  On the other side of the dance hall, the mystics encourage golfers to let go, to stop thinking, to BE the ball, for godsakes.  But how can you act in a certain way if the metaphor of your body is tightness, stress, tension– in a word, inflexibility, whether to new ideas or the kind involved in bending over to tie your golf shoes?
Fredericks's approach– which is both simple and so obvious that it hurts (yes, literally)– may be the real key to not only bringing together technocrats and mystocrats, but also to improving the performance of golfers on the course and in their lives in general.  Flexibility promises to deliver many of the things that technical instruction and mystical new-age chanting have promised in terms of golf performance, but it may also complete the missing piece in a puzzle in which golf and life really are parallel.  Because being more flexible in your body also translates to being more flexible in life.