Well, the Callaway RAZR X clubs didn't hurt, either.  The RAZR Fit driver hit a LOT of fairways.  The Jaws wedges led the charge on a lot of up-and-downs from around the greens.  But the shirts seem unbeatable. Today saw the Golf Road Warriors take on Shadow Ridge Golf Club in the morning, and the North Course at Terra Lago in the afternoon (actually, into the evening, as we finished the eighteenth hole in the dark). I went with AUR Apparel's blue Carbocool shirt in the Aware line.  The fabric contains a blend of polyester and bamboo charcoal, lending the interior a grey tint.  The shirt wicks moisture and dries fast while offering both anti-odor properties and UV protection.  The only thing it didn't do for me today was putt.
The morning at Shadow Ridge was a sublime golf round begun with wind shirts and ending in vitamin D surplus from the perfect weather. Nick Faldo designed the course as a tribute to Australian sandbelt layouts such as Royal Melbourne and Kingston Heath, which is evident in the deep, shadowy bunkering and despite the gorgeous backdrop of the Santa Rosa Mountains.  Faldo said of the course, "I wanted to create a golf course that looks different and plays differently from all other courses in the desert.  I sought to design a course that not only tests a player's skill, but also his imagination and character.  I wanted to take resort golf to another level."  If you miss the big, slopey, ridged greens here, you'll need both imagination and character to escape deep, steep-lipped bunkers or tightly-mowed collection areas that will take your ball to another level.  Shadow Ridge is one of the most distinctive and inventive courses in the neighborhood, speaking boldly with a British accent.
Challenges appear as early as number two, a 609-yard double-dog-legging par five with a green surrounded by round-edged sand pits and a lake farther to the right.  Water accompanies you in from 150 yards to a long green surrounded by sand.  Several bunkers appear to front the green but are really two to three clubs out, a trick Faldo executes well on several occasions.  His use of such subtle prestidigitation will make a second round here even more satisfying, as you can't understand how the holes really play until you've seen them unfurl in their entirety.  But you'll eagerly anticipate each new puzzle on this ab-fab design.
The rhythm of holes creates a delightful sort of music, blending short par fours and stout par threes and only three par fives, adding up to a total par of 71.  The fifth hole proffers a mid-length par four with a fairway bunker dividing the hole into two landing zones– one safe, one bunga bunga.  Fescue grasses decorate the rough and frame the holes beautifully.  On the back side, the eighteenth can't help but bring another "Shadow"– Vegas's renowned Shadow Creek– to mind with its rock-lined creek leading you along toward a difficult green 446 yards from the tee, but close to a clubhouse filled with crisp, professional service and a welcoming attitude.  Shadow Ridge also boasts The Nick Faldo Golf Institute and The Fitting Studio.
Following the morning round we headed for The Golf Club at Terra Lago, formerly known as Landmark Golf Club.  I played the course many years ago and remembered not liking it, but then again I also swear that I remember a dog my uncle once owned even though everyone in my family tells me that the dog was dead before I was born.  I'm sticking with the dog memory but changing my mind about Terra Lago, where we enjoyed a terrific afternoon of challenging golf that unfurled like a series of mysteries to be solved with club in hand.  The two courses here wind through the Chocolate Mountain foothills, making them seem even sweeter.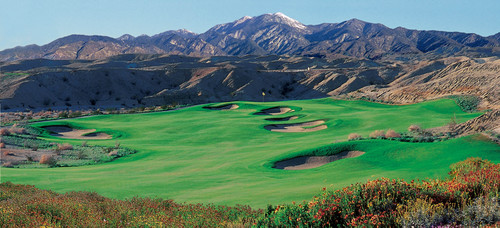 Before I tell you about the North Course at Terra Lago– one nine of which formerly hosted the Skins Game between 1999-2002– allow me to offer two suggestions to improve this long-famous made-for-TV event: 1) let the participants play for their own money– do a foursome of gazillionaires really care if they miss a $100,000 putt? or, 2) continue playing for the sponsor's money, but let four players of average income and ability compete for the cash.  Someone, for instance, like me.  Wouldn't it be more fun to watch competitors spray balls into the desert or yank two-footers when that money might really matter to them?
That said, anyone will enjoy a round on Terra Lago's fine North Course even without playing for skins.  I say that because I enjoyed it completely while playing a $5 Nassau with John Strawn.  I won't tell you who won, but I found John's leather wallet quite attractive.  North's holes are challenging and well-executed and work together nicely as a golf portfolio.  Architects Lee Schmidt and Brian Curley created a venue that was fun for the pros but also fun for the proles– namely, us.
Clusters of wildflowers decorate waste areas, and lines, clumps, and circles of elegant palms nuzzle the fairways.  On the 576-yard fifth, harvest a few limes for your apres-round gin and tonic before deciding which green-fronting bunker to carry.  The 183-yard fifteenth features an island green– beware Tom Hanks chatting with a volleyball.  Overall, the course boasts elevation changes, great views, fairways flowing over or beside the All-American canal, and more.  Zig-zagging will become second-nature here as the skillful and eye-catching bunkering presents one series of hazards to be carried or circumvented before offering up another set on the next shot.
After winning both rounds from Strawn today I considered sleeping in my AUR shirt to keep my mojo alive.  Then realized that I have a brand new one to wear tomorrow.